Pete Buttigieg Ignores Ohio Train Derailment in Transportation Celebration
Transportation Secretary Pete Buttigieg stayed hush on the massive train derailment that occurred in Ohio this month as he celebrated the Biden administration's infrastructure investments on Monday.
Speaking at the annual National Association of Counties conference, Buttigieg praised ongoing infrastructure projects across the nation, calling it an "exciting time" to watch the $1.2 trillion Bipartisan Infrastructure Law roll out over the transportation sector.
However, many were waiting for the transportation secretary to address the recent events in Ohio. On February 3, a train carrying vinyl chloride and other chemicals derailed in East Palestine, leading to a toxic chemical leak that forced evacuations for thousands of residents living nearby.
Although people have since returned to their homes and no one died in the accident, the fiery derailment has drawn attention to the dangerous working conditions of railroad employees and raised concerns about what the lasting ecological damage of the explosion may be.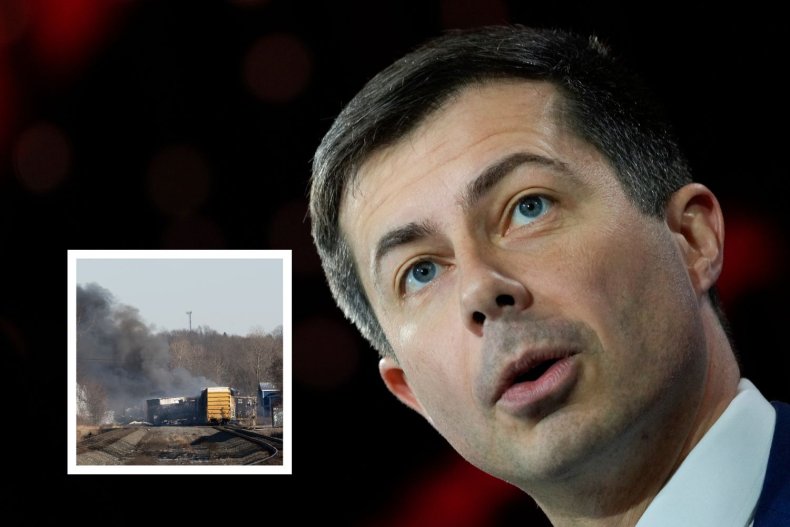 Buttigieg's silence has not gone unnoticed. His Monday appearance caught the attention of both progressives and conservatives, who were critical of him for not speaking about the derailment.
"He jokes about balloons while ignoring East Palestine, OH," former Ohio state Senator Nina Turner, a Democrat, tweeted alongside a video of Buttigieg poking fun at the Chinese spy balloon that was shot down last week over the Atlantic Ocean. "We deserve better than this."
"When the topic of racist highways or white construction crews comes up, Secretary @PeteButtigieg is an open book," former GOP congressional candidate David Giglio of California tweeted. "But, when an ecological disaster takes place in Ohio he is MIA."
Former Representative Mayra Flores, a Texas Republican, asked on Monday, "Where is Pete Buttigieg? How will this Ohio train derailment affect our farmers, the nearby population, and our supply chain for Americans?"
Hours after Newsweek's story was published, Buttigieg made a statement over Twitter acknowledging the train derailment in East Palestine, saying he continues to be concerned about the impact and its "effects on families in days since their lives were upended through no fault of their own."
"USDOT has been supporting the investigation led by The National Transportation Safety Board (NTSB). Our Federal Rail Administration and Pipelines and Hazardous Materials teams were onsite within hours of the initial incident and continue to be actively engaged," Buttigieg tweeted Monday night, adding that results of the investigation will be used to "ensure accountability."
"In the meantime, our Federal partners at EPA are onsite and monitoring indoor and outdoor air quality to test for VOCs and other chemicals of concern," the secretary said.
His department referred Newsweek to his comments once his official statement was made.
Earlier in the day, rather than discussing the February 3 incident, Buttigieg touted the improvements of more than 3,000 bridges, tens of thousands of miles of highway, and projects related to 8,000 busses, ferries, and other transit equipment.
He added that while there have been pandemic-related challenges, including the container shipping delays and mass airline cancellations, "it's also the best time ever to be working in transportation because of these resources."
The Lever, an investigative news outlet, reported last Friday that despite the train derailment, Buttigieg and his department have not reinstated an Obama-era rail safety rule related to expanding better braking technology that officials have said could help prevent future accidents.
When asked if the technology would have reduced the severity of the Ohio accident, Steven Ditmeyer, a former senior official at the Federal Railroad Administration (FRA), said, "Yes," the outlet reported.
According to the Department of Transportation, about 4.5 million tons of toxic chemicals are transported by rail each year, with an average of 12,000 rail cars shipping the materials through cities and towns each day.
"The vast majority of hazardous materials shipped by rail tank car every year arrive safely and without incident, and railroads generally have an outstanding record in moving shipments of hazardous materials safely," the FRA said on its website.
Update 2/14/23, 9:15 a.m. ET: This story was updated with comment from Buttigieg.