Supply Chain Woes Lead to Highest-Ever Numbers of Ships Stuck Waiting at LA Ports
Global supply chain woes continue to escalate as major California ports are reporting their worst unloading backlogs ever.
As of Tuesday, 100 container ships are stuck waiting to unload their cargo at the ports of Los Angeles and Long Beach, a record-breaking number. The previous record, 97 ships, was set only last month. Prior to the COVID-19 pandemic, the ports would typically see an average of around 17 anchored ships at a given time, local news station ABC 7 reported.
In an effort to ease the backup and tamp down the inflation that comes with it, President Joe Biden announced on Wednesday that the White House and the Port of Los Angeles had reached an agreement to move the port to a 24-hour, seven days a week schedule. Biden also referenced the concerns of many that the ongoing supply chain issues would lead to delays in holiday shopping deliveries.
"With holidays coming up, you might be wondering if the gifts you plan to buy will arrive on time," Biden said in a statement from White House. "Today we have some good news: We're going to help speed up the delivery of goods all across America."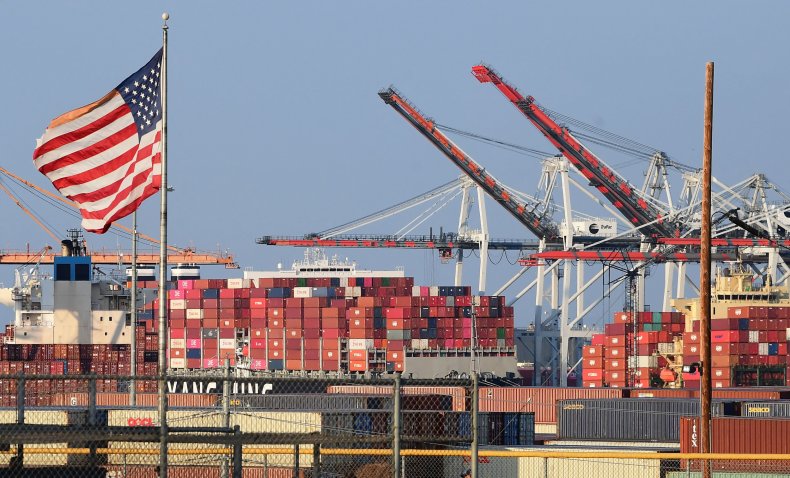 The Biden administration has been criticized for what some have called a slow response to the supply chain issues hitting the U.S. in the last year. A task force was only set up to tackle the issue in June, and a special port envoy was only named in August.
Biden also used the ongoing issue to highlight the need for infrastructure improvements in the U.S., which his ambitious Build Back Better Agenda seeks to address, among other things.
"We need to take a longer view and invest in building greater resiliency to withstand the kinds of shocks we've seen over and over, year in and year out, the risk of pandemic, extreme weather, climate change, cyberattacks, weather disruptions," the president argued.
In a viral video posted to TikTok on Wednesday, a Port of Los Angeles worker showed the extent of the container ship backlog.
"One of the reasons everything is backed up is our f***ing container yards are stuffed to the hilt with containers," the worker says in the video. "We need truck drivers to pick up our goods, and truck drivers for us, are all robots. This is an automated, terminal, pretty much."
Los Angeles Port Executive Director Gene Seroka said in a Thursday statement that the immense vessel backlog should be seen as a good sign for the U.S. economy.
"The cargo surge we have experienced for more than a year continues. September volume at the Port of Los Angeles landed just shy of 900,000 TEU's (20ft Equivalent Unit)," Seroka said. "That's the best September in the Port's 140-year history, edging out last year's mark by a little shy of two percent. The surge continues to be driven by the American consumer, which is good news for our economy."