Video of Pete Buttigieg Confronted Over East Palestine Viewed 1M Times
A video of Secretary of Transportation Pete Buttigieg being confronted over his response to the train derailment near the border between Ohio and Pennsylvania has been viewed 1.2 million times since it was posted on Twitter on Tuesday night.
In the video, Buttigieg skirts a series of questions from a reporter while walking on the street, referring to his comments to the media earlier in the day and noting that he was "taking some personal time" when approached.
At the end of the clip, the Biden administration chief asks to take a picture of the reporter, Jennie Taer, of the Daily Caller. "I guess he didn't like that [I was asking him about the derailment] so he took a pic[ture] of me," she wrote. "I'm just doing my job, sir."
Newsweek has contacted Buttigieg's Department of Transportation spokesperson for comment.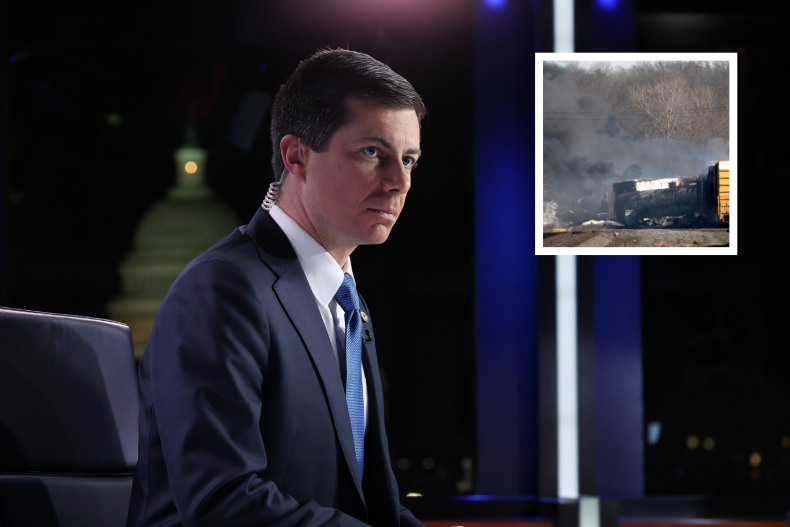 The Biden administration has come under fire for its handling of the crisis in East Palestine, Ohio, in which a cargo train derailed on February 3, leaking toxic chemicals into the nearby soil and waterways.
The crash sparked a fire that led emergency responders to conduct a controlled burn of vinyl chloride, sending toxic gases phosgene and hydrogen chloride into the atmosphere.
Republicans have hit out at the president for visiting Ukraine on Monday before any visit to Ohio. Trent Conaway, the mayor of East Palestine, described the trip to Kyiv as a "slap in the face."
Buttigieg himself faced criticism from both sides of the aisle for a perceived lack of response to the toxic spill, waiting until February 14 to comment publicly on the incident.
He has since intimated that he wanted to let the experts on the ground do their job before mounting a political response.
At a town hall the following day, Conaway said that February 14 was the first day he had heard from the White House, amid questions of "where's Pete Buttigieg?"
In the video, Taer asks: "What do you have to say to the folks in Ohio, East Palestine, who are suffering right now?"
"Well I'd refer you to about a dozen interviews I've given today and if you'd like to arrange a conversation you can reach out to our press office, but I can't have that conversation with you just walking on the street here," Buttigieg responds.
"You don't have a message for them?" Taer says, to which the Transportation Secretary replies: "I do and I shared it with the press many times today; I'd refer you to those comments."
"Do you mind sharing it with us?" Taer probes. "No, I'm going to refer you to the comments I made to the press because right now I'm taking some personal time and I'm walking out on the street," Buttigieg says.
After reiterating that he will travel to East Palestine—which elsewhere Buttigieg has said he has refrained from doing so far to allow for an independent investigation by the National Transportation Safety Board—he is asked when that will be.
"I'll share that when I'm ready and not talking on the street," Buttigieg say, before adding: "Can I get a photo of you?"
Earlier the same day, Buttigieg told ABC that when he did go to East Palestine, "the focus is going to be on action."
Referencing his experience as mayor of South Bend, Indiana, he added: "There's two kinds of people who show up when you have that kind of disaster experience: people who are there because they have a specific job to do and are there to get something done, and people who are there to look good and have their picture taken."
Since being allowed to return home, residents have complained of symptoms associated with exposure to toxic chemicals, and experts fear spilled chemicals could leach into nearby private wells used for drinking water.
Residents with private wells have been told to drink bottled water.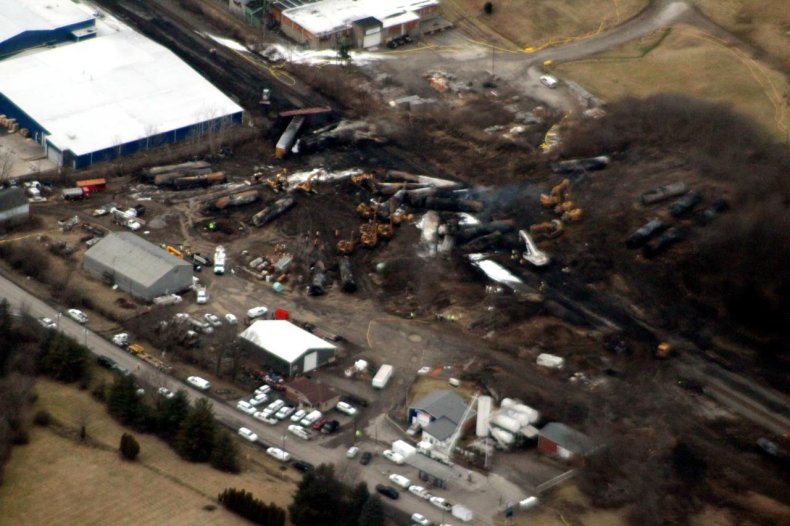 The EPA has maintained that the levels of contaminants in the air are safe, and contractors for the railway Norfolk Southern have been testing water supplies.
Responding to a question about local concerns about the toxic chemicals spilled into the environment, Buttigieg told NPR: "The people of East Palestine are right to be concerned. They're understandably concerned.
"If you have something like this happen in your community, then you're going to ask any time you experience symptoms of anything whether that could be connected," he added.
In a February 19 letter to Alan Shaw, CEO of Norfolk Southern, Buttigieg wrote the derailment "has upended the lives of numerous residents, many of whom continue to worry about their immediate health and safety as well as the long-term effects of the dangerous materials released near their homes. They fear for their future, as do thousands of American communities and neighborhoods that sit along railway lines."
Norfolk Southern contractors have been working to clear up the spill and remove contaminants from the soil and nearby waterways, some of which remain contaminated. It said it has also committed $6 million to its response so far.
"We recognize that we have a responsibility, and we have committed to doing what's right for the residents of East Palestine," the company said in its latest statement.
Buttigieg's media appearances on Tuesday came as part of a push to improve rail safety in the wake of the derailment. The Department of Transportation is looking to require a minimum crew of two people on trains, and is calling for Congress to increase the maximum fines for violations of safety rules.