East Palestine's Mayor Tells People With Wells To Drink Bottled Water
The mayor of East Palestine, Ohio, has urged residents with wells to drink bottled water following a freight train derailment earlier this month.
A Norfolk Southern Railway freight train carrying vinyl chloride and other toxic substances derailed near East Palestine on February 3, leaving chemicals spilled or burned off and prompting evacuations and fears of contamination.
State officials have said the air is safe to breathe and tests confirmed the water is safe to drink.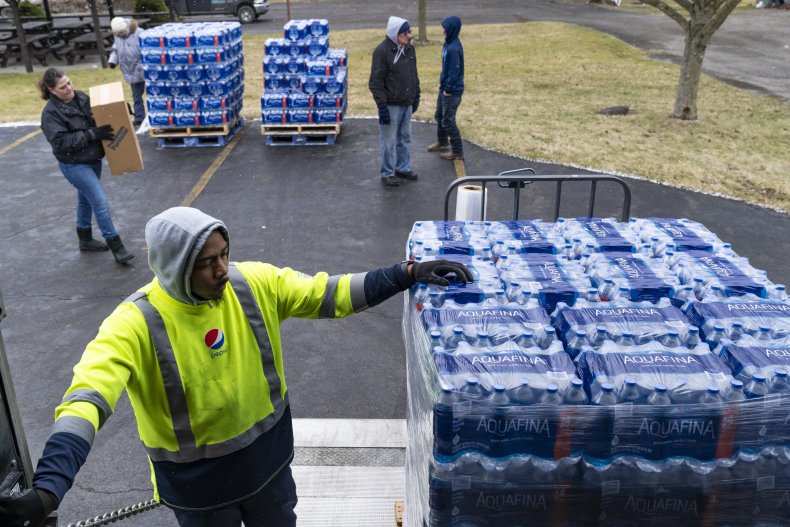 Michael Regan, the administrator of the Environmental Protection Agency, sought to reassure residents during a visit to the site on Thursday, stating: "I'm asking they trust the government." Officials are "testing for everything that was on that train," he said.
In an interview on Saturday, East Palestine Mayor Trent Conaway said he believes the town's water is safe to drink, but cautioned that residents with wells should drink bottled water.
"There [are] three types of water," Conaway said on Newsmax. "There is the municipal water system. There [are] the wells of individual homeowners and then there [are] the waterways and creeks in the area. The municipal water system, I'm 100 percent. I have no problem... my wife, my two children, we have been drinking the water, bathing with the water. If I had babies, I'd make baby formula with the water.
"The same people that were testing it before—as far as our local authorities—are the same people that are testing it now and they say it's safe."
He continued: "If I had a well, I'd be drinking bottled water, of course... especially if you're by the creek areas, I definitely would be drinking bottled water until your test results came back."
Conaway said there have not been "any negative results for wells coming back" but he added that "it's gonna be a while till we get the test results back."
He noted that the long-term impact of the derailment may not be known for years to come.
"This is a long-term thing," he said. "We're not going to know the true effects of this for years down the road."
Conaway's comments come after the Biden administration on Friday defended its response, as local leaders and members of Congress demanded that more be done. Newsweek has contacted Conaway for further comment.
The White House said in a statement on Friday that it has "mobilized a robust, multi-agency effort to support the people of East Palestine, Ohio″ and that an EPA team as well as officials from the National Transportation Safety Board and other agencies were at the rural site within hours of the derailment.
The Federal Emergency Management Agency has been "closely coordinating" with the state emergency operations center and other federal partners, it said.
President Joe Biden has offered federal assistance to Ohio Gov. Mike DeWine and Pennsylvania Gov. Josh Shapiro. In response to a request from DeWine and Ohio's congressional delegation, the Health and Human Services Department and Centers for Disease Control and Prevention are deploying a team of medical personnel and toxicologists to conduct public health testing and assessments.
The team will support federal, state, and local officials already on the ground to evaluate those who were exposed or potentially exposed to chemicals, the White House said.
Transportation Secretary Pete Buttigieg—who has faced criticism from lawmakers and Conaway for not visiting the site—tweeted on Friday that his department "will hold Norfolk Southern accountable for any safety violations found to have contributed to the disaster that has upended lives" in East Palestine.
"We respect the independence of NTSB's investigation, and its findings will inform all of our actions going forward," he added.
Norfolk Southern president and CEO Alan Shaw visited East Palestine on Saturday.
"We are working closely with Ohio environmental and health agencies on the long-term plan to protect the environment and the community. We are going to do the work thoroughly, completely, and safely," Shaw said in a statement.