Ohio Train Manifest Reveals Full List of Chemicals Released from Derailment
A manifest of the cargo being transported by a train that derailed near the border between Ohio and Pennsylvania, causing a toxic spill, has been released to the public by the Environmental Protection Agency.
The list, provided by the rail operator, Norfolk Southern, shows that chemicals known to have been spilled or burnt off in the derailment and the fire that followed aligned with those present in EPA monitoring of the surrounding environment. It also provided the status of the rail cars following the incident, many of which sustained fire damage.
On February 3, a train of around 150 cars derailed near the Ohio town of East Palestine, 20 of which were carrying hazardous materials. 38 cars came off the tracks, of which 11 contained hazardous loads.
The derailment caused a huge fire and, fearing a massive explosion, emergency responders intentionally breached five cars to let out the vinyl chloride inside.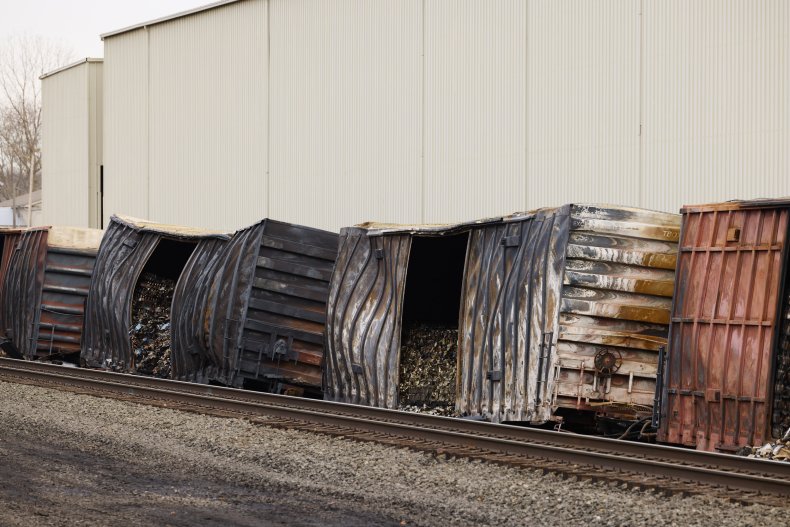 The chemicals were diverted into a trench and burnt off. Officials warned, however, that it would send toxic gases phosgene—used during World War I—and hydrogen chloride into the atmosphere.
The February 12 manifest from Norfolk Southern showed that five tank cars containing vinyl chloride had been breached so the chemical could be burnt off. The company is now facing a class action lawsuit over the burning of the chemicals.
The manifest also highlighted a tank of combustible ethylene glycol monobutyl ether—an acutely toxic chemical used in, among other things, solvents and cleaning products—of which the status was "unknown" and a car carrying butyl acrylate—a flammable, toxic substance used for making paints, sealants and adhesives—which had "lost [the] entire load."
Since the spill, the Environmental Protection Agency detected several toxic substances in the soil and nearby waterways, including the Ohio River. However, it has stressed that the levels observed in the air were deemed safe.
A February 10 letter sent by the EPA to Norfolk Southern listed the toxic chemicals that had been identified in the air, soil or water surrounding the crash site: vinyl chloride, butyl acrylate, ethylhexyl acrylate and ethylene glycol monobutyl.
Since being allowed to return, residents have complained of symptoms associated with exposure to toxic chemicals. Ohio Governor Mike DeWine has said he would not have allowed residents to return unless officials were confident it was safe to do so.
The manifest also showed that a tank of propylene glycol, used as an antifreeze, had been breached in the crash and had lost most of its load, while a tanker of diethylene glycol—which can be used as a dehydrating agent and in cosmetic products—had a small leak and there was an "unknown amount of product" left in the car.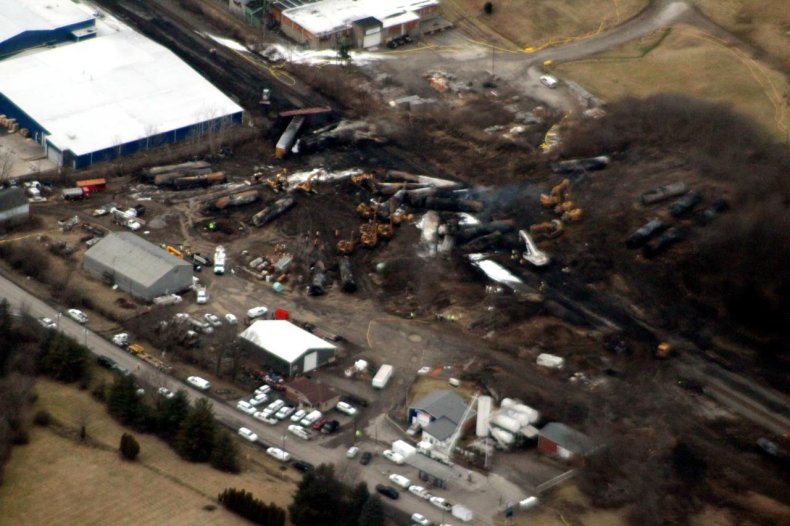 Various rail cars carrying petroleum lube oil had various degrees of breaches, while four hoppers of polyvinyl chloride had been burned or involved in the initial fire. Two hoppers containing polyethylene, a plastic, had their contents destroyed by the fire.
Box cars shipping sheet steel and frozen vegetables were burned, while other cars—including those containing paraffin wax, malt liquors and cement—had been involved in the crash but had not been damaged by the fire.
On Tuesday, the National Transportation Safety Board said in a statement that it was conducting an investigation into the probable cause of the derailment, but suggested that a wheel bearing may have failed on one of the cars.
In an open letter to residents on Thursday, Alan Shaw, president and CEO of Norfolk Southern wrote: "When I visited East Palestine last week, you told me how the train derailment has upended your lives and how concerned you are about the safety of your air, water, and land. Many of you have also reached out to Norfolk Southern to share your fears, your anger, and your frustration. I hear you. We hear you."
He added: "We are here and will stay here for as long as it takes to ensure your safety and to help East Palestine recover and thrive."