East Palestine Couple Suffering From 'Burning Eyes' After Ohio Toxic Spill
Their house wreaks of chemicals. Every time they return home, they get a sore throat and burning eyes and nostrils. They fear bringing their 7-week-old baby back to the town of East Palestine, even though officials say it is safe to return.
For Kasie Locke and her husband, Nate, a toxic release of chemicals following a train derailment near their town, on the border between Ohio and Pennsylvania, has left their dream of a happy life in a close-knit community in disarray.
They are just one example of many residents and businesses that have expressed concerns about the safety of returning to East Palestine after residents were evacuated so emergency responders could undertake a controlled burn of the vinyl chloride in five rail cars to avoid a massive explosion. However, it released the toxic gases hydrogen chloride and phosgene into the air.
Since the spill, the Environmental Protection Agency has detected several toxic substances in the surrounding environment, including levels immediately toxic to fish in Sulphur Run, a nearby waterway. Contractors for Norfolk Southern, the rail operator, on Friday installed a dam and a water bypass to prevent further contamination. The EPA has stressed that drinking water remained safe, as is the air.
"When I see train tracks, I get sick to my stomach," Kasie Locke told Newsweek. "My husband and I have no idea if we have a home we feel safe in any longer."
The couple moved to East Palestine as newly weds on February 3, 2022—exactly 12 months before the derailment occurred.
"We were so excited because we loved the little town and how close knit everyone was and how peaceful it is," she said. "There's a real sense of community."
A few months later, Locke discovered she was pregnant, and she had the couple's baby boy just before the New Year. Happily married with a home in a nice area and a newborn baby, "we really did think we had the American dream."
On the one-year anniversary of moving to the Ohio border town, at around 11:30 p.m. at night, Locke received a text from a colleague asking her if her family was alright. At that point, the derailment had only precipitated a large fire.
However, Locke said: "I knew in my gut we had to leave home." After a "heated discussion" with her husband, they decided to leave for her mom's house in nearby North Lima.
"We had left our cats behind thinking 'We'll be back in a few days,'" she added.
The couple attempted to return home the morning of the controlled release to take their two cats to a cattery but were unable to do so as the National Guard were arresting people trying to enter the town.
"We never in a million years imagined that things would unfold the way that they did," Locke said. "I can't actually describe to you in words the way that it has made me feel. Watching the town you thought you'd fell in love with and you were going to be there long term quite literally become toxic changes you."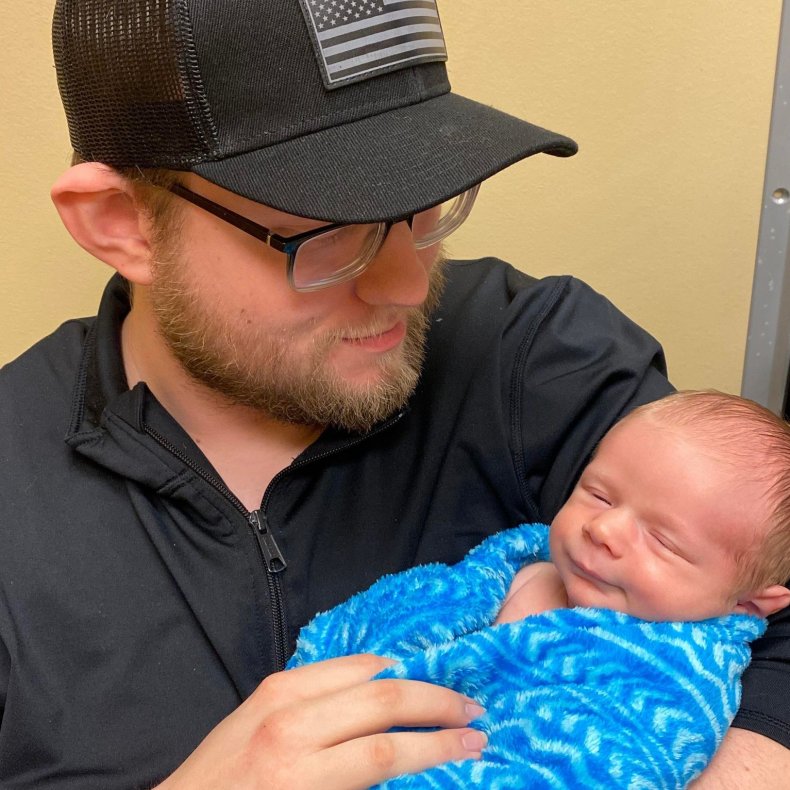 In a Facebook post on Sunday, Von Schwarz Doberman Kennel in Darlington, Pennsylvania said it was able to evacuate 30 dogs and 9 horses in their care from their estate, one border of which it said was just 1.2 miles from the crash site.
When kennel workers returned for supplies after the controlled burn, within 20 minutes "we had horrible headaches, runny noses, burning and swollen eyes, pulsations within the eye sockets, itchy throat, and coughing," it said, adding: "We are anticipating being gone for weeks, if we EVER go back at all."
On February 8, Ohio Governor Mike DeWine, together with the Governor of Pennsylvania, Josh Shapiro, gave the all-clear for evacuated residents to return to their homes, stating air monitoring readers were "basically similar to what they would have expected prior to the train wreck."
Keith Drabick, East Palestine's fire chief, told a press conference the town had avoided "a tragedy of epic proportions."
Residents remain skeptical. Lenny Glavan, a tattoo artist who owns a parlor in East Palestine, told Newsweek on Monday that he had kept his children home from school after they were told to return, claiming the classrooms had not been cleaned. Some teachers walked out, he said.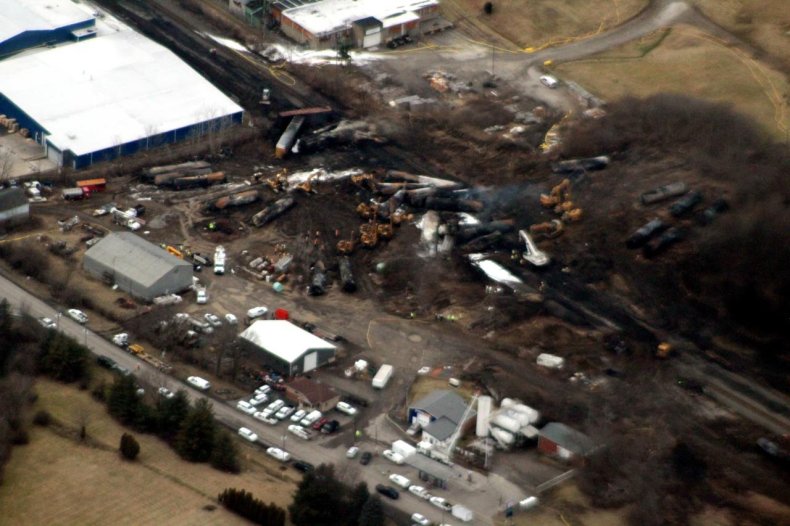 The East Palestine City School District wrote on Thursday that buildings would be deep-cleaned. Chris Neifer, the superintendent, told Newsweek that the claims were false, that no teachers were absent on Monday and student attendance was nearly 90 percent, which he described as "a typical day."
When Locke and her husband do return now, it's without their child "because we're terrified to expose our 7-week-old to anything." Every time they go home, their eyes and nostrils begin to burn and their throats become numb. They have scheduled a monitoring visit by Norfolk Southern contractors, but remain distrustful.
"Every time we go home, our house has wreaked of chemicals," she said. "The water isn't safe. The air doesn't seem to be either. They sent everyone home so quick. They are trying to make it as minimal as possible, and sweep it under the rug. We can't let them. The amount of lives and businesses and homes they have affected is astronomical. I don't know that we'll ever return permanently."
Newsweek has contacted the EPA and the Ohio Department of Health for comment.
Locke and her family are considering moving away, but are "stuck between a rock and a hard place" because of a lack of funds. She claimed that many residents were being forced to return to East Palestine because of their finances.
"We'll be paying a mortgage for a house we do not live in," Locke added. "It's horrible."
Update 02/14/23, 10:45 a.m. ET: This article was updated to include comment from Chris Neifer, superintendent of the East Palestine City School District.