Norfolk Southern Sued Over Ohio Derailment—'Wholly Preventable Catastrophe'
The rail operator whose cargo train derailed on the border between Ohio and Pennsylvania, causing a large fire and toxic chemical spill, is being sued in a class action lawsuit over what lawyers bringing the filing call a "wholly preventable catastrophe."
Court filings allege that the company was responsible for exposing residents to cancer-causing chemicals and its efforts to mitigate the effects of the spill made the environmental and health impacts worse.
A Norfolk Southern freight train derailed near the Ohio town of East Palestine on February 3, causing a large fire. The train was carrying toxic chemicals, which have since been detected in the soil and nearby waterways, including the Ohio River.
A large amount of vinyl chloride on board had to be burnt off over fears of an explosion, venting toxic gases into the air. Residents who have since returned have complained of symptoms associated with exposure to toxic chemicals.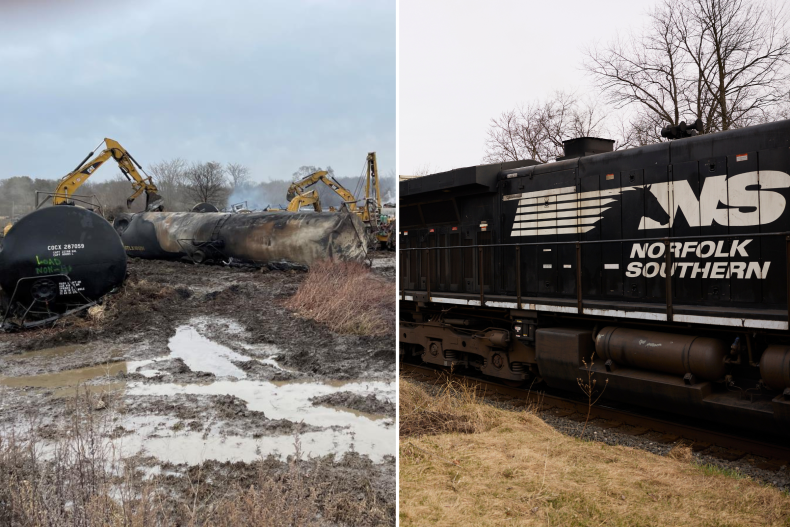 The National Transportation Safety Board said in a statement on Tuesday that it was conducting an investigation into the probable cause of the derailment, but suggested that a wheel bearing may have failed on one of the cars.
"From chemicals that cause nausea and vomiting to a substance responsible for the majority of chemical warfare deaths during World War I, the people of East Palestine and the surrounding communities are facing an unprecedented array of threats to their health," said attorneys Frank Petosa and Rene Rocha, of law firm Morgan & Morgan, in a joint statement.
"While the lives impacted by this wholly preventable catastrophe may never be the same, we are committed to holding Norfolk Southern accountable for its actions and inactions," they added.
The suit—filed on Wednesday with the Northern District of Ohio Eastern Division court in Youngstown, Ohio—names Aysia Canterbury, a Columbiana County, Ohio resident, and Lisa Sodergen, a Lawrence County, Pennsylvania resident, both of whom court documents state were "exposed to high levels of toxic chemicals" as a result of the crash.
However, the suit is also being brought on behalf of "all others similarly situated" and seeks relief including medical monitoring and damages of "an amount to be determined as just and reasonable."
Court documents alleged that the derailment released 1,109,400 pounds of vinyl chloride into the environment, whereas the total emissions from 38 facilities in the U.S. in 2021 was 428,522 pounds. The latter figure was confirmed by a January 2023 report by the Department of Health and Human services, and Newsweek has contacted the EPA for confirmation of the amount released near East Palestine.
Lawyers cited the chemical's description by public health bodies as a known carcinogen, adding: "Residents exposed to Vinyl Chloride may already be undergoing DNA mutations that may not manifest as a clinical cancer diagnosis for years or decades."
The EPA has repeatedly stressed that levels of toxic chemicals observed in the air were deemed safe for humans.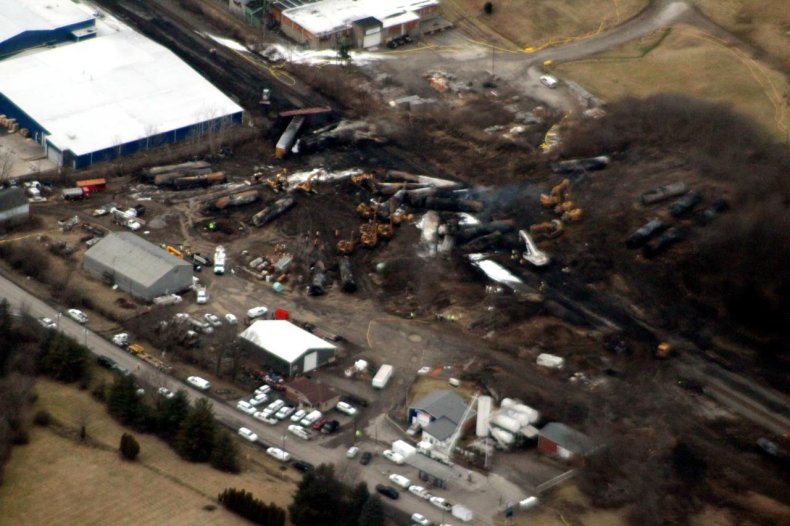 The court filing noted that the fire had increased the pressure in the tankers of vinyl chloride, which led to the activation of emergency relief valves. However, it alleged that at least one of these failed, spiking the pressure and necessitating a controlled burn.
That controlled burn saw emergency responders vent the vinyl chloride into a trench, which was then burnt off, sending phosgene and hydrogen chloride—both toxic gases—into the atmosphere. Ohio and Pennsylvania ordered the evacuation of people in the area prior to the burn.
Lawyers claimed in the court documents that the "situation would never have occurred if not for failure on top of failure of Norfolk Southern."
The lawsuit alleges that Norfolk Southern opted for the controlled burn because it was less costly than an alternate containment method. It claimed the company's "pattern of conduct" was "indicative of a 'run it until it breaks' philosophy that puts profits above the health and safety of individuals."
"I'm not sure Norfolk Southern could have come up with a worse plan to address this disaster," said John Morgan, another attorney for Morgan & Morgan. "The lawsuit alleges that Norfolk Southern made it worse by essentially blasting the town with chemicals as they focused on restoring train service and protecting their shareholders."
Norfolk Southern told Newsweek it was unable to comment on the allegations in the lawsuit.
However, it provided the latest communication from Alan Shaw, the company's president and CEO, to residents, in which he said: "When I visited East Palestine last week, you told me how the train derailment has upended your lives and how concerned you are about the safety of your air, water, and land. Many of you have also reached out to Norfolk Southern to share your fears, your anger, and your frustration. I hear you. We hear you."
"We are here and will stay here for as long as it takes to ensure your safety and to help East Palestine recover and thrive," he added. "I know there are still a lot of questions without answers. I know you're tired. I know you're worried. We will not let you down."