Republicans Using Biden's Ohio Train Response to Rail Against Ukraine Aid
Prominent Republicans have hit out at the Biden administration over its response to the February 3 train derailment in East Palestine, Ohio, comparing it to the support offered to Ukraine as the war-torn country struggles with Russia's ongoing invasion.
After the 150-car train derailed, which had toxic chemicals as part of its load, local authorities evacuated around 5,000 locals while they disposed of vinyl chloride via controlled burning. To achieve this, they first blew holes into five railway cars, then burned the potentially explosive gas in a ditch.
On Thursday, a joint letter was sent to the Federal Emergency Management Agency (FEMA), from the entire 17-member Ohio congressional delegation, asking why the incident "apparently does not meet the eligibility threshold" for agency support.
It came after a request for assistance from Ohio Governor Mike DeWine was turned down, though FEMA later said it would "supplement federal efforts by deploying a Senior Response Official along with a Regional Incident Management Assistance Team (IMAT)."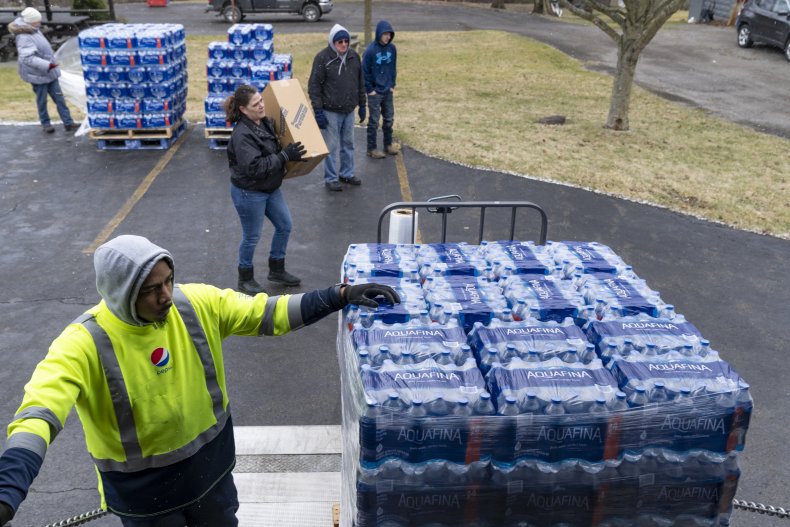 Other federal agencies, including the Environmental Protection Agency (EPA), Department of Health and Human Services (HHS), and Centers for Disease Control and Prevention (CDC) have been involved in the testing and cleanup operation.
However, some within the GOP compared this unfavorably with the United States' support for Ukraine, which received $48 billion in American support between January and November 2022, according to the Kiel Institute for the World Economy.
Representative Lauren Boebert, a Colorado Republican, tweeted on Friday: "Instead of sending hundreds of billions to Ukraine, we should be taking care of our own people here at home. Here's a place we could start: East Palestine, Ohio."
Kansas Senator Dr. Roger Marshall wrote: "Biden's Spending Priorities: Ukraine: $100,000,000,000.00 Ohio: $0. Mr. President, who do you work for?"
Senator Rand Paul of Kentucky shared a photograph of Governor DeWine, edited so he appears to be wearing a face mask of Ukrainian President Volodymyr Zelensky. "I mean, it's worth a shot," he tweeted.
Kari Lake, who is trying unsuccessfully to overturn her Arizona gubernatorial election defeat in the courts, commented: "Has anyone tried planting a Ukrainian flag in East Palestine, Ohio? Maybe that will encourage @JoeBiden will offer aid."
Expressing a similar sentiment, Donald Trump Jr. said: "Ukraine has been given $130 billion not including what they got from the 220 billion that went 'missing' from the Pentagon's budget, but the people of East Palestine Ohio get nothing from FEMA?!? Joe Biden and the democrats hate your guts and will always put America last!"
Newsweek couldn't find any independent accounts substantiating either the $130 billion or $220 billion figures.
However, other Twitter users hit back at the Republican Ukraine critics.
Responding to Lake, Luke Zaleski, legal affairs editor at publisher Condé Nast, wrote on Saturday: "...Can we connect the dots on how republicans are replacing 'build a wall' with 'build a war' and aping Putin's Ukraine playbook for trump with a relentless fear-mongering campaign that conflates immigrants with enemies and nationalism with rejection of Ukraine aid?"
Another Twitter user, Shay Veno, posted: "The governor has to declare an emergency and ask for aid. DeWine knows that, because he's a governor. And you don't know that because..."
Newsweek has contacted the Ukrainian foreign ministry for comment.