Ohio Congress Members Demand Answers Over Lack of FEMA Assistance
The entire 17-member Ohio congressional delegation has sent a joint letter to the Federal Emergency Management Agency (FEMA), asking why their state "apparently does not meet the eligibility threshold" for support to deal with the East Palestine train derailment and subsequent chemical release.
On February 3, a Norfolk Southern Railway freight train, consisting of about 150 cars, derailed near East Palestine in Ohio and caught fire. Authorities blew holes in five railway cars to drain them of vinyl chloride, a potentially explosive colorless gas, allowing for a controlled burn.
Local residents were evacuated while this took place, though they have since been allowed to return home. But concerns still persist about potential health threats to those in the area due to the release of toxic chemicals.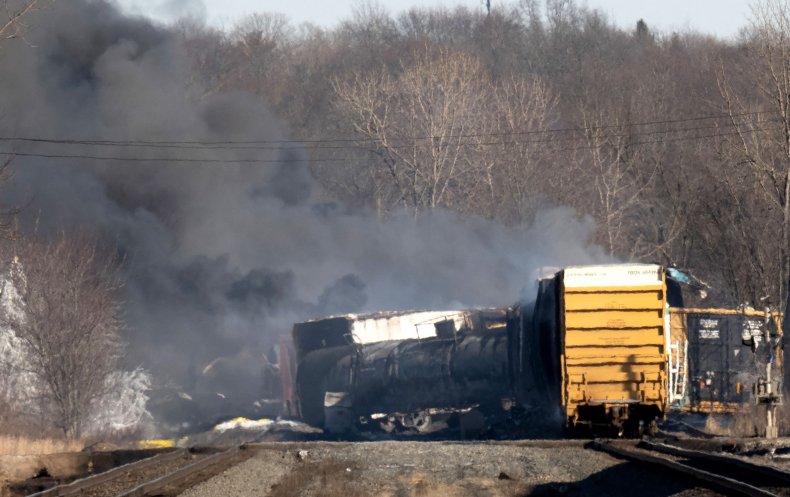 On Thursday, Ohio Governor Mike DeWine said his team had requested support from FEMA, but the agency "continues to advise that Ohio is not eligible for assistance at this time."
In response, Ohio's Congress, consisting of two senators and 15 House representatives, led by Republican Representative Bill Johnson, signed the joint cross-party letter to FEMA asking the agency to explain its lack of support.
They said: "It is our understanding that Governor DeWine's Administration has been in communication with your agency about the need for federal support to assist with the cleanup of the Norfolk Southern train derailment and subsequent chemical fire that occurred in East Palestine, Ohio on February 3.
"Despite the severity of the wreckage, chemical release, and the disruption to the lives of local residents we have just been informed that Ohio apparently does not meet the eligibility for FEMA assistance at this time. We respectfully request that you provide a detailed response as to why the residents of this community do not qualify for assistance from your agency."
Newsweek reached out to FEMA for comment.
Speaking to The New York Times DeWine's office said it had been told the reason Ohio didn't qualify, "in part," was due to the lack of damage to residential properties, and because the railroad company had agreed to pay some expenses.
In a statement provided to Fox News Digital, FEMA spokesperson Jeremy Edwards said: "FEMA is in constant contact with the emergency operations center in East Palestine and with the Ohio Emergency Management Agency. We are closely coordinating with EPA [Environmental Protection Agency], HHS [Department of Health and Human Services], and the CDC [Centers for Disease Control and Prevention], who are helping to test water and air quality, and to conduct public health assessments."
A lawsuit has been filed against Norfolk Southern Railway, the rail operator that owns the train that derailed, by Ohio resident Aysia Canterbury and Pennsylvania resident Lisa Sodergen.
A statement on the case was released by their legal representatives, Frank Petosa and Rene Rocha, of the law firm Morgan & Morgan.
They said: "From chemicals that cause nausea and vomiting to a substance responsible for the majority of chemical warfare deaths during World War I, the people of East Palestine and the surrounding communities are facing an unprecedented array of threats to their health.
"While the lives impacted by this wholly preventable catastrophe may never be the same, we are committed to holding Norfolk Southern accountable for its actions and inactions."