Ohio Train Derailment Leaves Neighboring States with Water, Air Concerns
The derailment of a Norfolk Southern Railway train in eastern Ohio earlier this month has left some neighboring states concerned for their own residents' safety.
Officials chose to conduct a controlled release of hazardous materials that were on board the 150-car train that derailed near East Palestine, Ohio, on February 3. The decision may have avoided a potential explosion at the crash site, but some of the harmful substances on board were released into the surrounding area.
East Palestine, a village in eastern Ohio with a population of roughly 4,718, according to the U.S. Census Bureau, is located less than a mile from the Ohio-Pennsylvania border, and around 20 miles north of West Virginia.
While the total ecological impact from the train derailment may not be able to be assessed until later, both nearby states have expressed concerns about how the release of hazardous materials may be impacting their own communities.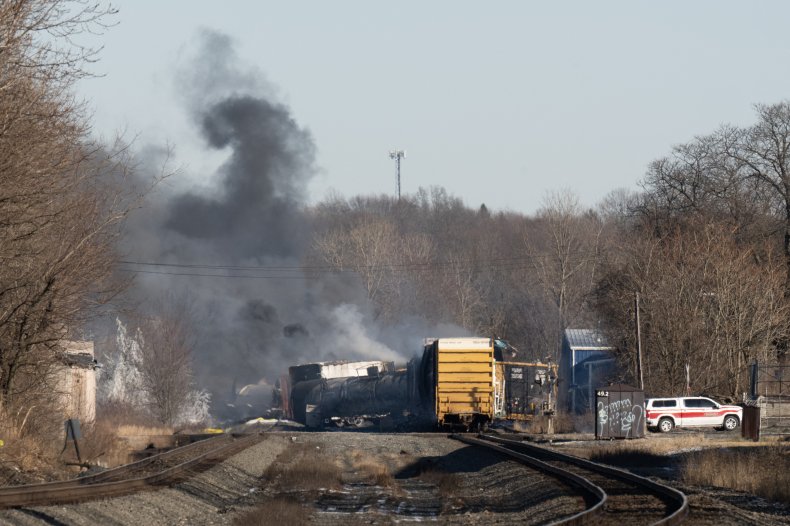 Pennsylvania Governor Lists 'Serious Concerns'
Pennsylvania Governor Josh Shapiro addressed a letter to Norfolk Southern CEO Alan Shaw on Tuesday, writing that he had "serious concerns" regarding the rail company's handling of the derailment.
According to a copy of the letter posted by WGAL reporter Tom Lehman, Shapiro said that the Pennsylvania Department of Environmental Protection and the Pennsylvania Emergency Management Agency "were not immediately contacted by Norfolk Southern and learned of the incident independently in the first few hours after it occurred."
Shapiro also listed several ways that both the DEP and PEMA believe the railway's response to the crash "put the safety of our first responders and residents at significant risk," including Norfolk Southern's alleged failure to participate in a "unified command."
Shapiro also said that Norfolk Southern provided "inaccurate information and conflicting modeling about the impact of the controlled release" of the hazardous materials and that the company was unwilling "to explore or articulate alternate courses of action to their proposed vent and burn," the method that officials used to release the toxic gases.
"While I appreciate that responding to train derailments presents an array of complex challenges, failure to adhere to well-accepted standards of practice related to incident management and prioritizing an accelerated and arbitrary timeline to reopen the rail line injected unnecessary risk and created confusion in the process," the governor added. "You can be assured that Pennsylvania will hold Norfolk Southern accountable for any and all impacts to our Commonwealth."
Butyl Acrylate Detected by West Virginia
The West Virginia Emergency Management Division also released a statement about the derailment on Tuesday, and said that its state departments, including the West Virginia Department of Environmental Protection and the Department of Health and Human Resources, "have closely monitored the situation for any impacts to West Virginia or its citizens."
According to the release, the state departments have detected low levels of butyl acrylate in the Ohio River, a colorless liquid that poses risk of headaches, dizziness, nausea and vomiting as well as permanent lung damage after repeated exposure.
Upon this discovery, the Department of Health and Human Resources' Bureau for Public Health "immediately began contacting the five water systems along the Ohio River that could be impacted and recommended, out of an abundance of caution, to shut down all water intakes until additional information could be obtained."
Butyl acrylate is one of a handful of hazardous chemicals that have been detected in the air, soil or water surrounding the train's derailment site. Other colorless liquids—ethylhexyl acrylate and ethylene glycol monobutyl—have also been detected, as well as vinyl chloride, a colorless gas and carcinogen that has been linked to other health issues.
Norfolk Southern 'Committed' to Clean-Up
In a release from Norfolk Southern on Tuesday, Shaw said that the company is "committed to East Palestine today and in the future," adding that the railway "will be judged by our actions."
"We are cleaning up the site in an environmentally responsible way, reimbursing residents affected by the derailment, and working with members of the community to identify what is needed to help East Palestine recover and thrive," Shaw added.
The release also announced a $1 million charitable fund that was made immediately available to the East Palestine community, which will supplement other resources that Norfolk Southern has provided.
Newsweek contacted Norfolk Southern for further comment.