Ohio Train Derailment Could Become Full-Blown Ecological Crisis
The cocktail of toxic chemicals released as a result of the Norfolk Southern Railway train derailment in Ohio may lead to serious environmental damage, experts say.
Fish have turned up dead in streams, pets have died, and residents have reported experiencing symptoms associated with exposure to toxic chemicals following the derailment of a cargo train near East Palestine, Ohio, on February 3.
But many people fear the true scale of the environmental effects has yet to be identified, despite being told on February 8 it was safe to return to their homes.
The Environmental Protection Agency (EPA) published a full list of toxic chemicals released following the crash, which include vinyl chloride, butyl acrylate, ethylhexyl acrylate and ethylene glycol monobutyl.
"This is a truly enormous environmental disaster," Gabriel da Silva, an atmospheric chemist at the University of Melbourne in Australia, told Newsweek.
Experts say how long the ecological impacts of the spill will last depend on the speed and effectiveness of the clean-up operation, as well as the weather.
The derailment of a train of about 150 cars, 20 of which carries hazardous material, caused a large fire. To avoid a massive explosion, five rail cars carrying vinyl chloride were breached by emergency responders, the chemical diverted into a trench and burned off.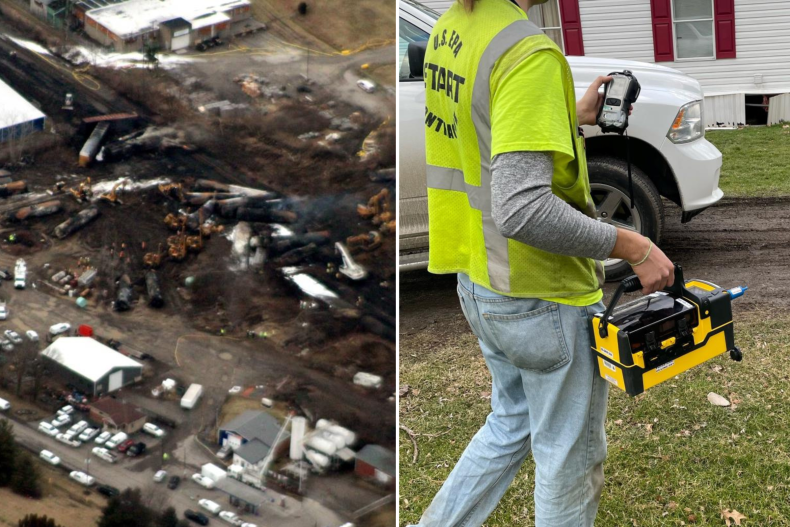 At the time, officials warned this would send toxic gases phosgene and hydrogen chloride into the atmosphere, and ordered an evacuation of the area in Ohio and Pennsylvania.
Marc Glass, principal environmental consultant at Downstream Strategies, who has advised state and federal projects on contamination in West Virginia, told Newsweek that the gases "are very volatile, so they wouldn't be in the air very long" but added: "Phosgene is a very toxic gas and when it is in the air, exposure to it sometimes doesn't show up immediately."
Officials said when announcing the end of the evacuation order that the levels of toxic gases were at safe levels, even when registered at the crash site. Ohio Governor Mike DeWine described air quality readings as "basically similar to what they would have expected prior to the train wreck."
Local residents, however, have complained of headaches, burning eyes and noses, as well as sore throats.
"Every time we go home, our house has reeked of chemicals," Kasie Locke, an East Palestine resident who left with her young family for North Lima, told Newsweek.
Their eyes and nostrils begin to burn and their throats become numb when they have returned home, so Locke said they don't bring their newborn "because we're terrified to expose our 7-week-old to anything."
In a Facebook post on Sunday, Von Schwarz Doberman Kennel in Darlington, Pennsylvania, said that when kennel workers returned for supplies after the controlled burn, within 20 minutes "we had horrible headaches, runny noses, burning and swollen eyes, pulsations within the eye sockets, itchy throat, and coughing."
Newsweek has contacted Norfolk Southern and DeWine's office for comment.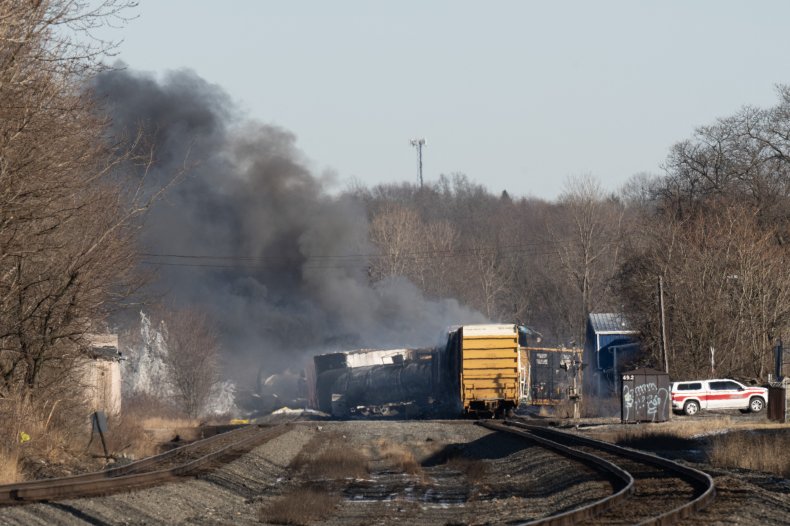 In a statement, Debra Shore, administrator of the EPA's fifth region, said: "As of February 14, EPA has assisted with the screening of 396 homes under a voluntary screening program offered to residents, and no detections of vinyl chloride or hydrogen chloride were identified. 65 additional homes are scheduled for today."
Vinyl chloride is a colorless and highly flammable gas that is used to make polyvinyl chloride (PVC) plastics. It is considered a carcinogen, and decomposes after exposure to sunlight to make toxic fumes such as formaldehyde.
It has a sweet smell and can lead to a range of health problems if inhaled. According to the Centers for Disease Control and Prevention (CDC), breathing very high levels can cause someone to lose consciousness, or even to die. Workers who have been exposed to vinyl chloride over long periods have been known to develop angiosarcoma of the liver, a rare and aggressive form of cancer.
"The odor thresholds for some of these compounds might even be at levels lower than when health effects are observed, but those can be irritating or uncomfortable—and in combination multiple chemicals might present more of an irritation effect than one alone," Glass said.
In animals, some studies have found that the growth and development of the fetus is impacted by vinyl chloride exposure.
"Vinyl chloride [affects] cardiovascular, developmental, liver, and immune systems, and it is considered to cause a variety of different cancers," A. Daniel Jones, a professor of biochemistry at Michigan State University, told Newsweek.
"Vinyl chloride is a gas at room temperature and ambient pressure, which means it can readily be transported through the air, potentially over long distances over a few days. I would expect that it would break down in the atmosphere by the effects of sunlight, but could generate other toxic intermediates in the process."
Glass said that chemicals in the soil could remain there "for long periods of time" and seep into the groundwater, but would also continue to volatilize—i.e. become a vapor—leading to further air contamination beyond the initial controlled burn.
As the crash occurred in winter, the rate of this off-gassing would be slower but less intense than if it was warmer, he added.
The other chemicals that were released "are less volatile and more likely to end up in water and soils, though some portion may persist in the air," Jones said, adding they are "generally considered to be irritants to eyes, respiratory tissues, and skin."
Butyl acrylate is a clear, flammable liquid used for making paints, sealants and adhesives, and can lead to skin, eye and respiratory irritation upon exposure.
Ethylhexyl acrylate is a liquid used to make paints and plastics that can also cause skin and respiratory irritation, and has been found to cause tumors of the forestomach in animals.
Ethylene glycol monobutyl is classed as acutely toxic, and can lead to irritation of the skin, nose, and throat, damage to the red blood cells, blood in the urine, nerve damage and vomiting after exposure in humans.
However, the extent of the damage that these chemicals can cause to local people and wildlife depends on how much has been released into the environment.
"As always, [the danger] depends on the concentration," Veronica Edmunds-Brown, an expert in urban river pollution and lecturer in aquatic ecology at the University of Hertfordshire in the U.K., told Newsweek. "All these chemicals are an issue on land, water and air."
EPA staff and contractors for the Norfolk Southern Railway Company have begun a clean-up operation, removing contaminated soil from the crash site and monitoring toxicity levels of nearby waterways.
Ohio EPA representative Kirk Kollar said the levels of toxic chemicals in nearby rivers including the Sulphur Run "were immediately toxic to fish."
Other nearby rivers including Little Beaver Creek and the Ohio River are currently being monitored, and Norfolk Southern contractors have installed a dam and a water bypass at Sulphur Run to stop the contamination spreading further, and also to prevent more chemicals entering the stream from the derailment site, the EPA said on Friday.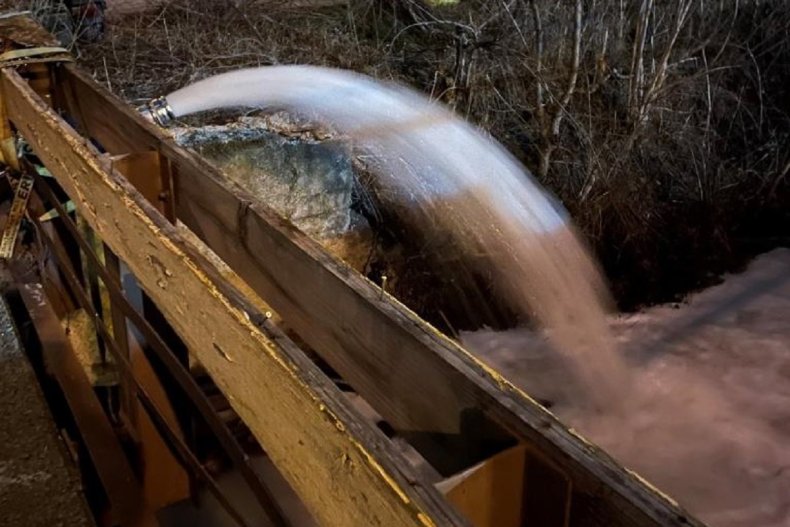 Glass said this monitoring was "probably one of the most important things to make sure that there isn't contamination" and that if there is, "they can stop exposure to it by limiting people's direct contact through drinking or bathing or swimming or anything like that."
The water was also likely to carry the contaminants away.
"Waterways inherently flow," Glass said. "So those effects that are directly in the water would go down relatively quickly, in a matter of days, from when a source stops." The presence of dead fish in the water would subside soon after the source of the contamination was removed, he predicted.
Shore stated that the EPA was "working closely with Ohio EPA to determine what impact the spill has had on surface and groundwater. State and local agencies are conducting sampling throughout the Ohio River to ensure drinking water intakes aren't affected, and EPA is continuing to assist the state with sampling efforts at water treatment intake points along the Ohio River."
"Through the coordinated efforts of emergency responders, we will continue to protect the health and safety of all residents," she added.
"Fortunately air quality threats disappear faster than soil and water contamination, as gases are diluted in the atmosphere," da Silva said. "Hazardous compounds formed in the fire or released directly into the air, however, will have been deposited into the local environment, with potentially long lasting effects."
Update 02/15/23, 3:25 a.m. ET: This article was updated to include comment from Debra Shore, administrator of the EPA's fifth region.