Several states along the Ohio River are now taking a closer look at the river's water quality after a Norfolk Southern Railway train derailed in Ohio earlier this month.
Officials decided to conduct a controlled burn of the toxic chemicals contained within the train cars last week to prevent an explosion that could potentially cause more harm. The train cars contained human carcinogens like vinyl chloride and other toxic chemicals. The chemicals began negatively impacting the environment, such as causing hundreds of fish to die in the Leslie Run stream in East Palestine, Ohio, and harming various other species, such as foxes, coyotes, and birds.
Local news station WLWT reported on Monday that after the burn began, small amounts of the chemicals were identified in the Ohio River, which winds through or borders Illinois, Indiana, Kentucky, Ohio, Pennsylvania, and West Virginia. It supplies more than 5 million people with drinking water. Meanwhile, states hundreds of miles away are also evaluating its water source to ensure it remains safe to drink.
On Monday, local news station WAVE 3 also reported that Louisville Water Company doesn't expect Louisville, Kentucky, to be affected by the chemical spill, but will continue to monitor the situation.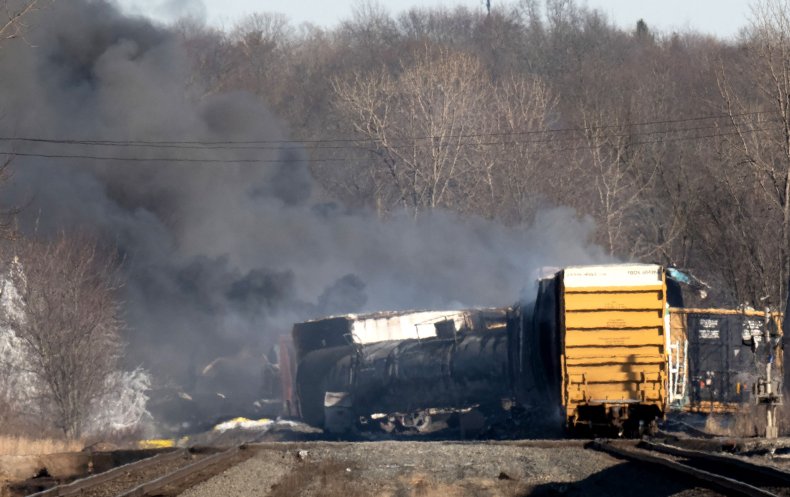 According to an article by Fox News on Monday, West Virginia American Water began enhancing water treatment over the weekend as a precaution against any possible toxic chemicals. Officials in Columbus, Ohio, also began monitoring watersheds that the city uses, but don't expect the spill to impact the city, The Columbus Dispatch reported.
In 2019, the Natural Resources Defense Council (NRDC) published an article about contaminants in the Ohio River. The report called the river one of the most polluted rivers in the nation. John Stolz, a marine microbiologist at Duquesne University, said when a contaminant enters the water upstream, areas downstream are impacted.
The Environmental Protection Agency (EPA) and various other officials responded to the February 3 derailment and have been testing air and water quality. Meanwhile, The Columbus Dispatch also reported that the EPA issued a letter to Norfolk Southern Railway last week detailing the chemicals contained in the train cars that burned.
"Cars containing vinyl chloride, butyl acrylate, ethylhexyl acrylate, and ethylene glycol monobutyl ether are known to have been and continue to be released to the air, surface soils, and surface waters," the letter said.
Despite the fatal impact to the fish, an evacuation order was lifted and people were allowed to return to their homes. Officials involved in the clean-up have determined water to be safe to use, but environmental mitigation tools were put into place to prevent contaminating the water or to remove any contaminants that did make it into the river. It is unclear, however, what the total financial and environmental impact from the derailment will be.
Newsweek reached out to Norfolk Southern Railway for comment.