Biden Admin Under Increasing Pressure Over Ohio Train Disaster
The Biden administration, in particular Transportation Secretary Pete Buttigieg, is taking flak from both sides of the political spectrum over the reaction to the derailment of a train in Ohio carrying toxic chemicals.
On February 3, around 50 carriages of a Norfolk Southern train fell off the tracks in East Palestine, resulting in a huge blaze and and smoke engulfing the Ohio village, forcing residents to evacuate.
The train had been carrying chemicals including vinyl chloride. When the chemical burns, it releases highly toxic gases such as phosgene—which was used to attack trenches in World War I—and hydrogen chloride, which can cause serious irritation and tissue corrosion.
In a February 13 update, the Environmental Protection Agency [EPA] said it has not detected any signs of vinyl chloride or hydrogen chloride in the air following the derailment during screenings to determine if it is safe for residents to return to their homes.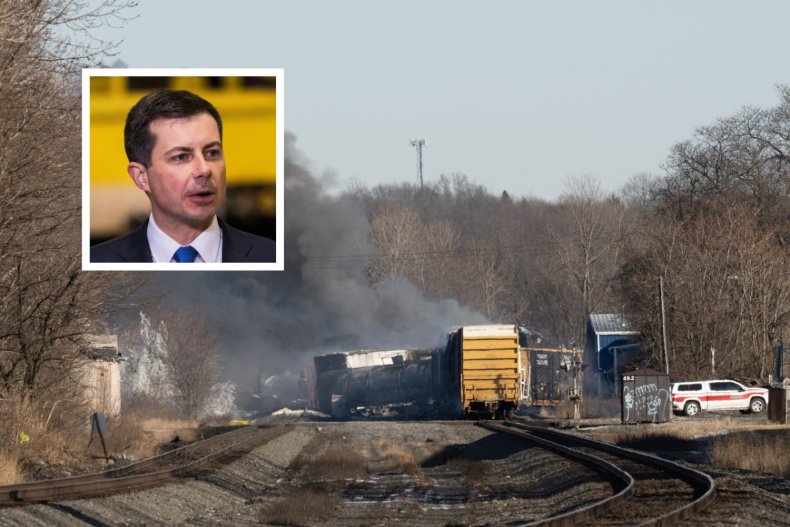 There have also been frequent concerns about the effect a potential chemical spillage could have on the environment, including soil and surface water contamination near the crash site. No injuries were reported as a result of the initial derailment.
Buttigieg has been criticized from both sides for his failure to publicly address the events in East Palestine, including during a appearance at the annual National Association of Counties conference where he praised the Biden administration's infrastructure investments on Monday.
"He jokes about balloons while ignoring East Palestine, OH," tweeted progressive Democrat Nina Turner, a former Ohio state senator and congressional candidate, while sharing a clip of Buttigieg discussing recent issues faced by his department. "We deserve better than this."
Fellow progressive Democrat Ilhan Omar also demanded that Buttigieg set up an inquiry into the incident in Ohio.
"East Palestine railroad derailment will have a significant negative impact on the health and wellbeing of the residents for decades and there is almost zero national media attention," Omar tweeted on Monday.
"We need Congressional inquiry and direct action from Pete Buttigieg to address this tragedy."
On Monday night, Buttigieg did publicly address the incident in Ohio while giving an update on how authorities dealt with the derailment in a series of tweets.
"I continue to be concerned about the impacts of the Feb 3 train derailment near East Palestine, OH, and the effects on families in the ten days since their lives were upended through no fault of their own. "It's important that families have access to useful & accurate information," Buttigieg tweeted.
"USDOT has been supporting the investigation led by The National Transportation Safety Board (NTSB). Our Federal Rail Administration and Pipelines and Hazardous Materials teams were onsite within hours of the initial incident and continue to be actively engaged," Buttigieg added. "We will look to these investigation results & based on them, use all relevant authorities to ensure accountability and continue to support safety."
During his Monday night show, left-wing MSNBC host Mehdi Hasan questioned the response to the derailment while also questioning why Buttigieg took so long to discuss it publicly.
"How safe is it for residents of East Palestine? How serious is Norfolk Southern's financial commitment to making residents whole? Why did Transportation Secretary Pete Buttigieg wait until moments ago to issue his first public statement?" Hasan said.
Also on Monday, Republican Ohio Senator J.D. Vance criticized the Biden administration for spending trillions on infrastructure while still failing to tackle issues across the country which may have resulted in the derailment in East Palestine.
"We know if you listen to Secretary Buttigieg today, that they are focused more on whether we have too many white men in construction jobs than he is in the fundamentals of his job which is ensuring that we have a viable transportation infrastructure in this country," Vance told Fox News' Tucker Carlson.
"We are ruled by unserious people who are worried about fake problems instead of the real fact that our country is falling apart in some of the most important ways."
Florida GOP congresswoman Anna Paulina Luna suggested Buttigieg face an inquiry over his handling of the derailment.
"Time to call Pete Buttigieg in for questioning about what is happening to the great people of Palestine, Ohio after the horrific train derailment and planned toxic chemical spill!" she tweeted.
The Department of Transportation has been contacted for comment.