Biden 'Can't Recall' East Palestine Mayor Talk, Dodges Question on Visit
President Joe Biden said that he "can't recall" whether he's spoken to the mayor of East Palestine, Ohio, while refusing to answer a question about a potential visit to the site of a nearby toxic train derailment.
In an interview with ABC News anchor David Muir that aired Friday night, the president said that he had talked to "everyone" in East Palestine except Republican Mayor Trent Conaway. Republicans have heavily criticized Biden for failing to personally travel to the small Ohio village, which is near the state's eastern border with Pennsylvania, in the weeks after a Norfolk Southern-operated train derailed on February 3.
Conaway has himself lashed out at the president for not visiting the village, telling Fox News host Jesse Watters that Biden's surprise trip to Ukraine this week was "the biggest slap in the face" that proves "he doesn't care about us." Biden's absence has also been a frequent topic of discussion for Republicans like former President Donald Trump, who visited East Palestine on Wednesday.
Muir asked Biden about Conaway's comments in the Friday interview, prompting the president to defend his administration by asserting that Environmental Protection Agency (EPA) officials and others had visited the site "within two hours" of the derailment. The president ignored Muir's inquiry about a personal visit to East Palestine, although he told reporters earlier in the day that he had no plans to visit.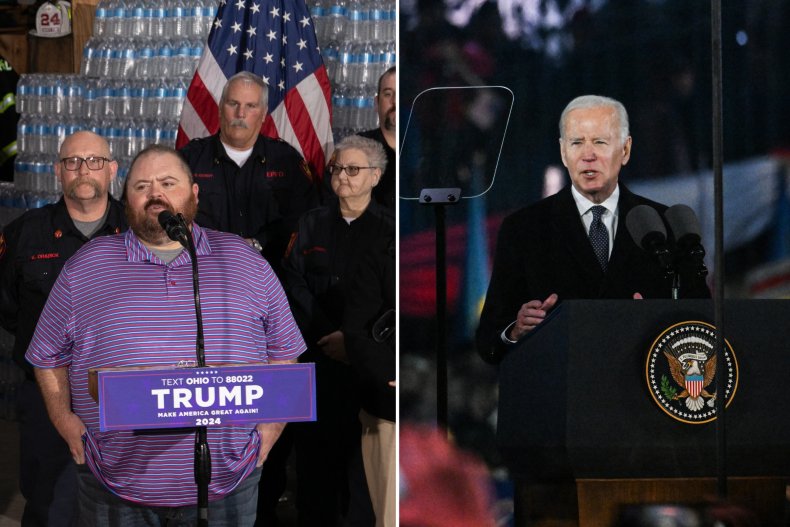 "Within two hours, the EPA was in there," Biden said. "Every major agency in the United States government that has anything to do with rail and/or cleanup was there, and is there. In addition to that, I've spoken at length to [state officials] and I've made it clear to them, anything they need is available ... whatever happens here, we've got to understand that it's the responsibility of the railroad company."
"I can't recall whether I've ... I don't think I've talked to the mayor there," Biden continued after Muir pressed him about speaking to Conaway and visiting the village. "I've talked to everyone else there multiple times. I've talked to both the senators, both governors ... I've talked to everyone there is to talk to. And we've made it clear that everything is available."
Transportation Secretary Pete Buttigieg has also faced intense backlash over his response to the derailment and delayed visit to East Palestine. He did not publicly comment on the incident until February 14.
Buttigieg, who finally visited the village on Thursday, said that he was "proud" of the Department of Transportation's response to the derailment, while blasting "people trying to take political advantage of this situation."
"My focus is that our freight rail system gets better," Buttigieg told reporters during his visit. "And anyone who wants to take political advantage of this, I'm calling them to the table."
Newsweek has reached out to Conaway for comment.