Trump's Ohio Trip Is Clear 'Political Stunt': Ex-Transportation Secretary
Former Transportation Secretary Ray LaHood criticized former President Donald Trump's Wednesday trip to East Palestine, Ohio, calling it a "political stunt."
"It's clear that it's a political stunt," LaHood, a former Republican member of Congress from Illinois who served as the transportation secretary during President Barack Obama's administration, told Politico.
"If he wants to visit, he's a citizen. But clearly his regulations and the elimination of them, and no emphasis on safety, is going to be pointed out," LaHood added.
The comments by LaHood came just ahead of Trump's planned visit to East Palestine, where a train operated by Norfolk Southern derailed on February 3 and released toxic chemicals into the environment around the town.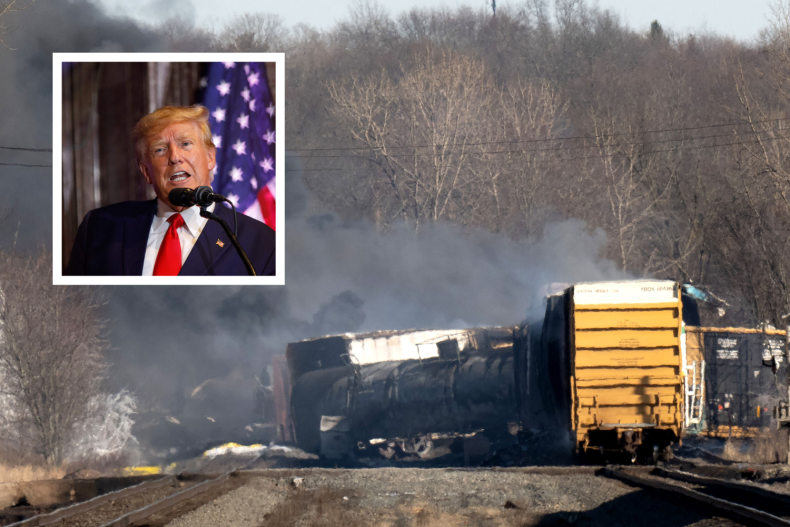 "Breaking News: Trump will visit East Palestine, Ohio next week. If our "leaders" are too afraid to actually lead real leaders will step up and fill the void," Donald Trump Jr. wrote in a tweet on February 17.
Earlier this month, Ohio Governor Mike DeWine said that he has been in contact with officials at the White House and the Federal Emergency Management Agency (FEMA) but he was advised that the state was "not eligible for assistance at this time." However, on February 17, FEMA said in a tweet that it plans to send assistance to Ohio.
Trump responded in a post on his Truth Social account, saying, "Biden and FEMA said they would not be sending federal aid to East Palestine. As soon as I announced that I'm going, he announced a team will go. Hopefully he will also be there. This is good news because we got them to "move." The people of East Palestine need help. I'll see you on Wednesday!"
Despite Trump's recent comments and planned trip, during his time as president, he removed a train safety requirement adopted in 2015 during the Obama administration that required trains carrying hazardous materials to have Electronically Controlled Pneumatic (ECP) brakes.
While speaking with The Lever earlier this month, Steven Ditmeyer, a former senior official at the Federal Railroad Administration (FRA), spoke about the use of ECP brakes on trains and if they could have prevented the derailment.
"Would ECP brakes have reduced the severity of this accident? Yes," Ditmeyer said. "The railroads will test new features. But once they are told they have to do it...they don't want to spend the money."
However, National Transportation Safety Board (NTSB) Chair Jennifer Homendy recently posted a thread of tweets about the derailment and ECP brakes.
"Some are saying the ECP (electronically controlled pneumatic) brake rule, if implemented, would've prevented this derailment. FALSE – here's why..." Homendy wrote. "The ECP braking rule would've applied ONLY to HIGH HAZARD FLAMMABLE TRAINS. The train that derailed in East Palestine was a MIXED FREIGHT TRAIN containing only 3 placarded Class 3 flammable liquids cars."
"This means even if the rule had gone into effect, this train wouldn't have had ECP brakes," Homendy wrote.
Current Transportation Secretary Pete Buttigieg also recently mentioned the removal of safety regulations.
"A lot of the folks who seem to find political opportunity there are among those who have sided with the rail industry again and again and again as they have fought safety regulations on railroads and [hazardous materials] tooth and nail," Buttigieg said, according to Politico.
Newsweek was directed to Homendy's tweets after reaching out to Trump's representatives for comment.