Is Donald Trump to Blame for Ohio Train Derailment?
The derailment of a 150-car train carrying hazardous material in East Palestine, Ohio, was likely more severe because the Trump administration repealed a key safety rule, according to an industry insider.
On February 3, the Norfolk Southern Railway freight train derailed at approximately 8:55 p.m. local time before catching fire near the state border with Pennsylvania.
While there were no injuries, the train included a number of cars containing vinyl chloride, a potentially explosive colorless gas, resulting in about 5,000 people being evacuated on the orders of the Ohio and Pennsylvania governors.
Rescue workers blew holes in five railway carts on February 6, allowing them to conduct a controlled burn of vinyl chloride, which released toxic chemicals into the air.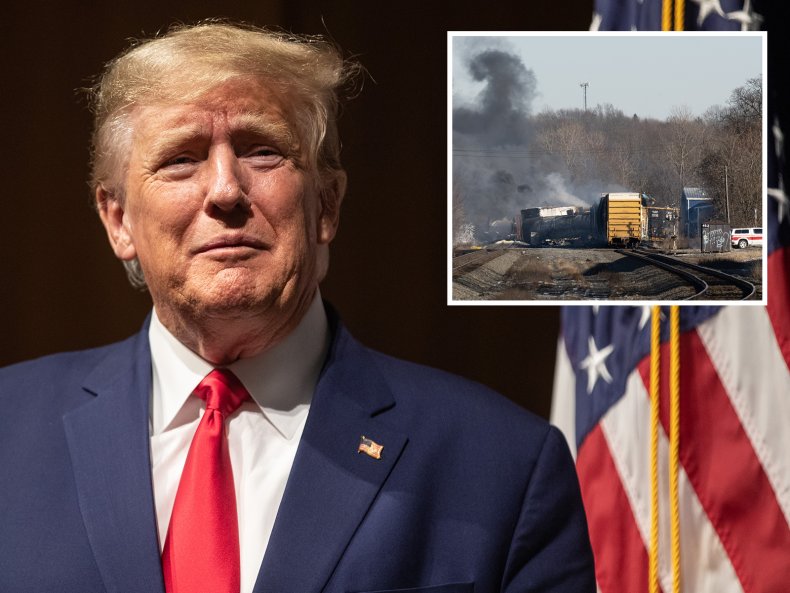 Speaking to investigative news outlet The Lever, Steven Ditmeyer, a former top official at the Federal Railroad Administration (FRA), said the "severity" of the accident was likely increased by the lack of Electronically Controlled Pneumatic (ECP) brakes.
A rule was passed under President Barack Obama that made it a requirement for trains carrying hazardous flammable materials to have ECP brakes, but this was rescinded in 2017 by the Trump administration.
The industry said it would cost more than $3 billion to implement. The FRA under Obama said it would be around half a billion.
The National Transportation Safety Board, a federal agency responsible for investigating rail accidents, told The Lever that the Ohio train that derailed was not fitted with ECP brakes.
"Would ECP brakes have reduced the severity of this accident? Yes," Ditmeyer said.
Referring to opposition from within the rail industry to fitting ECP brakes, he added: "The railroads will test new features. But once they are told they have to do it ... they don't want to spend the money."
Nor have rail regulators in Transportation Secretary Pete Buttigieg's department proposed reinstating the safety rule in question, The Lever reported. A spokesperson for the FRA told the outlet that it was continuing to evaluate ECP brakes to improve safety.
Newsweek reached out to Donald Trump, the Norfolk Southern Railway and the White House for comment.
After the train derailment, hundreds of fish were reported dead in a nearby stream, while an animal rescue worker said a fox they were looking after died after coming into contact with toxic chemicals.
On Monday, Buttigieg provided an update on the accident and an ongoing investigation into its cause.
"USDOT [Department of Transportation] has been supporting the investigation led by The National Transportation Safety Board (NTSB). Our Federal Rail Administration and Pipelines and Hazardous Materials teams were onsite within hours of the initial incident and continue to be actively engaged," Buttigieg tweeted.
"We will look to these investigation results & based on them, use all relevant authorities to ensure accountability and continue to support safety."
Buttigieg added the federal Environmental Protection Agency remained on site, where they are monitoring indoor and outdoor air quality following the release of toxic chemicals.
Correction, 2/15/23, 10 a.m. ET: This article was updated to clarify that the Trump administration repealed a safety rule, not legislation, around the use of ECP brakes.
Update, 2/15/23, 11:10 a.m. ET: This story has been updated to note the White House has also been approached for comment.