Lauren Boebert Reported to FBI After 'Terminate This Presidency' Tweet
Lauren Boebert has been reported to the FBI on Twitter by several users over her "terminate this Presidency" tweet.
The House Republican from Colorado on Sunday appeared to mock President Joe Biden after he mistakenly said "presidency" instead of "pregnancy" while discussing abortions rights being restricted in the U.S. following the revoking of Roe v. Wade.
"Just last week, it was reported that a 10-year-old girl was a rape victim in Ohio — 10 years old — and she was forced to have to travel out of the state, to Indiana, to seek to terminate the presidency and maybe save her life," Biden said on July 8.
In a July 10 tweet, Boebert—a staunchly anti-abortion lawmaker—tweeted: "We need to terminate this Presidency. End quote. Repeat the line," Boebert added in reference to another gaffe Biden made during his speech in which he appeared to read out teleprompter commands.
In response, dozens of social media users reported the tweet to the FBI, as well as the Homeland Security and Justice Department, claiming it incited violence against the president.
"Why is Boebert not in custody? She is making threats," one user tweeted to the FBIs official account.
Boebert and the FBI have been contacted for comment.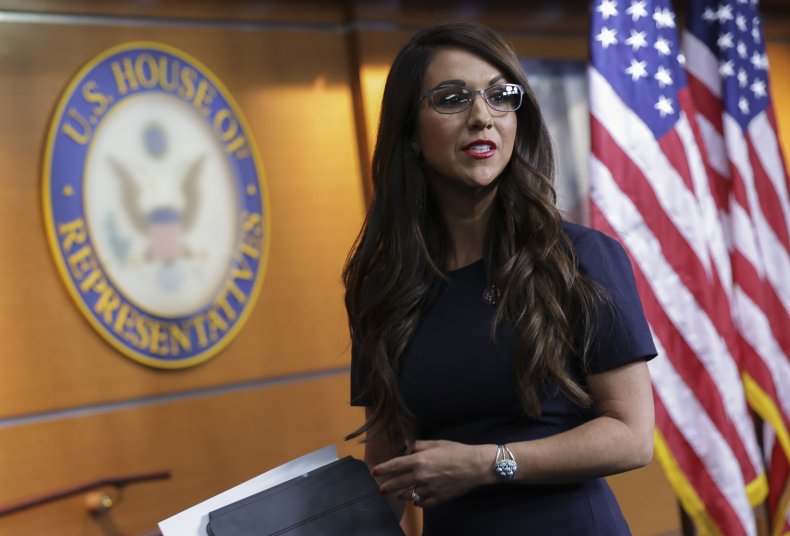 Another Twitter profile, TDemocrat65, said: "FBI add my tweet to the growing list of tweets asking you to investigate Boebert for her comment that most of us perceive as a threat directed at POTUS."
"If you incited violence toward the President of the United States, you'd be arrested. Lauren Boebert has crossed the line once again," wrote Twitter user @AvengerRegister.
Pro-Democrat social media group Occupy Democrats encouraged others to back the calls for an FBI probe, writing: "RT [retweet] IF YOU THINK THAT THE FBI MUST LAUNCH AN INVESTIGATION INTO BOEBERT"
Boebert's critics have previously expressed concerns over her remarks about Biden.
During an appearance at the Charis Christian Center Family Camp Meeting in Colorado on June 11, Boebert quoted Bible verse while discussing Biden.
"I do want you to know that I pray for our president. Psalm 109:8 says, 'May his days be few and another take his office.' Hallelujah! Glory to God," Boebert said of the 79-year-old president.
In response, former Democratic congressional candidate Russell Foster tweeted shortly after: "So Lauren Boebert is praying for the death of President Biden at a church camp in front of the campers. How very 'Christian'. That she gets wooed and applause for it is even viler."