The debate over whether Michael Jordan or LeBron James deserves to be considered the greatest player in NBA history has rumbled on for more than a decade and will in all likelihood continue at least until the latter retires.
According to LaVar Ball, however, the discussion is not worth having because Jordan stands head and shoulders above James. At least temporarily, because Ball expects his sons to eclipse Jordan's achievements.
"The greatest of all time, how do you measure that? You measure that by your victories and what you did in those victories," Ball told Fox Sports anchor Shannon Sharpe during an appearance on Club Shay Shay on Tuesday.
"I ain't talking about, you got 12 rings and you've been on five different teams. I'm talking about a dude who went to the finals who was the main guy six times in a row."
James won his fourth NBA title last month, as he led the Los Angeles Lakers to their first NBA championship in 10 years after defeating the Miami Heat in six games. LeBron added a fourth finals MVP crown to his resume, becoming the first player in NBA history to win the award with three different franchises. He received the accolade with the Miami Heat in 2011 and 2012 and the Cleveland Cavaliers in 2016.
Jordan, however, still leads James by six to four in both categories, having won the title in each of his six NBA Finals appearances. James has made the finals 10 times—including a stretch of eight consecutive appearances.
While James played on teams that were manifestly inferior to the star-studded Chicago Bulls who completed two three-peats in eight years, Ball suggested a 40 percent win ratio in the finals was not good enough to consider the Lakers star the greatest of all time.
Never shy to express his opinions however outlandish, Ball then hinted that Jordan's reign would not continue if his own sons fulfilled their potential.
"When you have losses on your record, you can't be the greatest of all-time. That dude [Jordan] ain't got no losses in the finals. So it's always going to be Michael Jordan until my boys succeed that, which is going to happen," said Ball, founder of clothing company Big Baller Brand.
Two of Ball's three sons are now in the NBA after LaMelo was selected by Jordan's Charlotte Hornets with the third overall pick in last week's draft. Three years ago, the Lakers spent the second overall pick on his brother, Lonzo.
The eldest of the Ball brothers spent two seasons in Los Angeles, playing alongside James in the second, before being shipped to the New Orleans Pelicans along with Brandon Ingram, Josh Hart and two first-round picks in exchange for seven-time All-Star Anthony Davis.
The trade transformed the Lakers into title contenders while Ball enjoyed a positive first season in New Orleans, recording career highs in points per game, three-point percentage, games started and games played.
His brother LaMelo arrives in the NBA following a solitary season with the Illawarra Hawks in Australia's National Basketball League, in which he was named Rookie of the Year.
Although the Hornets' decision to use the third pick on Ball speaks volumes for the faith Jordan has in the 19-year-old, the relationship between Ball Sr. and MJ could be frosty.
In 2017, Ball famously told USA Today he "would kill" Jordan in a one-on-one game in his prime, despite averaging a paltry 2.2 points per game while playing college basketball at Washington State.
Jordan's reply was typically blunt. "He played, I think, college, maybe?" Jordan said six months later.
"He averaged 2.2 points per game. Really? It doesn't dignify an answer, but I'm going to give it to you because you asked the question. I don't think he could beat me if I was one-legged."
For his part, LaMelo looked to sidestep the issue, suggesting the prospect of his father taking on Jordan remained remote.
"I think we know how it would turn out, to be honest," Ball said during his press conference after the draft last week.
"Well, I mean, it is my pops and my boss, so I'm on both sides now."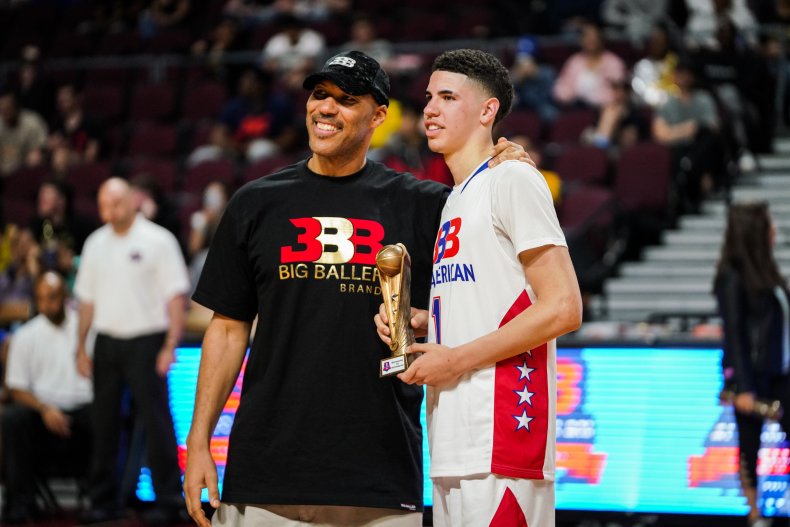 About the writer
Dan Cancian is currently a reporter for Newsweek based in London, England. Prior to joining Newsweek in January 2018, he was a news and business reporter at International Business Times UK. Dan has also written for The Guardian and The Observer.