'Law & Order Organized Crime': Why Christopher Meloni Left 'SVU'
Law & Order: Special Victims Unit (SVU) fans are in for a treat this April as Elliot Stabler (played by Christopher Meloni) returns to the NBC show. He will be reunited with Olivia Benson (Mariska Hargitay) in an episode of SVU just prior to the launch of his own hotly-anticipated show, Law & Order: Organized Crime.
Meloni's appearance on SVU will be his first credit on the show since 2011, when it was announced that the actor would be leaving the show, surprising many who thought he was set to return for another season.
Why did Christopher Meloni leave Law & Order: SVU?
In July 2020, Meloni said of his reasons for leaving the show to the New York Post: "How I left was a different issue and had nothing to do with the Law & Order people, the SVU people or with Dick Wolf. I left with zero animosity, but I did leave clearly and open-eyed in going forward and finding new adventures.
"I was like, 'That's what I want to do, keep moving forward.' I had done the Law & Order way of storytelling, which they do really well, and I was interested in telling stories from a different angle—whether comedic or inhabiting a new world or doing it on different platforms."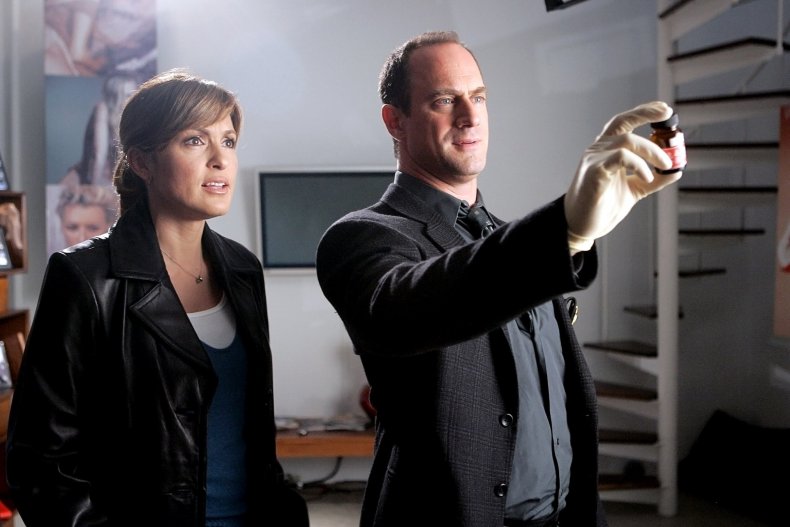 The actor, who went on to roles in The Handmaid's Tale, Man of Steel and the two Netflix Wet Hot American Summer spin-offs, left the show in May 2011, when it was revealed he would not return for the show's 13th season.
Earlier that month, it was thought that he would be back for the new season of the show. The Hollywood Reporter had written that he would join Mariska Hargitay for Law & Order: SVU Season 13, with NBC Entertainment chairman Bob Greenblatt telling the magazine his contract was "nearly done." Then, just a week before Meloni announced his departure, the exec told TV Line, "I think we're gonna be in pretty great shape with Chris."
However, in the two weeks between that article and his departure, negotiations broke down.
In a 2021 People interview, Meloni called the end of these talks "inelegant." The actor added: "At the end of the day, how it was handled was, 'Okay, see you later.' So I went 'That's fine. We're all big boys and girls here. See you later.' And I was off on new adventures and doing what I wanted to do. Telling the stories I wanted to tell."
Shortly after the announcement, Hargitay said of her co-star to TV Line: "For the past 12 years Chris has been my partner and friend, both on screen and off. He inspired me every day with his integrity, his extraordinary talent and his commitment to the truth. I love him deeply and will miss him terribly—I'm so excited to see what he'll do next."
In the 2021 People interview, meanwhile, she acknowledged the hole left in the show by Meloni, saying: "in television, when somebody leaves, obviously there's a grieving period, but the fans never moved on. I think that is just so incredibly beautiful and so incredibly powerful."
Law & Order: Special Victims Unit and Law & Order: Organized Crime air Thursdays at 9 p.m. ET / 8 p.m. CT and 10 p.m. ET / 9 p.m. CT respectively on NBC.