Lawmakers Pay Respects to Walter Mondale As Former VP Dies Aged 93
Lawmakers paid tribute to the former vice president and presidential candidate Walter "Fritz" Mondale after his death on Monday night aged 93.
Mondale, who served as vice president under Jimmy Carter when he was inaugurated president in 1976, died in his sleep at his home in Minnesota.
Democratic lawmakers in the House and Senate said he was a "champion of civil rights" and a "real statesman" following the announcement of his death yesterday evening.
"Our country owes a great debt to Vice President Mondale, a real statesman who fought for civil rights and equal rights throughout his life," Sen. Elizabeth Warren (D-MA) said. "My heart goes out to his family and friends tonight."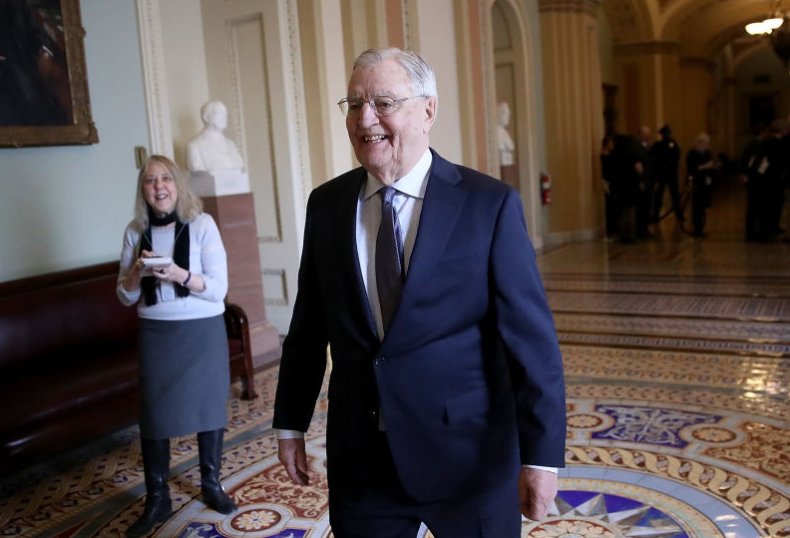 Vice President Kamala Harris said the former presidential candidate who stood against Ronald Reagan in 1984 led an "extraordinary life of service." She added that her thoughts were with his family.
Rep. Ilhan Omar (D-MN) said in a statement that Mondale was a "giant" in Minnesota politics and a lifelong supporter of progressive causes and civil rights struggles. "We thank you, Mr. Vice President, and promise to continue the fight for justice and civil rights," she added.
Posting a picture of herself with Mondale, Sen. Amy Klobuchar (D-MN) tweeted: "Walter Mondale was my mentor from the first time I worked for him in college. My job then? Doing the furniture inventory.
"He encouraged me to run for office and was always there for me. But I wasn't the only one. He saw his mission as preparing a new generation of leaders."
Sen. Cory Booker offered a similarly personal tribute to the former vice president. "I mourn the passing of VP Walter Mondale, whose lasting legacy includes a law that helped my family move into a home in an all-white neighborhood with good schools that gave me the foundation to serve—just as he did—as a U.S. Senator," he said.
Former Presidents Jimmy Carter and Barack Obama were also among those to pay their respects to Mondale last night.
Mondale was a U.S. senator from Minnesota from 1964-76, when he was elected as vice president on Carter's ticket. He also served as the U.S. ambassador to Japan under former President Bill Clinton.
In a final email to his staff on Monday, Mondale said his time had come and that he was "eager to rejoin Joan and Eleanor" his late wife and daughter. "Before I go I wanted to let you know how much you mean to me," he added. "Never has a public servant had a better group of people working at their side!"
The email ended: "I always knew it would be okay if I arrived someplace and was greeted by one of you. My best to all of you! Fritz."