List of 30 Republicans Who Voted Against Money for 9/11 Victims' Families
Thirty Republicans and one Democrat opposed legislation Friday that provides compensation to the victims of 9/11 and their family members.
The legislation, the Fairness for 9/11 Families Act, advanced the House in a vote of 400-31, and includes a total of $3 billion to increase compensation for 5,000 victims of 9/11 as well as their spouses and dependents, according to the New York Daily News.
"400-31: House passes 9/11 victim compensation legislation, providing up to $3B in payments to compensate widows and dependent children of 9/11 victims. Money will come from unspent funds from the 2020 COVID-19 relief law. The Fairness for 9/11 Families Act now heads to Senate," Craig Caplan, a Capitol Hill producer for CSPAN, tweeted Friday.
Caplan also tweeted a list of those who opposed the measure.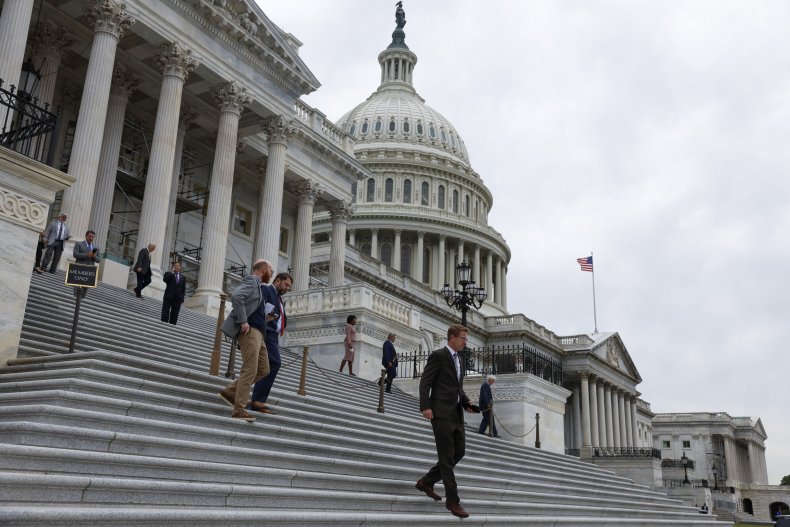 Full List of Republicans Who Voted Against Compensating 9/11 Victims
Jodey Arrington, Texas
Andy Biggs, Arizona
Dan Bishop, North Carolina
Lauren Boebert, Colorado
Mo Brooks, Alabama
Ken Buck, Colorado
Tim Burchett, Tennessee
Michael Cloud, Texas
Andrew Clyde, Georgia
James Comer, Kentucky
Dan Crenshaw, Texas
Warren Davidson, Ohio
Louie Gohmert, Texas
Mark Green, Tennessee
Glenn Grothman, Wisconsin
Andy Harris, Maryland
Diana Harshbarger, Tennessee
Jody Hice, Georgia
Blaine Luetkemeyer, Missouri
Thomas Massie, Kentucky
Greg Murphy, North Carolina
Troy Nehls, Texas
Ralph Norman, South Carolina
Bill Posey, Florida
Tom Rice, South Carolina
John Rose, Tennessee
Chip Roy, Texas
Van Taylor, Texas
Michael Turner, Ohio
Daniel Webster, Florida
Oregon Congressman Kurt Schrader was the sole Democrat to oppose the measure.
"I voted No on HR 8987 because the Government of Saudi Arabia, whose agents assisted the hijackers in their heinous plot, should pay into the 9/11 victims' fund, not U.S. taxpayers," Representative Thomas Massie, a Kentucky Republican who opposed the legislation, wrote on Twitter Friday.
Representative Nicole Malliotakis, a Republican from New York who worked on the bill, praised the legislation on Friday.
"Bill language I wrote to make whole 5,364 widows & children of 9/11 wrongfully excluded from the Victims of State Sponsored Terrorism Fund passed today w/ an overwhelming bipartisan vote. I thank Chairman Nadler & Ranker Jim Jordan for helping get it done," she wrote on Twitter, referring to Representative Jerry Nadler, of New York, and Representative Jim Jordan, of Ohio.
Newsweek has reached out to several Republican representatives who opposed the legislation, as well as Schrader, and to the September 11th Families' Association for comment.
Nearly 50 Republicans also voted Thursday against establishing an Office of Food Security at the Department of Veterans Affairs. The Food Security for All Veterans Act was passed by a 376-49 vote, sending the bill to the Senate for approval.