GOP Lawmaker Backs Biden's Infrastructure Bill to Own the Squad: 'I Voted Against AOC'
Representative Nicole Malliotakis, one of the 13 House Republicans who voted in favor of President Joe Biden's $1.2 trillion bipartisan infrastructure bill late on Friday, justified her decision by saying it was an effort to counter the so-called "Squad" of progressives.
Six progressive Democratic lawmakers bucked their party and voted against the infrastructure legislation. They stuck to their vow not to back the package unless it was approved in tandem with the large Build Back Better "human infrastructure" bill, which is still being negotiated by Democrats.
Nicole Malliotakis, a New York Republican, told Axios after the vote that her support was influenced by the progressives' opposition. She specifically called out Congresswoman Alexandria Ocasio-Cortez, a New York Democrat.
"I weakened their hand. They have no leverage now," Malliotakis contended. "I voted against AOC and the Squad tonight," she asserted.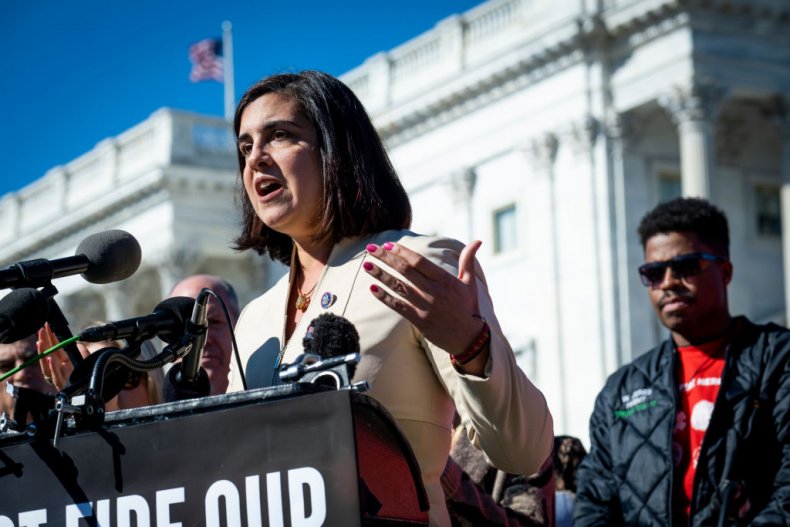 Progressive had been withholding their support of the bipartisan infrastructure bill in an effort to ensure moderate Democrats would also back Biden's partisan Build Back Better reconciliation bill. While Biden and Democratic leaders continue to express confidence that the larger partisan spending plan will pass later this month, most progressive lawmakers went back on their promise not to support the bipartisan legislation unless it was passed in conjunction with the bigger package.
Malliotakis told Axios that she believes the Build Back Better bill will now be "drastically weakened" by moderates. The Republican congresswoman suggested that it could even "die altogether" in the Senate.
In addition to Ocasio-Cortez, progressive Democratic Representatives Ilhan Omar of Minnesota, Rashida Tlaib of Michigan, Ayanna Pressley of Massachusetts, Cori Bush of Missouri, and Jamaal Bowman of New York voted against the bipartisan infrastructure bill. "The Squad" was initially a term used to refer to Ocasio-Cortez, Omar, Tlaib and Pressley after they were first elected to Congress in 2018. After the 2020 election, their ranks expanded to include Bowman and Bush.
Newsweek reached out to Ocasio-Cortez's spokesperson for comment but did not immediately receive a response.
House Speaker Nancy Pelosi, a California Democrat, said that she still expects to pass the Build Back Better reconciliation package by Thanksgiving. However, the details are still being negotiated.
A group of moderate House Democrats refused to support the $1.75 trillion reconciliation legislation unless they first see scoring from the non-partisan Congressional Budget Office (CBO) about whether it will be fully paid for or add to the national debt. Democrats and Biden have maintained that the spending is fully offset.
Ocasio-Cortez pointed out the irony of the moderates' demand in a Friday tweet. She noted that the CBO had projected that the bipartisan infrastructure bill would add substantially to the national debt, although it would largely be offset by measures included to cover the costs.
The progressive Democrat shared a tweet from NBC News political reporter Sahil Kapur who wrote: "some of the same holdouts demanding a CBO score showing Build Back Better is fully paid for are also strong supporters of the infrastructure bill, which CBO says is NOT paid for and adds $256 billion to the debt."
In response, Ocasio-Cortez quipped: "Welcome to 'Who's a Deficit Hawk Anyway?', where the debt concerns are made up and the CBO scores don't matter."