GOP Rep. Adam Kinzinger Mocks Marjorie Taylor Greene for Calling Infrastructure Communism
Representative Adam Kinzinger, an Illinois Republican, mocked Representative Marjorie Taylor Greene, a Georgia Republican, for calling the $1.2 trillion bipartisan infrastructure bill a "Communist takeover."
Thirteen House Republicans voted with nearly all House Democrats to pass the major bipartisan piece of legislation late on Friday. In August, 19 Republican senators voted in favor of the infrastructure legislation along with all the senators of the Democratic Caucus.
But even though the significant investment in the nation's roads, bridges, public transportation and water systems is much needed, according to engineers, Greene views the bipartisan bill as communism.
"These are the 13 'Republicans' who handed over their voting cards to [House Speaker] Nancy Pelosi to pass [President] Joe Biden's Communist takeover of America via so-called infrastructure," Greene tweeted early Saturday morning. She then listed the names of the 13 GOP House members who voted in favor of the bipartisan legislation.
Kinzinger, who was among the 13 Republicans supporting the bill, quickly took issue with Greene's assessment.
"Infrastructure=communism is a new one. Eisenhower's interstate system should be torn up or else the commies will be able to conveniently drive! Red Dawn in real life," the GOP congressman tweeted, sharing a screenshot of Greene's post.
President Dwight D. Eisenhower, a Republican who served from 1953 to 1961, is credited with the creation of the nation's modern highway system, which has led to untold economic benefits for the U.S. economy. Funding for the highway system was approved in a bipartisan way by Congress under Eisenhower's administration. That infrastructure spending ultimately cost about $1 trillion in today's dollars, according to Bloomberg.
"Also I'm assuming that the 'Republicans' being in quotes implies that if you don't believe in Jewish space lasers, and believe in roads, you aren't a real Republican," Kinzinger added in a follow-up post.
In November 2018, before she was in office, Greene shared a conspiracy theory on Facebook that lasers from space funded by wealthy Jews could be the cause of California wildfires.
Kinzinger again mocked Greene, referring to the "space lasers" in another Saturday tweet.
"But toss funding for the Countering Jewish Space Laser (CJSP) program in there and she'd be a big yes," the Illinois Republican remarked.
Greene also shared the numbers of all 13 GOP congresspersons, apparently hoping her supporters would call and complain to her colleagues. Newsweek reached out to Greene's spokesperson for further comment but did not immediately receive a response.
GOP Representatives Don Bacon of Nebraska, Brian Fitzpatrick of Pennsylvania, Andrew Garbarino of New York, Anthony Gonzalez of Ohio, John Katko of New York, Adam Kinzinger of Illinois, Nicole Malliotakis of New York, David McKinley of West Virginia, Tom Reed of New York, Chris Smith of New Jersey, Fred Upton of Michigan, Jeff Van Drew of New Jersey, and Don Young of Alaska all voted with Democrats to approve the bill.
The legislation now goes to Biden's desk for a final signature, delivering the president a significant bipartisan win.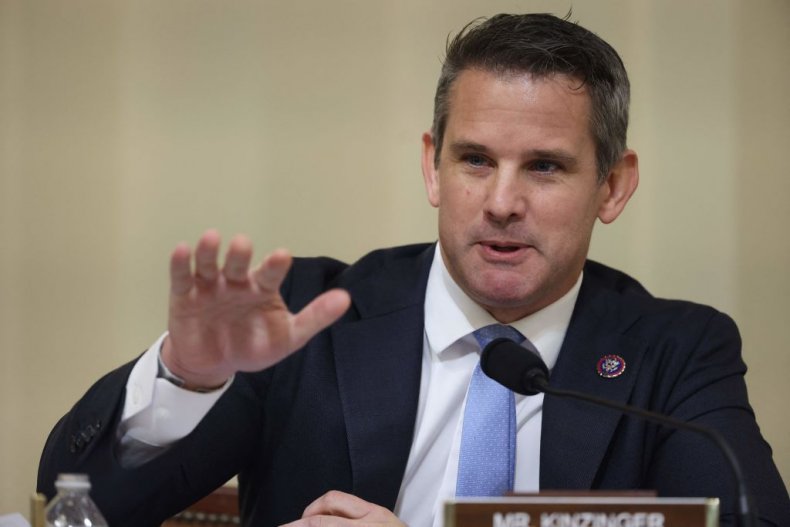 Senate Majority Leader Mitch McConnell, a staunchly conservative Kentucky Republican, also backed the bipartisan infrastructure bill in August.
"I was proud to support today's historic bipartisan infrastructure deal and prove that both sides of the political aisle can still come together around commonsense solutions," McConnell said in a statement at the time. "By promoting sensible, collaborative legislation, we have shown that the Senate still works as an institution."