Representative Adam Kinzinger, an Illinois Republican, assessed that lies are "standard" under the leadership of House Minority Leader Kevin McCarthy, a California Republican, and former President Donald Trump.
Kinzinger, a staunch Trump critic, made the remark on Twitter Thursday after McCarthy claimed that the GOP congressman had angled to become Air Force secretary under the former president's administration. The Illinois Republican quickly rejected McCarthy's claim.
"Complete lie. Standard nowadays in the trump/McCarthy playbook," Kinzinger tweeted, sharing a post from CNN reporter Malanie Zanona highlighting the House Minority Leader's claim.
Zanona wrote that McCarthy "told me Kinzinger was once lobbying to serve as Trump's Air Force secretary, and even asked McCarthy to "put a word in" with Trump. "During the Trump administration, no one called me more for a job," McCarthy said.
Newsweek reached out to McCarthy's spokesperson for comment.
Kinzinger officially announced last week that he would not be seeking reelection in the 2022 midterms. That announcement came after a new electoral map was approved in Illinois, which merged Kinzinger's district with that of another Republican who has remained supportive of Trump. Although Kinzinger could have run a primary against his fellow GOP lawmaker, he appeared unlikely to win considering his fierce opposition to the former president.
With his announcement last Friday, the Republican congressman released a video saying his "disappointment in the leaders that don't lead is huge," warning that the nation has reached a perilous moment.
"We've allowed leaders to reach power selling the false premise that strength comes from degrading others and dehumanizing those who look, act or think differently than we do," Kinzinger said. "As a country, we've fallen for those lies and now we face a poisoned country filled with outrage blinding our ability to achieve real strength."
A day later on Saturday, he released another video urging Americans to join his Country First movement, which he launched via a political action committee earlier this year.
"Our country is in danger," Kinzinger warned. "It's the definition of insanity to believe the leaders who got us into this mess are going to get us out of it."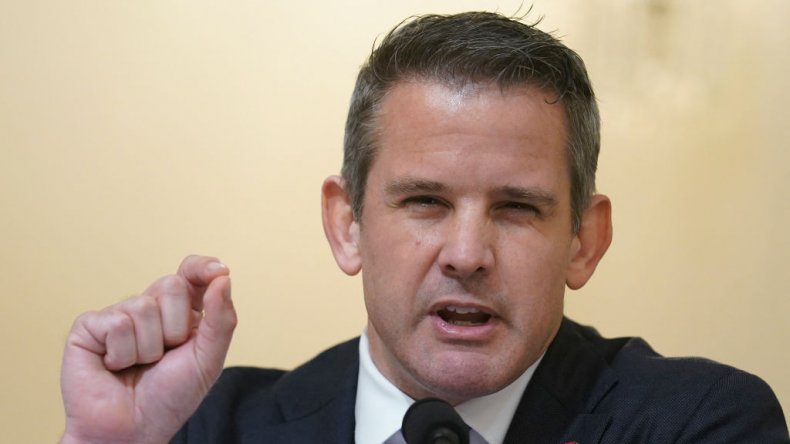 Kinzinger was among the 10 House Republicans who voted to impeach Trump after his supporters attacked the U.S. Capitol on January 6. Along with GOP Representative Liz Cheney of Wyoming, he is one of two Republicans appointed by House Speaker Nancy Pelosi, a California Democrat, to serve on the House select committee investigating the January 6 attack.
Kinzinger, as well as Cheney, have been unsparing in their criticism of Trump as well as fellow Republicans who continue to back the former president. They have repeatedly taken aim at McCarthy for his refusal to part ways with Trump, despite initially blaming the former president for the January 6 violence.