'Pure Evil': Republican Adam Kinzinger Blasts Tucker Carlson for 'Abusing' Viewers' Trust
Representative Adam Kinzinger, an Illinois Republican, condemned Fox News host Tucker Carlson and blasted the Murdoch family behind the right-wing cable network for "cashing in" at the expense of American democracy.
Carlson, who is no stranger to stirring controversy, released a trailer last week for an upcoming special titled Patriot Purge that purports to tell the "true story behind" the January 6 attack against the U.S. Capitol carried out by former President Donald Trump's supporters.
Kinzinger, a staunchly anti-Trump Republican, and a number of others quickly slammed Carlson when he shared the trailer, as it promotes the conspiracy theory that the insurrection was a "false flag" operation. In an early Saturday morning Twitter post, Kinzinger again took aim at Carlson and Fox News.
"The Murdoch family and @foxnews is cashing in on the back of American democracy. @TuckerCarlson talks a very tough game, but we all know he couldn't hack it out there. Abusing his viewers trust for more cash. Pure EVIL," the GOP congressman tweeted.
Rupert Murdoch, an Australian-American billionaire, is the chairman of Fox Corporation.
Kinzinger retweeted a video of CNN's Jim Acosta criticizing Carlson's new special, which is slated to begin streaming on Fox Nation on Monday. In the clip, Acosta said that "we've already seen what [Carlson's] brand of hate-filled rhetoric can do to America," pointing to multiple incidents of white supremacist violence in the past few years.
In a previous Thursday Twitter post, Kinzinger took aim at Fox News and Carlson after the host shared the trailer on Wednesday evening.
"Anyone working for @FoxNews must speak out. This is disgusting. It appears @foxnews isn't even pretending anymore," the Republican wrote in that post.
Representative Liz Cheney, a Wyoming Republican who is also staunchly opposed to Trump, slammed Carlson and Fox News as well.
"It appears that @FoxNews is giving @TuckerCarlson a platform to spread the same type of lies that provoked violence on January 6. As @FoxNews knows, the election wasn't stolen and January 6 was not a 'false flag' operation," Cheney tweeted on Thursday.
Even Fox News personality Geraldo Rivera, who has described Trump as a friend but blasted the former president for the violence of January 6, took issue with Carlson's new special.
"'False flags!?' Bullsh**," Rivera tweeted, sharing Kinzinger's criticism of Carlson.
The Fox News host's trailer shows scenes from the January 6 violence while claiming there is now "a plot against the people." A commentator in the clip claims there is now a "domestic war on terror," while another suggests the Capitol attack may have been a "false flag" operation. As of the time of writing, the video posted by Carlson had been viewed nearly 3 million times on Twitter.
Many Trump supporters and promoters of the QAnon conspiracy theory have suggested that the Capitol assault was a "false flag" operation orchestrated by the so-called "deep state." The QAnon conspiracy baselessly claims that Trump is taking on a group of Satan-worshipping Democrats and societal elites who work to control the world while molesting and sacrificing children.
Carlson responded to the criticism during his Thursday evening program by taking aim at Cheney directly.
"Keep in mind that Liz Cheney has not even seen the film that she is so angry about—just the trailer," the Fox News host said.
He went on, claiming that "what we found in the end bore no resemblance whatsoever to the story [of January 6] that you have heard repeatedly from Liz Cheney and [House Speaker] Nancy Pelosi, as well as their many obedient mouthpieces in the media. They were lying."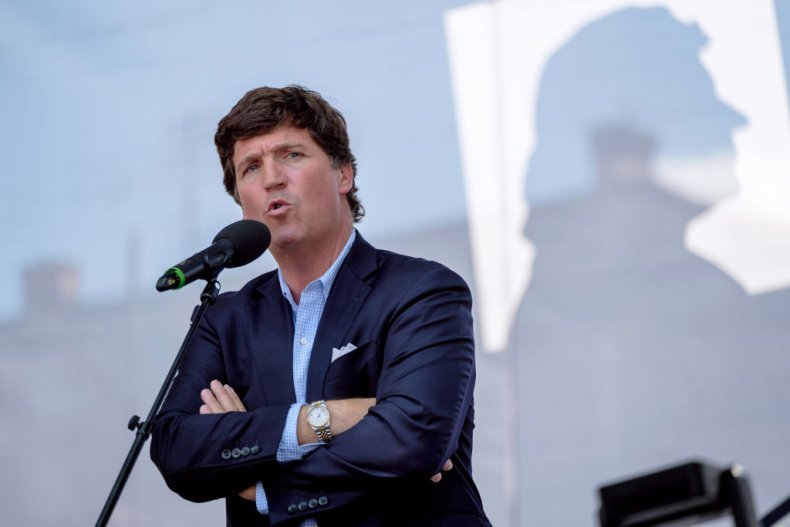 Although he faces routine backlash, Carlson remains one of the most popular personalities on cable television. The Fox News host's program was the highest-rated show on cable news during the third quarter of this year, averaging more than 3.2 million viewers. It has been one of the most-watched—or the most-watched—shows on cable news for several years.
Cheney and Kinzinger were among the 10 House Republicans to vote with Democrats to impeach Trump following the January 6 attack. The two GOP lawmakers have since been consistent critics of the former president and fellow Republicans that continue to support him. They also serve on the House select committee investigating the events of that day after being appointed by Pelosi, a California Democrat.
Newsweek reached out to Fox News for comment but did not immediately receive a response.