Wealth Tax Would Have Increased Anti-Semitism in 20th-Century Tycoons, Stifled Ford Philanthropy, Clinton Economist Says
Former Clinton Treasury Secretary Lawrence Summers this week railed against the so-called "wealth tax" proposed by progressive Democrats, warning that such "anti-business" policies could have provoked more anti-Semitism from 20th-century business leaders.
Speaking at The Peterson Institute for International Economics, Summers argued, "there are better ways to be much more progressive" than a wealth tax similar to those proposed by 2020 Democratic presidential candidates Elizabeth Warren and Bernie Sanders. He compared their campaigns' redistribution proposals to the failed 1972 presidential run of George McGovern, and challenged liberals to see that a wealth tax could backfire and increase corporate lobbying to groups such as the NRA.
Summers claimed a wealth tax would have promoted anti-Semitism in wealthy 20th-century business tycoons such as Henry Ford and kept them from creating massive philanthropic projects such as the Ford Foundation.
"Forcing the wealthy to spend could boomerang. If the wealth tax had been in place a century ago, we would have had more anti-semitism from Henry Ford and a smaller Ford Foundation today," Summers, who is President Emeritus of Harvard University, remarked on Twitter Saturday.
The former World Bank economist and Director of former President Barack Obama's National Economic Council also called for a "distinction between wealth and permanent income."
Summers repeatedly stated he doesn't believe today's political power problems involve massive personal contributions from wealthy donors, positing that America's super wealthy will simply move money to their family members and like-minded political groups should they be pressured by the government. He said wealth inequality has very little to do with political power and would ultimately hurt investment in lower or middle class efforts.
During the 1920s and 1930s in which Ford became an international business tycoon, he used newspapers to promote anti-Semitic conspiracy theories such as The Protocols of the Elders of Zion. Summers, who is Jewish, touted the Ford Foundation for "famously identifying" the end of a bull market in 1969 and encouraging non-profits to invest more equity in endowments than in debt. He compared that move to the "big wave of enthusiasm of this kind just before the NASDAQ bubble burst in 1999."
Back on Twitter, Summers compared Warren and Sanders to McGovern's campaign against Republican Richard Nixon in 1972: "[McGovern] later regretted his anti-business tone and lost badly to Nixon, the past President who most resembles Trump...The campaign proposals that the wealth tax reminds me most of are George McGovern's--with the same kind of redistribution emphasis which didn't work for progressive cause as it led to Richard Nixon's re-election," Summers warned.
Much of Summers' commentary took place at the PIIE conference last week entitled, "Combating Inequality: Rethinking Policies to Reduce Inequality in Advanced Economies." At the beginning of the talk, also attended by the University of California, Berkeley's Emmanuel Saez, The Washington Post's Catherine Rampell quipped, "I was warned this could turn into a street brawl," before asking, "Should we think about redistribution as a means to an end or an end in and of itself?"
Summers argued donations to the National Rifle Association and corporate lobbying would not be affected by a wealth tax, "none of which is addressed by the wealth tax ... when you make the government a significant owner of companies, to what extent will the government intrude into the companies?"
"I do not think that a focus on wealth inequality as a basis of a more just society is terribly well designed, first, the arguments around political power have almost no validity, the truth is you can become one of the most powerful money people around the Dem or Rep Party for 4 or 5 million dollars a year," Summers said at the PIIE conference.
"Nothing in this world is going to stop the wealthiest people in America from coming up with a vast multiple of 4 or 5 million dollars a year," he added in a tone of futility. "Wealth inequality is a highly problematic basis for judging a society."
In perhaps Summers' most applauded remark on social media Saturday, he acknowledged: "Lack of income growth and opportunity for middle class families is a fundamental problem in American society. So too is rising inequality."
Sanders campaign speechwriter David Sirota rebuked Summers' commentary, "Wait, your argument is that we can't have a wealth tax because Henry Ford was an anti-semite?"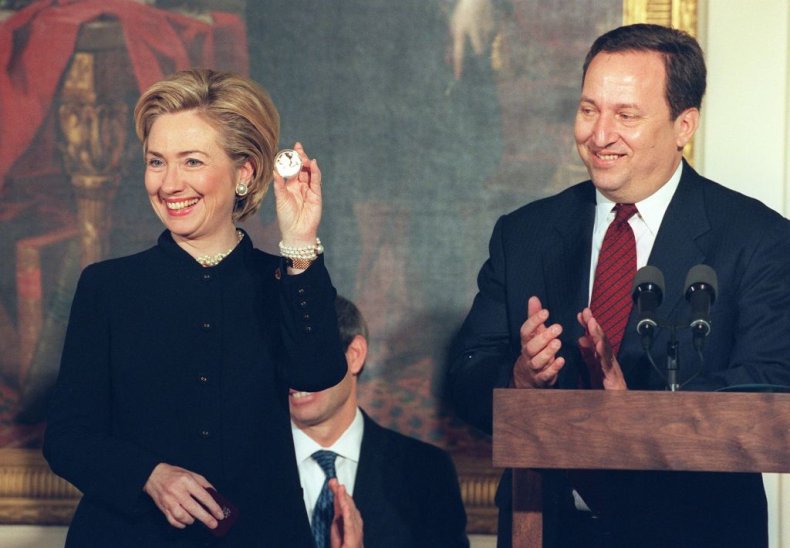 On Fox News last week, economist Peter Morici argued that $50 million was not a lot of money to the top venture capitalists and corporate founders, saying Warren's plan would hurt trickle-down investment.
"These are absurd rates. You have to remember these are the people who finance our startups, these are the people who give us companies like Amazon and Apple. They're the ones with the seed capital," Morici said. "[Warren's campaign] acts like these people clip coupons, and they have bonds, and they hang out with the president and that's simply not true. They're very active people who are investing their money."