Lawyer Accidentally Uses Cat Filter on Zoom Call With Judge, Twitter Purrs
Lawyer Rod Ponton will be checking his Zoom filter settings for video calls moving forward. In a video circulating on Twitter on Tuesday, Ponton was unable to turn off a Zoom filter during a hearing. Instead of just another talking head onscreen, the attorney appeared in the video call as a fluffy kitten with big eyes.
Judge Roy Ferguson of the 394th Judicial District Court of Brewster, Culberson, Hudspeth, Jeff Davis and Presidio Counties in Texas oversaw the hearing. Though these filters are purrfectly fine for catching up with friends, it was not the time or place, and Ponton appeared flustered by his catlike appearance.
"Mr. Ponton, I believe you have a filter turned on in your video settings," Ferguson noted in the call's video, shared on Twitter.
"Can you hear me, judge?" the cat-filtered Ponton asked.
Ferguson confirmed that he could hear Ponton. "But I think it's the filter," he added.
"It is, and I don't know how to remove it," Ponton said. "I've got my assistant here and she's trying to remove it but uh…I'm prepared to go forward with it. I'm here live. I'm not a cat." It's safe to assume the nervous expression the cat filter had on the call reflected the momentary panic Ponton.
The video has been viewed over 2.4 million times as of publication, and it feels especially relatable, even after many of us have been working remotely for almost a year due to the pandemic. "Crying from laughter. But props to the poor lawyer who was ready to go no matter what," one person commented on the YouTube video shared.
"You can practically feel the anxiety in his voice as he's rushing to explain himself," another person noted.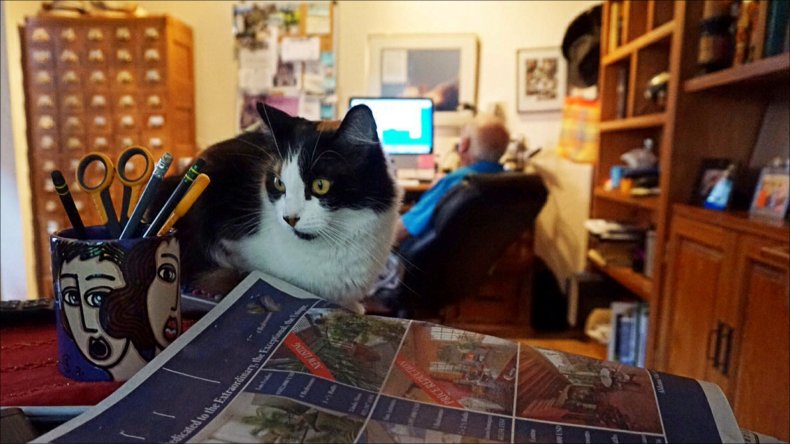 Ponton said that the cat filter incident was a "mistake" caused by his secretary. "I was using her computer, and for some reason she had that filter on. I took it off, and replaced it with my face," he told Vice. After the filter was removed, the hearing went without further filter-related issues.
Ponton also said that the hearing was for a case "involving a man trying to exit the United States with contraband and contraband cash."
After the feline-filled incident, Ferguson gave his followers some important Zoom advice on Twitter. "If a child used your computer, before you join a virtual hearing check the Zoom Video Options to be sure filters are off," he wrote, linking to the video of the mishap.
Regardless, those on the call didn't skip a beat after the cat filter surprised the lawyer. "These fun moments are a by-product of the legal profession's dedication to ensuring that the justice system continues to function in these tough times," he added in a second tweet. "Everyone involved handled it with dignity, and the filtered lawyer showed incredible grace. True professionalism all around!"
Newsweek asked Ferguson about his reaction to the cat filter debacle. "It is crucial to me that this not be couched as poking fun at or belittling the lawyer, but noting that it goes hand-in-hand with the legal community's effort to continue representing their clients, and at the incredible professionalism and dignity displayed by all involved," he responded via Twitter direct message.