The lawyer of a Florida man who was photographed carrying the lectern of House Speaker Nancy Pelosi (D-Calif.) during last week's U.S. Capitol insurrection is struggling to explain the photo when defending his client.
Adam Johnson was arrested on a federal warrant Friday and charged with theft of government property, violent entry and disorderly conduct on Capitol grounds and knowingly entering or remaining in a restricted building or grounds without lawful authority. Johnson was released on a $25,000 signature bond on Monday and is being represented by attorneys David Bigney and Dan Eckhart, who appeared to struggle to defend the photo of Johnson while speaking to the media outside a federal courthouse in Tampa.
"You have a photograph of our client in a building, unauthorized to be there with what appears to be a podium or lectern," Eckhart said on Monday. "I don't know how else to explain that. But yeah, that would be a problem. I'm not a magician and neither is Mr. Bigney. So yeah, we've got a photograph of our client, who appears to be inside a federal building, or inside the Capitol, with government property."
Newsweek reached out to Eckhart for further comment.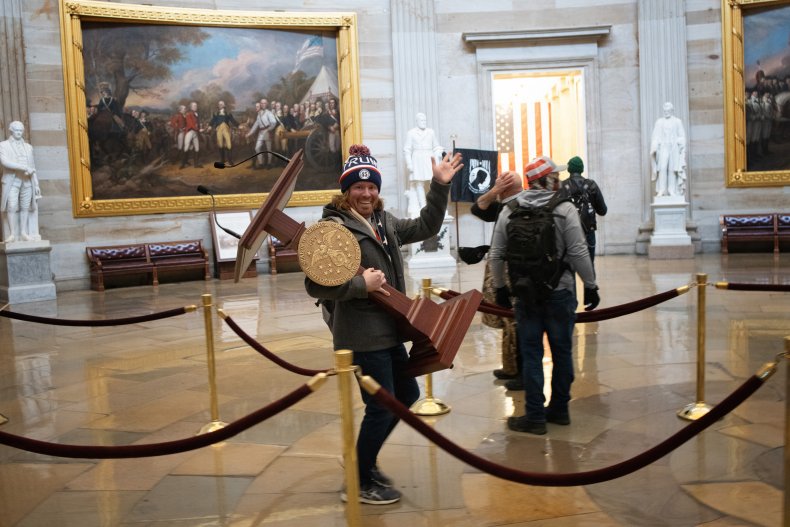 The January 6 insurrection, instigated by an angry mob of supporters of President Donald Trump who believed false claims that the presidential election had been "stolen," resulted in the deaths of five people. In the immediate aftermath of the deadly riot, Trump called those involved "great patriots" before being banned by Twitter and other social media platforms. The House is expected to soon vote on impeaching the outgoing president for a second time.
The photo of Johnson inside the Capitol was one of several that quickly went viral in the aftermath of the riot, only to be later used as evidence by investigators. It shows Johnson posing with a wide grin and waving as he carried Pelosi's lectern quickly went viral. Richard Barnett, the subject of another viral photo taken inside Pelosi's office, was arrested in Arkansas on similar charges around the same time.
Eckhart and Bigney defended their client later on Monday during an interview with CNN's Chris Cuomo, claiming that Johnson was not involved in the violent breach of the building itself while reasoning that things had simply gotten "out of hand." Bigney insisted that Johnson was only present at the riot and inside the Capitol in order to "witness history."
"He was there to witness a little bit of history and that's the extent of it," Bigney told Cuomo. "He wasn't involved in any coup. He wasn't involved in any planning of any entering of the Capitol. Things got out of hand. You saw the pictures. He was not there for any destruction, any treason. He was just there to witness history."
A statement of facts by FBI Special Agent Michael Jeng found that there was "probable cause" to believe otherwise. In addition to the photo of Johnson with Pelosi's lectern, which was taken by Getty Images photographer Win McNamee, the statement includes another image that Johnson apparently posted to social media himself. The second image appears to show Johnson grinning next to a "Closed to all tours" sign, presumably taken inside the Capitol, with Johnson including the brief caption "No."