Le Pen Claims 'Victory' in Record Support Despite Loss in French Election
Far-right French presidential candidate Marine Le Pen claimed "victory" for having a record-level turnout in the nation's election on Sunday, despite losing against incumbent President Emmanuel Macron.
Le Pen, who was on her third attempt to win France's presidency, is projected to have received nearly 42 percent of the vote, compared to Macron's 58 percent. That marks the highest level of support that her far-right National Rally party has ever received in an election, according to the Associated Press.
In conceding her defeat on Sunday, Le Pen noted that the election results "represents in itself a great victory," adding that "millions of our compatriots have chosen the national camp and change," Politico reported. The results suggest that while Macron has secured himself the presidency for another five years, Le Pen's fiercely nationalist policies appeared to resonate with the French population more than ever.
In her last race in 2017, Le Pen won only 34 percent of the vote, compared to Macron's 66 percent. Meanwhile, years earlier in 2002, her father won just 18 percent of the vote, and the party failed to advance in France's second round of voting in any other year, Newsweek noted on Sunday.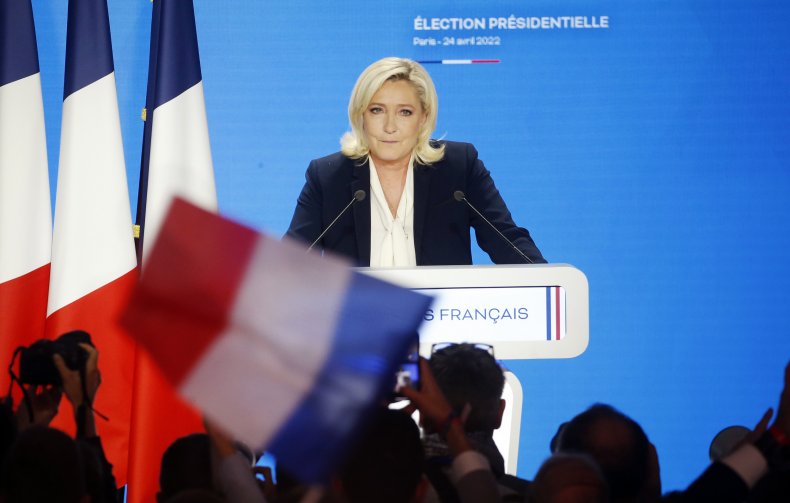 Le Pen campaigned on a controversial platform that promised to weaken France's ties with the European Union and NATO, which were moves that would have vastly altered the nation's position in Europe as the continent deals with Russia's invasion of Ukraine. She has also been accused of being too friendly with Russian President Vladimir Putin, and her potential victory likely would have changed France's overall response to the war.
Le Pen and her party also took a strong stance against immigration, a nationalist tendency that critics have slammed as being racist. Among other things, her platform included support for policies that targeted Muslims and gave French citizens preferential treatment for jobs and benefits.
By contrast, Macron lead his previous term with a centrist approach. Five years ago, the French president was met with significant support, winning the 2017 election with 66 percent of the vote, according to the AP. This year, however, he struggled to maintain that momentum, with many French residents critical of his presidency during the pandemic and latest crisis in Ukraine.
Throughout his last term, the nation also saw months of violent protests against his economic policies.
"[Macron] was the least worst choice," Stephanie David, a transport logistics worker, told the AP when asked why Macron won her vote in Sunday's election.
Macron's victory, however, was met with a wave of congratulations from several European leaders including British Prime Minister Boris Johnson and German Chancellor Olaf Scholz. In his own address Sunday, he thanked French citizens for his reelection, adding that he is "proud" to hold another term in office.
"This is what makes the French people this singular force that I love so deeply, so intensely, and that I am so proud to serve again," he said.