French Election's Latest Polls Show Marine Le Pen Would Easily Win—if She Was a Candidate in Russia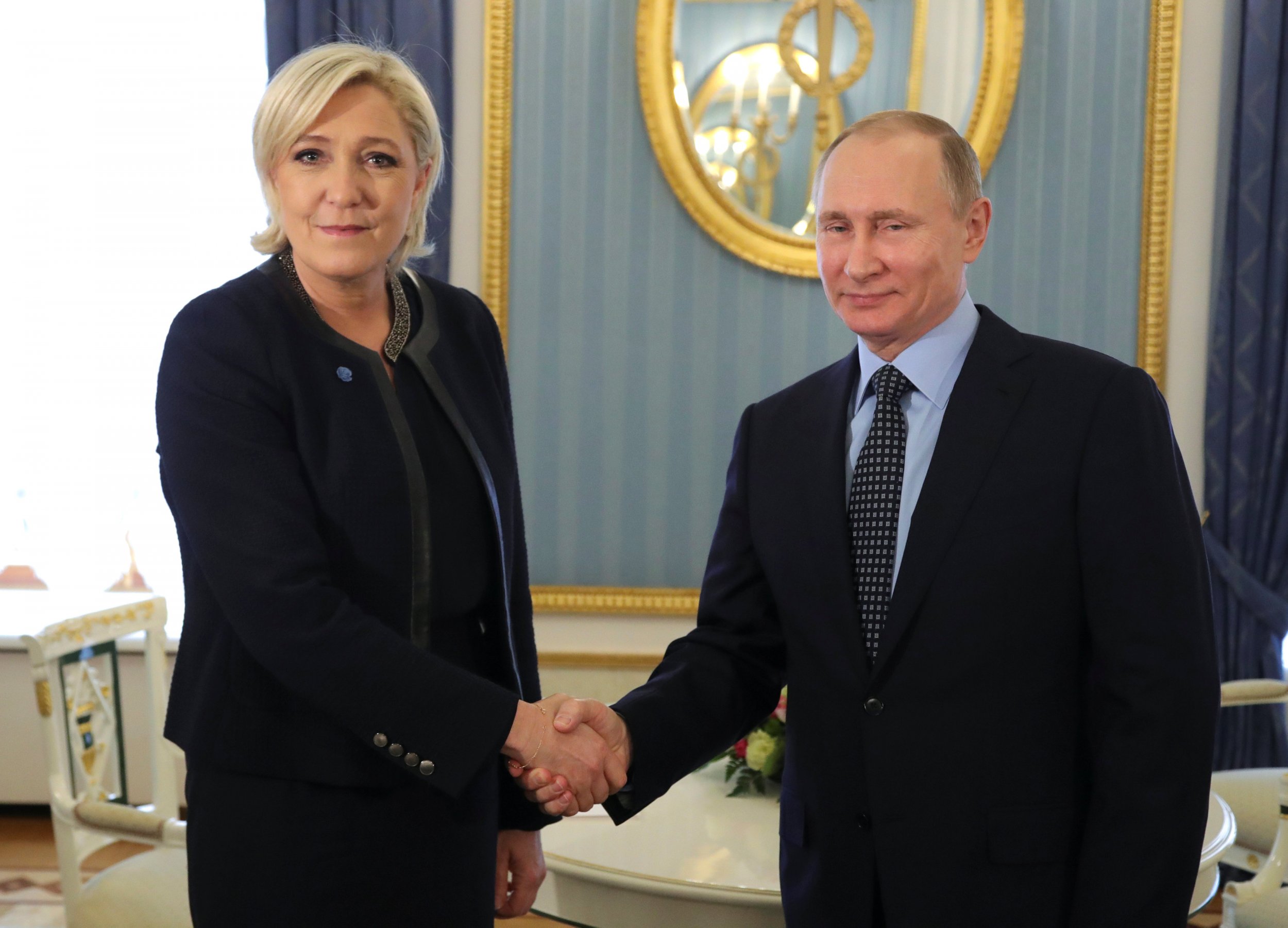 Far-right candidate Marine Le Pen may still be struggling to win over French voters ahead of Sunday's presidential-election second round, but there is at least one country where she enjoys overwhelming support—Russia.
Related: French elections: Marine Le Pen campaign hits back at 'plagiarism' accusations
Le Pen is viewed favorably by 61 percent of Russians, according to a survey by the state-run All-Russian Center for the Study of Public Opinion, released Tuesday. Carried out just ahead of last month's first round in which 11 candidates were on the ballot, the poll showed only 8 percent support for Emmanuel Macron, who will vie with Le Pen in Sunday's runoff.
Unfortunately for Le Pen, opinion polls in France continue to show her trailing by up to 20 percentage points. Macron, an independent centrist, won the first-round vote with 24 percent, with Le Pen coming in second with just over 21 percent.
Polls taken both before and since the first round of voting have shown Macron handily defeating Le Pen in a straight contest. An Opinionway poll released Tuesday had Macron garnering 60 percent of the vote to Le Pen's 40 percent.
Since the first round, Republican candidate François Fillon and Socialist candidate Benoît Hamon have come out in support of Macron, as has outgoing President François Hollande. Meanwhile, Le Pen, who has temporarily stepped down as leader of the National Front, has picked up the support of Nicolas Dupont-Aignan, who, as leader of a small right-wing party, picked up 4.7 percent in the first round.
The election is expected to have far-reaching consequences, with Le Pen stating her intention to withdraw France from the eurozone and, at the very least, renegotiate her nation's relationship with the European Union. In the manner of other populist candidates across Europe, and along with Donald Trump in the United States, she has criticized sanctions against Russia and called for forging closer ties with Moscow.
"As far as we are concerned, the most vital issue is what policy towards Russia will the next French president carry out," All-Russian Center for the Study of Public Opinion Director General Valery Fyodorov said. "In this context, the overwhelming majority of Russian respondents' sympathies lie with Marine Le Pen, which is becoming clear given that she explicitly calls for overcoming the current conflict between Moscow and the West, and normalizing ties with Russia."
In Russia, 57 percent of those surveyed said that the election in France would be significant.
In March, Le Pen traveled to the Kremlin for a meeting with Russian President Vladimir Putin. She has also taken a large loan from a Russian bank to fund her campaign. And, although the Kremlin has denied picking a favorite in the race, there have been repeated allegations that Russia has been attempting to influence the election in favor of Le Pen.
Perhaps unsurprisingly, Le Pen is the most visible candidate in Russia, with 71 percent of Russians in the survey stating that they knew of her, compared with around 50 percent for Macron.
The poll, which was carried out April 25 and April 26, surveyed 1,200 Russians and had a margin of error of 3.5 percent.