Former President Donald Trump's accounting firm, Mazars, has decided to drop him as a client, stating that a decade's worth of his financial records "should no longer be relied upon."
In a letter to the Trump Organization dated February 9, released by New York Attorney General Letitia James, the firm notified the company of its decision to sever all future business ties. This decision is based on filings a few weeks ago by James alleging the organization used fraudulent or misleading asset valuations between 2011 through 2020 to obtain economic benefits, including loans and tax deductions.
"While we have not concluded that the various financial statements, as a whole, contain material discrepancies, based on the totality of the circumstances, we believe our advice to no longer rely upon those financial statements is appropriate," Mazars said in its letter to Trump Organization attorney Alan Garten.
The Trump Organization said it has not identified any discrepancies in its reported financial statements.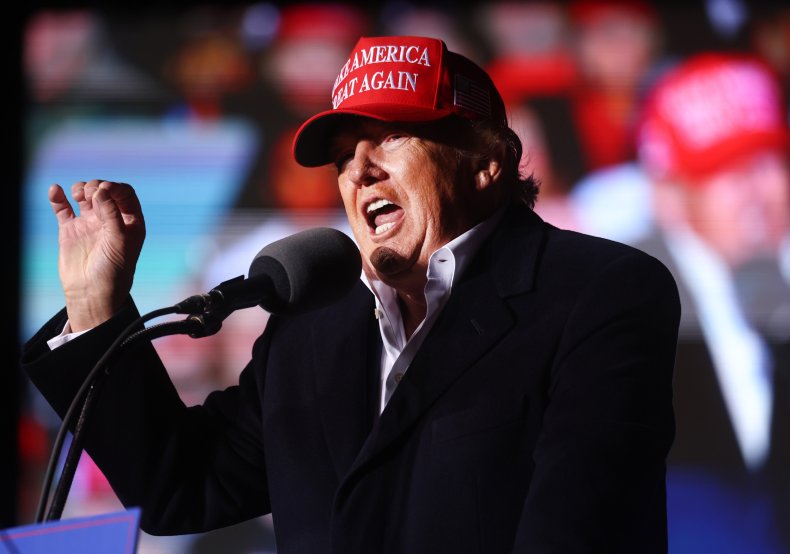 "While we are disappointed that Mazars has chosen to part ways, their February 9, 2022 letter confirms that after conducting a subsequent review of all prior statements of financial condition, Mazars' work was performed in accordance with all applicable accounting standards and principles and that such statements of financial condition do not contain any material discrepancies," the Trump Organization spokesperson told Newsweek. "This confirmation effectively renders the investigations by the DA and AG moot."
The statements of financial condition referred to are at the center of James' civil lawsuit seeking to force Trump and two of his adult children to testify about the Trump Organization's business dealings. James said Mazars' decision to drop Trump as a client confirms the merits of her investigation.
James' civil investigation alleges that Trump's financial statements described his assets in broad terms and in ways that were inaccurate and misleading. Allegedly, assets outside of Trump and the Trump Organization's control were miscategorized, overstating his cash liquidity.
"As the most recent filings demonstrate, the evidence continues to mount showing that Donald J. Trump and the Trump Organization used fraudulent and misleading financial statements to obtain economic benefit," James told Newsweek. "There should be no doubt that this is a lawful investigation and that we have legitimate reason to seek testimony from Donald J. Trump, Donald J. Trump, Jr., and Ivanka Trump. We will continue to follow the facts and ensure that no one is above the law."
Eric Trump, the second Trump son, took to Twitter Monday, saying that the Trump Organization will formally accuse James of "unethical behavior" in court.
"On Thursday, our team will be in front of a New York Judge outlining the blatantly unethical behavior of @TishJames the NY Attorney General," Eric Trump wrote on Twitter. "There are 81 pages of videos, tweets & fundraising solicitations (some as recent as two weeks ago) in our lawsuit for the judge to see."
Prominent conservative lawyer George Conway suggested that Mazars has given the New York State Attorney's Office many documents to cooperate in the investigation.
Conway flagged what is known as the Bates number, at the bottom of the Mazars letter. The number read 00525838.
When asked to explain, Conway said, "it suggests that the accountants have produced at least 525,838 pages of material to prosecutors."
He then said," this is worse for him than getting impeached twice."
James' office has teamed with the Manhattan District Attorney's Office to investigate whether Trump, the Trump Organization or his children violated the law by exaggerating or undervaluing assets to obtain financial advantages.