Leah Remini on New Scientology TikTok Trend: 'Nothing Funny' About It
Leah Remini is warning TikTok users against taking part in an "incredibly dangerous" viral trend involving Scientology.
The trend sees people filming themselves going into buildings owned by the Church of Scientology as a joke, but Remini, who used to be a Scientologist, has asked people not to do it for "views and likes."
The controversial religion, founded by American author L. Ron Hubbard in the 1950s, has had multiple serious accusations directed at it by former members. Scientology is known for its celebrity adherents who include Tom Cruise, John Travolta, Elisabeth Moss and Giovani Ribisi.
Late on Thursday, Remini, known for her roles on King of Queens and Kevin Can Wait, felt the need to warn her social media followers against having fun at Scientology's expense.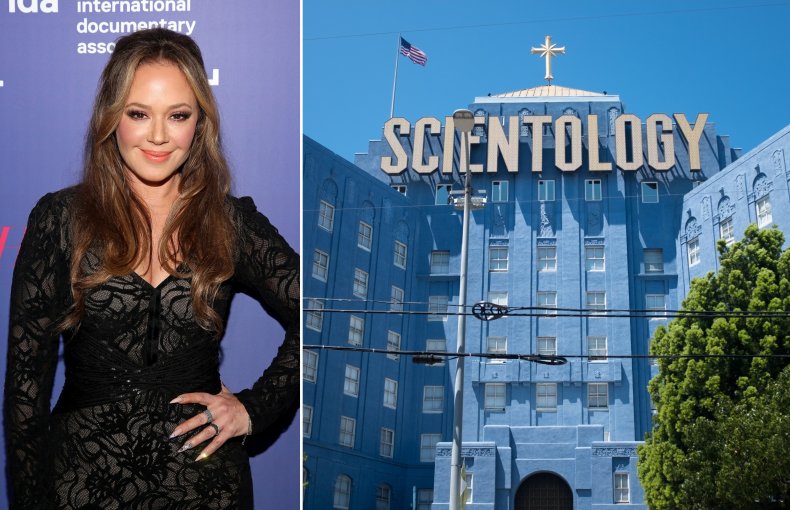 "I've noticed on TikTok, especially after Top Gun, that people are filming themselves going into Scientology buildings either as a joke or because they want to document how creepy it is. Please do not do this for views and likes," she wrote.
"This is an incredibly dangerous thing you're getting yourself involved in for a TikTok video. And you're helping to encourage other people to do it. No one loves comedy more than me, but there's nothing funny about Scientology," Remini wrote.
Remini has become a vocal opponent of Scientology since leaving the church in 2013, releasing the best-selling book, Troublemaker: Surviving Hollywood and Scientology and making a documentary TV series, Leah Remini: Scientology and the Aftermath. She now hosts a podcast called Scientology: Fair Game.
Responding to her latest comments, a statement from the Church of Scientology said Remini has become a "bitter ex-Scientologist" and was a "spoiled entitled diva" while a member of the church.
Multiple videos posted on TikTok, with millions of views each, feature users describing their experience of entering buildings owned by Scientology.
Some go one step further and record the insides with a hidden camera. @Reckless_Ben did this using a secret camera on his glasses and sharing footage from a Scientology church service.
Other videos, like a recent one posted by @extra_towel, shows what happens when someone tries to film inside a Scientology building.
Surrounding the release of the popular movie Top Gun: Maverick recently, which saw notable Scientologist Cruise return in the titular role, Remini shared a number of videos on her TikTok account which discussed the complicated issues surrounding Cruise and his membership of the Church of Scientology.
Her most recent video shows the user @call_me_cameo urging people not to pay to see Top Gun: Maverick and not to pay to see Tom Cruise.
Remini's podcast, Scientology: Fair Game, which she co-hosts with Mike Rinder, is available to listen to now. Top Gun: Maverick is available to watch in movie theaters nationwide.