Leah Remini slammed fellow actress Kristie Alley over her recent statement that she wouldn't be commenting on Russia's invasion of Ukraine.
As Russian tanks rolled into Ukraine's capital, Kyiv, last week, former Cheers star Alley wrote in a since-deleted tweet: "I don't know what's real or what is fake in this war. So I won't be commenting. I'll pray instead."
Remini shared a screenshot of the message on her own Twitter account on Friday, as she hit out at Alley's stance and called out her offer of prayers, given that she is a member of the Church of Scientology. Remini gave up that religion in 2013.
Responding to Alley's tweet, Remini wrote: "So @kirstiealley can comment on things she knows nothing about like mental health, psychiatric drugs, and virology, but she won't comment on Putin who is an evil tyrant? No comment about Russia invading Ukraine? The killing of innocent people? The displacement of Ukrainians?"
The former The King of Queens star added in a follow-up tweet: "She has no comment on these crimes against humanity? But she's going to pray? Scientology, her "religion", says Christ is a pedophile and a lie. Scientologists aren't allowed to believe in anything else other than Scientology. So who is she praying to?"
In a later tweet, Remini wrote: "I don't like to make a habit of engaging with people like @kirstiealley...but Scientology banks on its horrific, criminal policies not being called out. Scientology thrives when people are silent. I won't allow their threats to me or anyone else go un-answered."
Per the Scientology website, founder L. Ron Hubbard "honored the great religious leaders of the past for the wisdom they brought to the world. He wrote that Scientology shares "the goals set for Man by Christ, which are wisdom, good health and immortality."
It is further stated that Scientology "absolutely" has a concept of God, noting that "the concept of God is expressed as the Eighth Dynamic—the urge toward existence as infinity. This is also identified as the Supreme Being."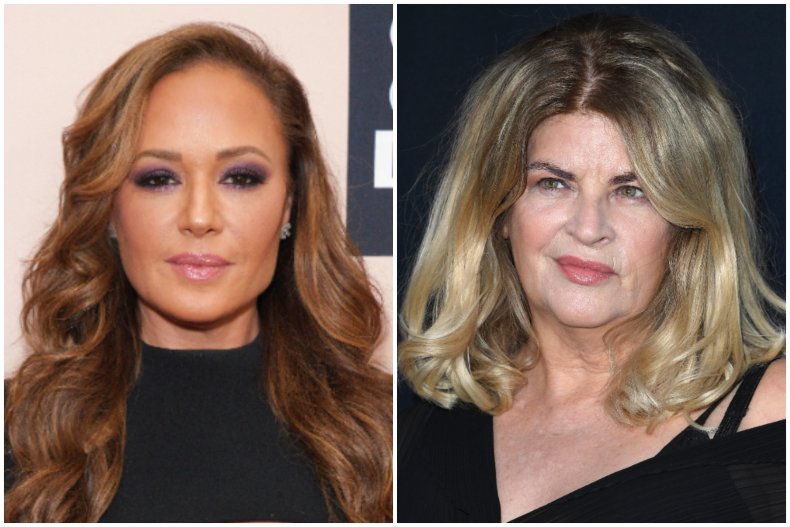 Alley's tweet also caught the attention of her former Dancing with the Stars professional partner Maksim Chmerkovskiy, who has been sharing social media updates from his native Ukraine amid the escalating conflict.
Sharing a screenshot of her tweet, Chmerkovskiy wrote on his Instagram Story: "Dear Kirstie, we haven't spoken in a while, but I clearly remember being right next to you while you were organising trucks of aid during Hurricane Sandy and I remember all that you were saying to me about situations where innocent are suffering.
"That same energy is needed right now. No one needs your prayer if you don't know what's real or fake."
Alley appeared to address the stars when she took to the micro-blogging platform to declare that it was almost ready "to take off the gloves. I have a [courtesy] policy to not publicly reveal secrets about other celebs, but I'm done with the public lies and covert jabs. And not so covert."
"Don't get too excited," she added in a follow-up tweet, "there are only two... but two too many never the less. One shoots her mouth off and has an IQ of about 75 and the other one like you to think he's a hero .. gotta plot this out."
Posting screenshots of those two tweets, Remini added the comments: "Sophomoric, vitriolic, and all around hateful Scientologist @kirstiealley is getting ready to 'plot out' Scientology's Fair Game tactics on another celebrity who dares to expose abuses. Didn't Kirstie just claim publicly that she prays to a God?"
"You feeling froggy @kirstiealley?" Remini added. "Leap then...by all means. Give up those secrets on others in an attempt to destroy people. It's Sunday, time to do [God's] work right? Stop playing. Get to work, hon. You just keep proving who you and your cult really are."
In what appeared to be another thinly-veiled swipe back, Alley hit out at her critics as she also stepped down from her initial stance of not comment on the conflict by calling Putin a "coward."
"I don't care what the punk a** t**** say. I believe in the power of prayer," Alley said on Sunday. "I will continue to pray for the people of Ukraine. Putin is a c__t and a coward and I'll pray his own soldiers refuse to do his dirty work. PS, I pray to the same God you do. So get over your nasty selves."
Firing back once again at the Look Who's Talking Now star, Remini wrote: "Whoa... looks who's talking now. So tough. So opinionated. I got your 'punk a** t***' right here and I will raise you one.
"That's to you and the rest of you p**** a** Scientology b*****s (men & women) who are very brave on social media but can't handle any real confrontation."
"Anytime. Anyplace," Remini went on. "Stop with the fake tough talk and bring it. You all have been invited to the table many times to handle this face-to-face. But you can't handle it."
"By the way, none of this is very Christian of you [...] @kirstiealley," Remini concluded. "Your friend Maks is in a war zone and innocent people are dying. Pretending you pray to any God is sad. I wish you did. Stand by your own belief system which tells you there is no God."