Leaked Email Says Kellogg's Deal With Union Provides 'No Gain Overall' for Workers
A Kellogg's plant manager stated in a leaked email that the recently announced tentative agreement with the union gives "no gain overall" to workers.
"In short, [the] overall bucket of money (cost) stays the same. Just shifts money from one bucket to another," Gregory Jackson, a plant manager in Battle Creek, said in a leaked email that was obtained by Michigan Advance on Friday. "No gain overall for them with 3 more weeks of strike and no income. No ratification bonus."
A Kellogg's spokesperson defended the new deal and weighed in on Jackson's leaked email on Saturday in statement to Newsweek.
"Mr. Jackson's characterization of the deal was taken out of context," the spokesperson said. "The tentative agreement is more than fair and should be ratified."
Jackson reportedly sent the email to close staff, including supervisors below him, but some workers from the union—the Bakery, Confectionery, Tobacco Workers and Grain Millers International Union (BCTGM)—also received it.
Union workers are striking across four plants in Battle Creek, Michigan; Omaha, Nebraska; Lancaster, Pennsylvania; and Memphis, Tennessee. They're demanding an end to Kellogg's two-tiered system in which the newer workers receive less pay and fewer benefits than experienced workers.
On Thursday, the company reached a tentative agreement with the 1,400 workers, who have been on strike since October 5. Members of the BCTGM are expected to vote on that new offer on Sunday.
"We are pleased that Kellogg Company and the union have reached a recommended tentative agreement for a new five-year labor contract covering 1,400 employees at our U.S. cereal plants in Battle Creek, Mich., Lancaster, Penn., Memphis, Tenn. and Omaha, Neb. We are hopeful our employees will vote to ratify this contract and return to work," the company spokesperson told Newsweek on Saturday.
The tentative agreement includes cost-of-living adjustments, a $1.10 per hour raise for all workers, and improved health-care and retirement benefits.
"We are confident this will pass," Jackson said of the agreement in his email. "Most of the union's negotiating committee is for this and plans to recommend it."
"I know everyone is tired and tense in the plant, please try to focus on what we need to do. Please try to keep negotiations talk to a minimum in the plant around the workers," he added.
Newsweek contacted the union for comments.
In response to Jackson's leaked email, BCTGM member Donivan Williams said that he isn't surprised about the manager's remarks, according to the Michigan Advance.
"It's appalling. But I'm not surprised at all," Williams said "[Jackson was] "comforting them [his staff] with our [union workers'] pain."
In the statement about the new agreement, Kellogg's said that most workers earned an average of $120,000 in 2020, but union workers argued that they worked over 80 hours to achieve that, and only senior "legacy" employees can earn these wages.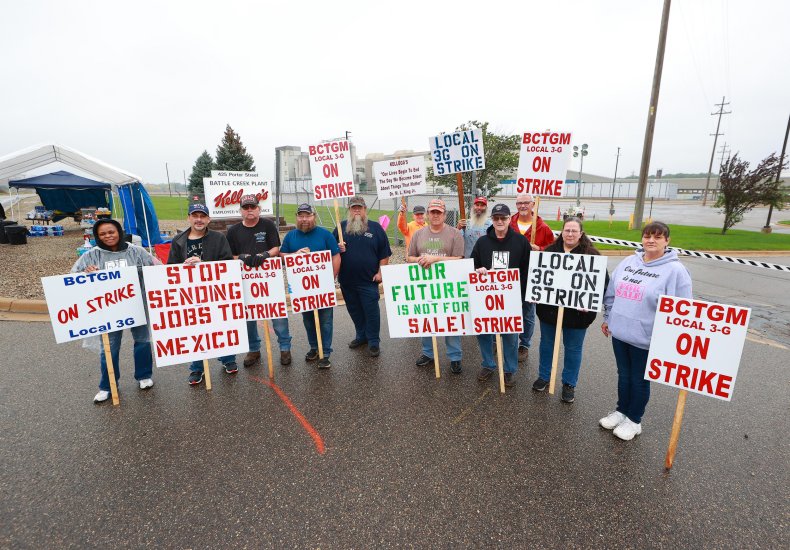 The strike has drawn support from a number of high-profile politicians, including Vermont Senator Bernie Sanders, who held a rally in Battle Creek outside Kellogg's headquarters on Friday, according to the Battle Creek Enquirer.
The strike is "about what this country and our economy is supposed to stand for," Sanders tweeted a day before the rally. "I'm proud to stand with the workers."
Meanwhile, President Joe Biden said on December 10 he was "deeply troubled" by the way the company is dealing with its striking workers.
"Permanently replacing striking workers is an existential attack on the union and its members' jobs and livelihoods," Biden said. "I have long opposed permanent striker replacements and I strongly support legislation that would ban that practice."
His comments came shortly after Kellogg's said that it will permanently replace its striking union workers.
"[The] prolonged work stoppage has left us no choice but to hire permanent replacement employees in positions vacated by striking workers," the company said in a statement.
However, the Kellogg's spokesperson confirmed on Saturday that the striking workers have not been replaced, adding that the company is not extending any job offers at this point pending ratification of the recommended agreement.
"Our cereal plants have ongoing openings that we will continue to fill, as needed. If the tentative agreement is ratified, we will begin working with the local unions on plans for employees to return to work," the spokesperson said.