At Least 10 People Have Died So Far During George Floyd Protests
One week after George Floyd died while in police custody in Minneapolis, cities across the U.S. have initiated curfews and declared local emergencies in efforts to combat the violence connected to waves of protests spreading across the country. At least 10 people have died in connection to the protests, along with widespread reports of injured individuals across the country—including protesters, law enforcement officials and reporters covering the demonstrations. These are the people whose deaths are related to the demonstrations, according to law enforcement officials.
Calvin Lewis Horton, Jr., Shot in Minneapolis
Two days after Floyd's death, a 43-year-old black man became what authorities believe may be the first protest-related death when he was shot in Minneapolis, Minnesota. According to the Hennepin County Medical Examiner, Horton died Wednesday night in an emergency room in Hennepin County after sustaining gunshot wounds to his upper body. Horton was shot outside a pawn shop that was damaged by protesters in the area, and the owner of the shop was later arrested in connection with Horton's death, according to the Associated Press.
David McAtee, Shot in Louisville
The 53-year-old owner of Yaya's BBQ, a restaurant in Louisville, Kentucky, was killed during an exchange of gunfire early Monday between protesters and officers with both the Louisville Metro Police Department and the National Guard. According to the Louisville Courier Journal, McAtee was among a group of protesters near his restaurant at the time of the shooting. Later Monday, Mayor Greg Fischer referred to McAtee as a "treasured Louisvillian" and announced he had fired the Louisville police chief and placed two other officers involved in the shooting on administrative leave. The officers' body cameras were not activated at the time of the shooting, and the incident required an "immediate change in leadership," Fischer said.
Chris Beaty, Shot in Indianapolis
A former football star at Indiana University, 38-year-old Chris Beaty was shot several times Saturday night in downtown Indianapolis and declared dead at the scene, the Indianapolis Star reported. Known fondly as "Mr. Indianapolis," Beaty was a defensive lineman for the Hoosiers from 2000 to 2003 before becoming an entrepreneur who kept strong ties to the Indianapolis community, where he had also attended high school. As COVID-19 began spreading across the U.S. and need for personal protective equipment skyrocketed, Beaty formed a partnership with another businessman to start Worldwide Masks, the news outlet reported.
"His passion for life and Indiana football energized me every time we were together," Indiana University football coach Tim Allen said in a statement about Beaty's death.
Dorian Murrell, Shot in Indianapolis
An 18-year-old named Dorian Murrell was also shot to death early Sunday morning in Indianapolis. According to the Indianapolis Star, the shooting happened near Market Street and Pennsylvania Street, and Murrell was pronounced dead after he was transported to Eskenazi Hospital. Murrell's death was later confirmed by the Marion County Coroner's Office, the news outlet reported.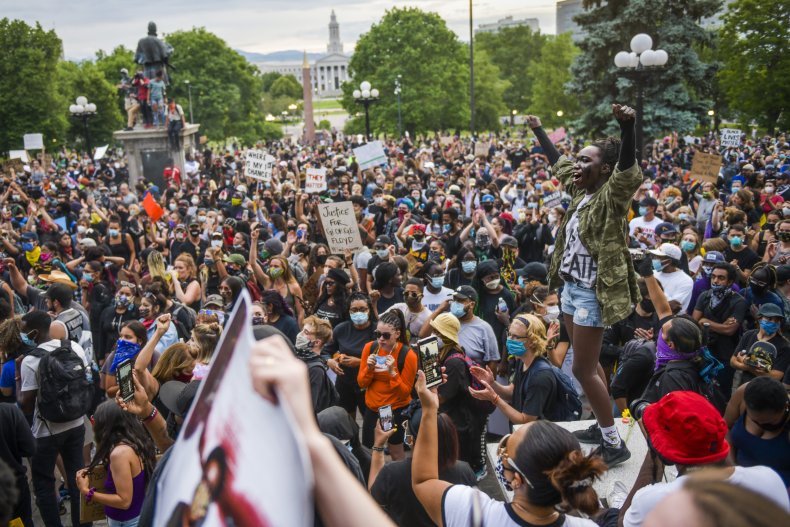 James Scurlock, Shot in Omaha
Late Saturday night, 22-year-old protester James Scurlock was found suffering from a gunshot wound outside a bar in Omaha and taken to the Nebraska Medical Center, where the Omaha Police Department said he died of his injuries. Although police said they were investigating the incident, Douglas County District Attorney Don Kleine said during a news conference Monday that early video evidence showed the owner of the bar Scurlock was near at the time of the shooting was acting in self-defense. Video played during the news conference showed the bar owner and Scurlock fighting on the ground before the bar owner fired his gun in an incident police said he told them was intended to be a warning. Though the final gunshot fired was fatal for Scurlock, Kleine said the self-defense actions of the bar owner were legal under Nebraska law.
Italia Marie Kelly, Shot in Davenport
A 22-year-old woman who family members have identified as Italia Marie Kelly was leaving a protest in a Walmart parking lot Sunday night in Davenport, Iowa, when she was fatally struck by a bullet, according to the Des Moines Register. Kelly's aunt told the Associated Press Kelly was immediately killed after the bullet struck her shoulder and chest. Another person was also shot near a jewelry store during protests in Davenport, although police have not yet publicly identified that individual or the circumstances surrounding their death.
Man Dragged to Death by FedEx Truck in St. Louis
Early Saturday morning, a FedEx truck was navigating around groups of protesters in St. Louis, Missouri, when it was surrounded by demonstrators, local news station KMOV4 reported. As some protesters tried climbing into the truck and pointed guns at the driver's face, he drove away to escape, police told the station. In the chaos, a protester got stuck beneath one of the truck's tires and was dragged to death, the news outlet reported. In a statement, FedEx said it was cooperating with investigators. The identity of the deceased has not yet been publicly released.
Two Shot in Cicero
Cicero, Illinois, spokesman Ray Hanania reported that two people were shot to death and at least 60 people were arrested during protests Monday, according to WGN9. The shootings happened during looting in the Chicago suburb, which Hanania said was occurring due to "outside agitators," the outlet said. The identities of the deceased have not yet been publicly identified.
As the number of protesters who have died in confrontations with police and other demonstrators continued to climb Monday, President Donald Trump described the rioters as "domestic terrorists" in his first address to the American public since the protests began and said he would initiate the National Guard in every state if governors did not do so themselves.
The White House did not respond to Newsweek's request for comment about the deaths in time for publication.