At Least 130 Palestinians Injured During Latest Clashes With Israeli Police
More than 130 people have been injured in clashes that erupted between Palestinian protesters and Israeli police on Saturday.
Officers on horseback and in riot gear used stun grenades and water cannons to repel Palestinian protesters who threw stones, lit fires, and tore down police barricades in the streets leading to the Old City gates of Jerusalem, Reuters reported.
At least 136 people were injured at the Al-Aqsa mosque compound and elsewhere in Jerusalem on Saturday, Sky News reported, citing the Palestinian Red Crescent.
Most were injured after being hit in the face by rubber-coated bullets and shrapnel from stun grenades, the emergency service said.
The Palestinian Red Crescent has been contacted for additional comment.
Six police officers were wounded, according to Israeli authorities.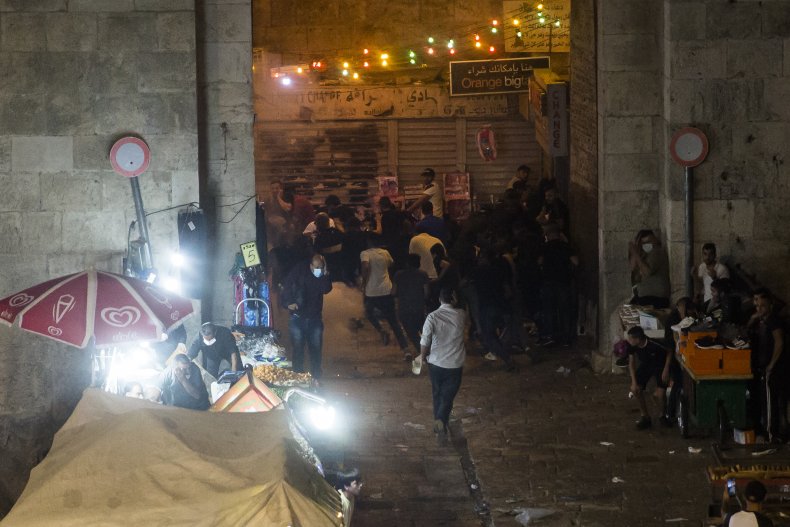 Thousands of Muslims had gathered for night-time prayers at the Al-Aqsa mosque, Islam's third holiest site, on Saturday night, which was "Laylat al-Qadr," the most sacred night in Ramadan. Islamic authorities put the figure at around 90,000 people, according to The Associated Press. The site is also sacred to Jews.
It follows nightly clashes and mounting tension in the city during the holy month of Ramadan after Israel restricted gatherings at a popular meeting spot outside Jerusalem's Old City.
Protests reignited recently over the possible evictions of Palestinians from homes in east Jerusalem's Sheikh Jarrah neighborhood by Israeli settlers. Competing claims to east Jerusalem are at the heart of the decades-long Israeli-Palestinian conflict.
The AP reported that Israeli police had earlier blocked a convoy of buses filled with worshippers heading to Jerusalem earlier on Saturday. Israeli police reportedly alleged the actions were security measures, but Muslims viewed it as infringing on their right to worship.
"They do not want us to pray. There is a fight every day, every day there are clashes. Every day there are troubles," Mahmoud al-Marbua, 27, told Reuters.
Pointing to police chasing youths and firing thunder-flashes at them near the Old City's Damascus Gate, he added: "Look how they are firing at us. How can we live?"
The latest violence came a day after Israeli police said officers shot dead two Palestinians after they opened fire on a base belonging to Israeli's bases in the occupied West Bank.
More than 200 Palestinians and at least 17 Israeli police officers were wounded on Friday at the Al-Aqsa mosque compound, Islam's third holiest site, when Israeli police clashed with Palestinians following evening prayers.
The violence prompted the Middle East Quartet—the U.S., Russia, the European Union and the United Nations—to issue a statement expressing "deep concern."
"We call upon Israeli authorities to exercise restraint and to avoid measures that would further escalate the situation during this period of Muslim Holy Days," the Quartet said in a statement on Saturday.
Lawmakers in the U.S. also condemned Israeli forces, including Sen. Bernie Sanders.
"The United States must speak out strongly against the violence by government-allied Israeli extremists in East Jerusalem and the West Bank, and make clear that the evictions of Palestinian families must not go forward," he tweeted.