Senator Bernie Sanders, a Vermont independent and prominent progressive, raised alarms, as did other progressive lawmakers, as Israeli security forces cracked down on Muslim Palestinians performing Ramadan prayers in East Jerusalem—amid tensions surrounding Israeli settlers working to evict Palestinians from their homes.
Israeli police said that more than 200 Palestinians and 17 police officers were injured in clashes on Friday, after authorities cracked down while Palestinians worshippers gathered for prayers at Al-Aqsa mosque in East Jerusalem during Ramadan, the holiest month of the year for Muslims, Israeli newspaper Haaretz reported. Many of the worshippers stayed on after prayers to protest in support of Palestinians currently facing evictions at the hands of Israeli settlers.
"The United States must speak out strongly against the violence by government-allied Israeli extremists in East Jerusalem and the West Bank, and make clear that the evictions of Palestinian families must not go forward," Sanders tweeted on Saturday.
Senator Elizabeth Warren, a Massachusetts Democrat, shared a similar post on Saturday.
"The forced removal of long-time Palestinian residents in Sheikh Jarrah is abhorrent and unacceptable. The Administration should make clear to the Israeli government that these evictions are illegal and must stop immediately," the progressive senator wrote.
Representative Alexandria Ocasio-Cortez, a New York Democrat, said "we stand in solidarity with the Palestinian residents" facing eviction.
"Israeli forces are forcing families from their homes during Ramadan and inflicting violence. It is inhumane and the US must show leadership in safeguarding the human rights of Palestinians," Ocasio-Cortez tweeted.
Democratic Representatives Ilhan Omar of Minnesota and Rashida Tlaib of Michigan shared their concerns as well, slamming the response from Israeli police and settlers. Tlaib was the first Palestinian-American woman elected to Congress back in 2018, while she and Omar were also the first two Muslim women elected to the lower chamber.
"There is no reason, none, to attack people while they are praying or seeking medical attention—other than to dehumanize and terrorize them," Tlaib tweeted on Saturday, sharing a video reportedly showing Israeli forces firing stun grenades into a medical facility.
"This is happening as Muslims pray tarawih & tahajud in Palestine. Families who pray all night during Ramadan, the mosque is like home. Palestinians deserve to find refuge in a mosque and peace in Ramadan," Omar wrote. "Where is the media coverage?"
Omar retweeted a clip of what appeared to be tear gas being fired into Al-Aqsa.
In response to a request for comment, the State Department emailed Newsweek a statement from spokesperson Ned Price.
"The United States is extremely concerned about ongoing confrontations in Jerusalem, including on the Haram al-Sharif / Temple Mount and in Sheikh Jarrah, which have reportedly resulted in scores of injured people," Price said.
"There is no excuse for violence, but such bloodshed is especially disturbing now, coming as it does on the last days of Ramadan. This includes Friday's attack on Israeli soldiers and reciprocal 'price tag' attacks on Palestinians in the West Bank, which we condemn in no uncertain terms," he added.
The official urged the Israelis and Palestinians to "deescalate tensions and bring a halt to the violence."
Newsweek reached out to Israel's Foreign Ministry for comment, but did not immediately receive a response.
Israel has dismissed the potential evictions of the six Palestinian families as a real estate dispute. The Middle Eastern nation's Supreme Court is set to rule on Monday over whether or not the Israeli settlers can force the eviction of the families who have been longtime residents of Sheikh Jarrah, according to The New York Times.
Meanwhile, Haaretz reported Saturday that tens of thousands of Palestinians again gathered by Al-Aqsa as clashes persisted.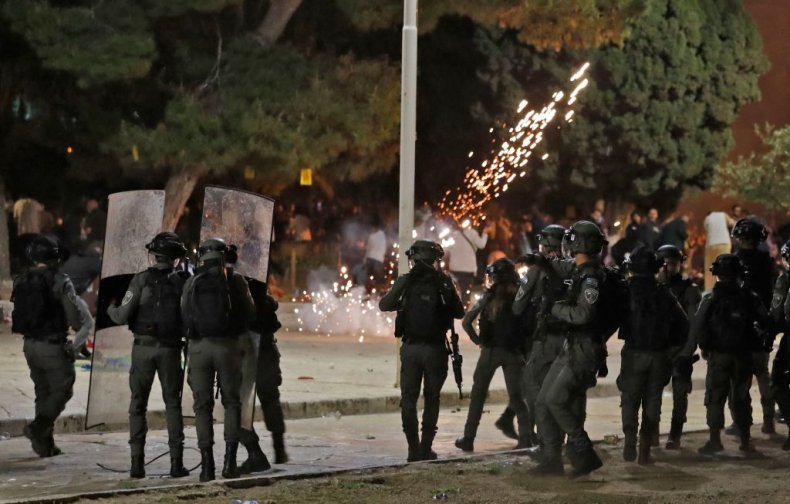 In a late April report, Human Rights Watch slammed the Israeli government over its treatment of Palestinians. The report alleged that some of the mistreatment of the Palestinians at the hands of Israelis amounts "to the crimes against humanity of apartheid and persecution."
In response to the report, President Joe Biden's Press Secretary Jen Psaki reiterated that the U.S. has not classified the situation the same way. "As to the question of whether Israel's actions constitute apartheid, that is not the view of this administration," Psaki said on April 27.