A loyalist to the "boogaloo" extremist movement said that at least 32 group adherents were in Kenosha, Wisconsin, the same day that Kyle Rittenhouse allegedly shot and killed two protesters.
Ryan Balch, an Army veteran from West Bend, Wisconsin, told the Chicago Sun-Times that he had met with the 17-year-old prior to the shootings, which took place August 25. Balch said Rittenhouse "had no connection" to the boogaloo movement but claimed that as many as 32 loyalists were present in the city that day.
Several men were spotted that night wearing the insignia of the "boogaloo bois," The Washington Post reported.
Balch told Newsweek that much of the media has "tossed" him and other boogaloo bois into a "crowd that we're not aligned with."
The word boogaloo has been adopted by white supremacists and other far-right extremists as shorthand for a future civil war, according to the Anti-Defamation League. The term refers to a "casual acceptance of mass violence" and may even signify an "increased willingness" to participate in such violence among some adherents, the ADL said.
But Balch, who described himself as a "Boog Boi" in a series of Facebook messages to the Sun-Times, said that there is a difference among those aligned with the far-right and the mission of the boogaloo movement he adheres to.
"We're just trying to make it so we can help protesters when they need it without causing a confrontation," Balch wrote in a message to Newsweek.
While Balch told the Sun-Times that there is a "general consensus" among "boogaloo bois" that a civil war is "imminent," he clarified that the group he adheres to believes the war wouldn't have to do with race.
"The Boog boys tend to adhere to extreme libertarian and anarchist ideals so race is a non issue for us," Balch told Newsweek. "There are Boog boys out there of all races and creeds."
The estimated 32 boogaloo members present for Tuesday's protests "all shared the same ideology" as Balch, he said. Those who identify with the far-right and attempted to join the boogaloo movement "tend to support very authoritarian ideals," he said.
"[Members of the far-right are] differentiated by the fact that as soon as bad press started hitting, they jumped ship and stopped using the [boogaloo] label," Balch told Newsweek.
Balch has not been accused of any crimes relating to the August 25 shootings, but Hatewatch, a Southern Poverty Law Center project, tied Balch to a Twitter account that published white supremacist propaganda. The background on Balch's personal Facebook page currently shows a meme associated with the boogaloo movement.
One of the accounts highlighted by Hatewatch was a Twitter profile Balch helped run which had the goal of "baiting members of the Alt-right," he told Newsweek.
In a Facebook post published August 26, Balch detailed his version of the events leading up to the shootings. He wrote that he was with Rittenhouse and a contingent of militia members who traveled to Kenosha "to protect citizens, their property and their livelihoods."
The post suggests that Balch and others were present that night to "protect, to aid and to offer a bit of comfort" to everyone involved. His account states that Balch helped administer aid to wounded Black Lives Matter (BLM) protesters and antifa members.
"I don't nor does the Boogaloo Movement have any issue with their protests against police brutality. We support that 100% and even join the protests when we're welcomed," Balch told Newsweek.
Balch told the Sun-Times that the boogaloo bois in Kenosha arrived independent of a call to action put out by the Kenosha Guard, a new militia group, asking for "Armed Citizens" to help "defend" the city from racial justice protesters.
"Law enforcement is outnumbered and our Mayor has failed," according to the online plea. "Take up arms and lets defend our CITY!"
The Kenosha Guard also denied any connection to Rittenhouse, the Post reported.
Newsweek contacted the Kenosha Police Department for comment, but did not hear back in time for publication.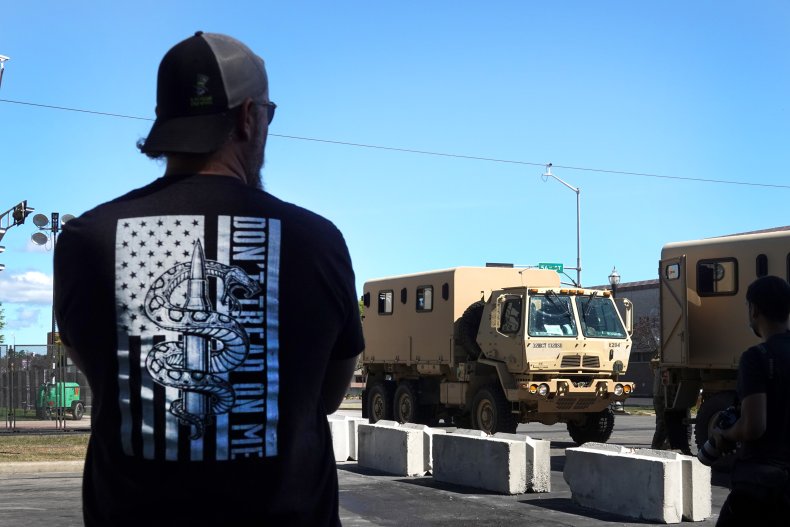 Kenosha has been the site of daily protests since the August 23 incident involving Jacob Blake, a Black man who a police officer shot seven times in the back, leaving him paralyzed from the waist down. The shooting marked the latest in a summer filled with civil unrest and protests over police brutality and systemic racism, many of which turned violent.
Those associated with the boogaloo movement have shown up at protests carrying semiautomatic rifles and wearing Hawaiian shirts, and have taken part in demonstrations in Philadelphia, Denver, Minneapolis, Las Vegas, Dallas, Atlanta and Salt Lake City, according to the Post.
Boogaloo members drove from North Carolina to Minneapolis to attend protests that erupted following the May 25 death of George Floyd, an unarmed Black man who died at the hands of white Minneapolis police officers.
Three men associated with the movement were charged in late May with conspiracy to cause destruction after allegedly seeking to exploit the BLM protests by throwing Molotov cocktails at police in Las Vegas.
Update (09/01/20, 6:38 p.m.): This article has been updated to include comments from Ryan Balch.