At Least 7 Christopher Columbus Statues Have Been Destroyed in 2020
At least seven statues of the colonizer Christopher Columbus have been destroyed in 2020 as part of the ongoing national reckoning with America's history and relationship with racism.
All but one of those statues, located in cities across the U.S., were toppled or vandalized by protesters in June, following the May 25 death of George Floyd.
Floyd, a 46-year-old Black man, died after Derek Chauvin, a white Minneapolis police officer, pressed his knee to Floyd's neck for more than eight minutes. Chauvin was later charged with murder and manslaughter, and the incident prompted worldwide outrage and a resurgence of the Black Lives Matter movement.
Demonstrators targeted statues they saw as symbolizing parts of American history most closely associated with racism and white supremacy, such as monuments depicting Confederate soldiers. Columbus, an Italian colonizer who is credited with "discovering" the Americas, is included in the list.
Columbus Day, which falls on October 12 this year, is considered a national holiday. While he is celebrated in American history as a hero, Columbus enslaved many of the indigenous people he encountered in the West Indies, subjecting them to extreme violence and brutality, according to History.com.
Since 1991, at least 130 cities and 34 states have adopted Indigenous Peoples' Day instead of Columbus Day, a holiday meant to celebrate the history and contributions of Native American people in the United States.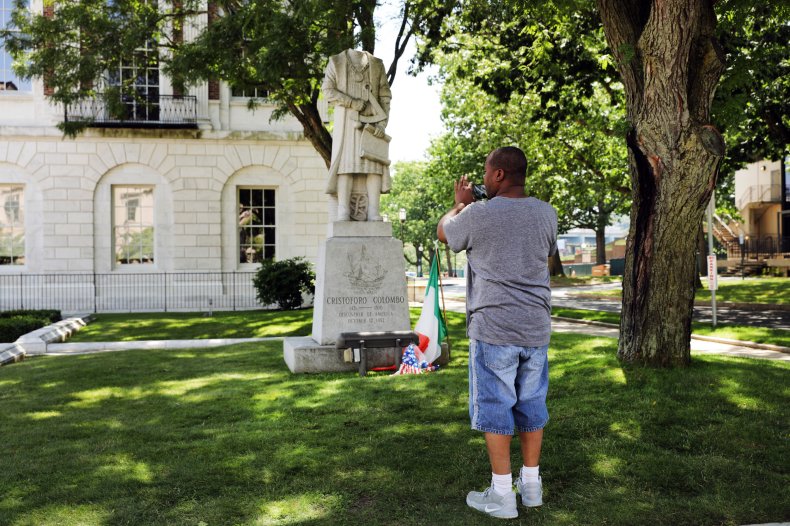 The first Columbus statue to be destroyed this year was located in Richmond, Virginia, the former capital of the Confederacy. A group of protesters gathered in Byrd Park the night of June 9, using three ropes to tug the statue down and drag it into the lake, local station WRIC reported.
The next day, a Native American activist toppled a Columbus statue on the grounds of the Minnesota State Capitol in St. Paul. A state prosecutor charged Mike Forcia, a member of the Bad River Band Lake of Superior, with criminal damage to property in August, MPR News reported.
Forcia, an activist with the Twin Cities American Indian Movement, organized the June 10 American Indian Movement rally at the Capitol which resulted in the statue's destruction, according to MPR News.
As the summer months stretched on, so did protests against police brutality and systemic racism. Demonstrators took down Columbus statues in Baltimore, Boston, Denver, and Waterbury, Connecticut.
City workers in Houston, Texas, removed a Columbus statue June 19 after vandals splashed it with red paint and cut one of its hands off, the Houston Chronicle reported.
Officials in other locations across the U.S. noted the vandalism in Richmond and St. Paul, heeding the warnings. Many opted to remove their Columbus statues before protesters could get to them first.
City officials in at least 27 additional cities have ordered the removal of their Columbus statues and monuments in 2020, according to a Newsweek investigation. In at least four more cities, officials have either stated their intent to remove a Columbus statue or have opened up a discussion about whether it should be removed, Newsweek found.
Most recently, Pittsburgh Mayor Bill Peduto recommended on Friday the removal of a Columbus statue, which stands in his city's Schenley Park. The Pittsburgh Art Commission unanimously voted in September to remove it, and Peduto agreed that the statue should be taken down and temporarily stored elsewhere until a new private home is found, WTAE-TV reported.