Leavenworth Bomb Threat Leaves Hospital in Lockdown, Evacuations Underway
A hospital was placed on lockdown and partly evacuated due to a reported bomb threat in Leavenworth, Washington, on Tuesday night.
Cascade Medical said its staff are were "sheltering in place" and one building on Front Street has been evacuated after a bomb threat was called into a 911 dispatcher. Its emergency department remained in operation.
The threat was first reported around 9 p.m. by Chelan County Emergency Management. About five hours later, at approximately 2.a.m, officials said the area was "determined to be clear" and people had been allowed to return to the hospital.
Shortly after the initial announcement, the City of Leavenworth said the local sheriff's office had contacted it "about a bomb threat in a garbage can" on the 800 block of Front Street.
It added that officers were tracking the 911 phone call and had requested a bomb squad "to assess the validity" of the threat.
Undersheriff Jason Mathews said at 8 p.m. a male reported an explosive device in an unspecified location. The man said, "I'm not (expletive) around, it's inside the..." The man was said to be difficult to understand, Wenatchee World reports.
The 911 call was made from a withheld number and was picked up by the RiverCom Dispatch business line, the newspaper added.
Newsweek has contacted Leavenworth Sheriff's Office for comment.
Washington State Department of Transportation temporarily closed Highway 2 as a result of the incident.
The department's cameras appear to show armed vehicles had arrived in downtown Leavenworth. A Moses Lake bomb technician with the Washington State Patrol is at the scene, Wenatchee World reports.
However, a second bomb technician en route from western Washington was reportedly delayed by snowy mountain weather conditions.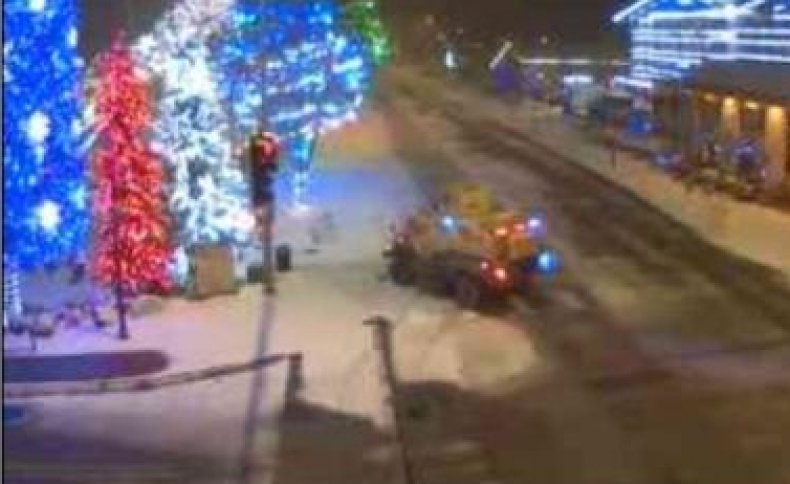 Speaking before the all-clear was given, local resident Jenny Matthews told KOMO News the Starbucks branch where she works was called by emergency management officials who advised them to evacuate.
"You start to get scared because there has been bombings other places recently," she said.
"There has been shootings around our area recently. So, it makes you nervous and you worry for the other people working at the stores closer to where the bomb threat may be."
No arrests have been reported at the time of publication.
The bomb threat comes less than a week after an explosion rocked downtown Nashville on Christmas Day.
Computer consultant Anthony Quinn Warner has been named as a suspect in the blast in which the 63-year-old died. Investigators are still working to establish the motive behind the detonation.