Anthony Warner, Nashville Bomber, Flew Under FBI's Radar Until RV Image Was Released
The Nashville bombing suspect flew under the radar of FBI officials until authorities released an image of an RV from the scene of the Christmas Day explosion on Second Avenue North.
Two law enforcement officials familiar with the investigation told Newsweek on Sunday that Anthony Quinn Warner, the 63-year-old suspect killed in the 6:30 a.m. explosion in downtown Nashville, had not been monitored by or known to the FBI's Guardian Program—which tracks possible counter-terrorism threats with the Counterterrorism Division (CTD) and Guardian Management Unit (GMU)—until a tip linked his RV to an image authorities released following the attack.
"He is either a criminal mastermind or a dude who flew completely under the radar," one law enforcement officer told Newsweek. "He sounds like an extremely sad guy who wanted to die in an elaborate fashion on Christmas Day."
The officials requested anonymity because they were not authorized to speak about the case on the record.
Warner had not been a person of interest to the federal law enforcement agencies in the past; it is unclear whether local or state authorities had considered him a dangerous person.
Officials have not yet released any details about the bomb detonated.
"It's not just what material he used for a bomb, but how did he accumulate enough without drawing suspicion?" one law enforcement official told Newsweek.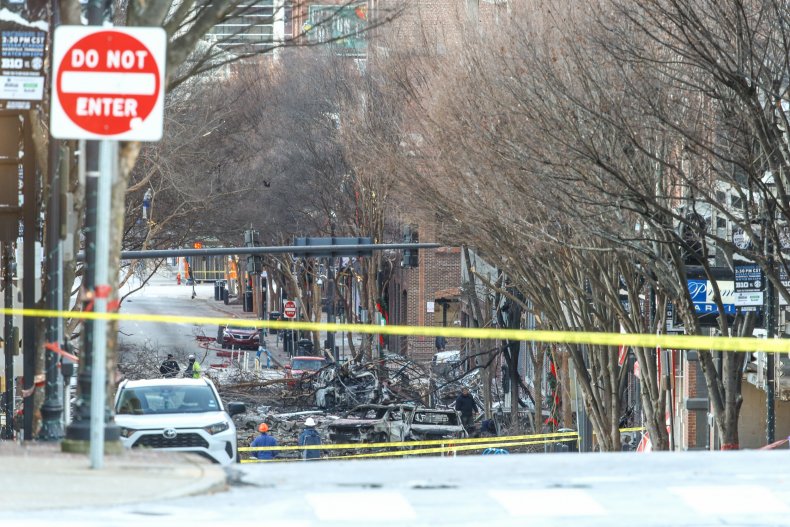 A search for Anthony Warner in historic Davidson County criminal records showed that a male born on January 17, 1957, who would now be 63 years old, was arrested and charged with a felony offense linked to possession of a controlled substance on January 29, 1978.
Authorities have not released any information or photos of the suspect, nor have they publicly speculated on any clues as to a motive. But authorities are looking into a possible link to Warner's deceased father's former employment with BellSouth, which merged into AT&T in 2006. The RV detonated outside an AT&T transmission building, damaging over 40 businesses and causing service outages to residents in the area, including to emergency lines.
"They're definitely pulling the dad's employment record to see if there is any nexus between this bombing and his employment," a senior law enforcement official told Newsweek on Saturday evening.
About 75 percent of the AT&T cellular networks affected by the blast were back up on Sunday. "Mobility service in the Birmingham and Huntsville, Alabama areas is now operating normally," the company said in a statement.
Federal, state and local investigators received over 500 leads in the first 24 hours following the explosion. It was a "cowardly bombing on Christmas morning," U.S. Attorney Don Cochran said of the attack.
Law enforcement searched a house linked to the suspect at 115 Bakertown Road in Antioch on Saturday, and confirmed his DNA matched human remains found at the Second Avenue North scene on Sunday. The latest development confirmed suspicions of a suicide bombing in an RV.
Officials said on Sunday that the suspect appeared to have acted alone, the Associated Press reported.
The ongoing investigation is still shrouded in mystery, with limited information about Warner available in the public sphere. A recorded warning, urging people near the scene to evacuate the area, began playing from the RV about 15 minutes before the bomb detonated. State and local authorities said more people could have been injured if they were not able to evacuate before the bomb blew up. Officers had also moved their vehicles to outside the blast radius.
Online LexisNexis records on Warner's family obtained by Newsweek suggest the suspect lived with his parents, Charles B. Warner and Betty Christine Lane, for years at 3724 Bakertown Road in Antioch until his father passed away in July 2011. He continued to live with his mother for a while before moving to another location on the same street.
Property deeds show the suspect engaged in a series of unexplained property transfers with members of his family and Michelle Swing, a 29-year-old Los Angeles woman.
One month before the bombing, on November 25, Warner sold the 115 Bakertown Road property to Swing for $0.00, according to a quitclaim deed.
The FBI declined Newsweek's request for further information on Sunday.