Anthony Warner, Nashville Bomber, Engaged in Flurry of Mystery Property Deals Before Attack
The Nashville bombing suspect and his family engaged in a flurry of unexplained property transactions in the months and years before the blast that injured three people on Christmas Day.
A spokesperson for Nashville Police Chief John Drake on Sunday identified the suspect connected to the bomb detonated in downtown Nashville as Anthony Quinn Warner, 63, confirming Newsweek's previous reporting. Authorities said Warner "was present when the bomb went off and he perished in the bombing."
A law enforcement official familiar with the investigation told Newsweek that officials searched the suspect's address at 115 Bakertown Road in Antioch, Tennessee, on Saturday after receiving a tip linking Warner to an RV matching an image released by authorities.
Online LexisNexis records on Warner's family and deeds obtained by Newsweek suggest that the suspect lived with his parents, Charles B. Warner and Betty Christine Lane, for years at 3724 Bakertown Road until his father's death in July 2011. He continued to live with his mother for a while after Charles' death before moving to another house on the same street.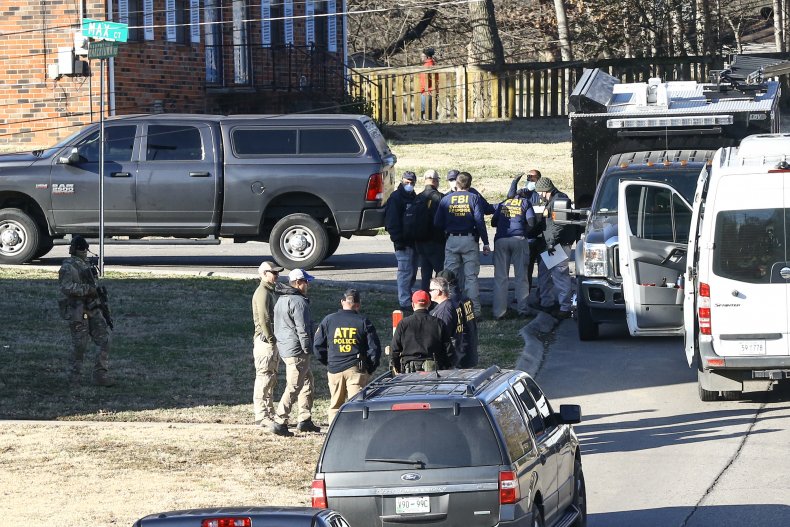 The documents also revealed a series of unexplained property dealings between Warner, members of his family, and Michelle Swing, a 29-year-old Los Angeles woman with ties to Tennessee. The suspect purchased the Antioch property that police searched on Saturday from a Charles Steven Warner—believed to be his brother—in 2010, and the other property on the same street, where he lived with his family, in 2018, according to property records.
On November 25, one month before the bombing, Warner sold the 115 Bakertown Road property to Swing for $0.00, according to a quitclaim deed. The deed confirmed that Warner and Swing were both unmarried at the time of the transaction.
The RV that detonated outside an AT&T transmission building at around 6:30 a.m. local time on December 25, injuring three people, damaging over 40 businesses and causing service outages that affected customers and 911 operations in the area.
Newsweek confirmed Saturday evening that the suspect's late father worked for BellSouth, a telecommunications company that merged with AT&T in 2006, before his death. A senior law enforcement official said that investigators would pursue the lead to determine whether "there is any nexus between this bombing and his employment."
Authorities have not released any information or photos of the suspect, nor have they publicly speculated on any clues as to a motive.
The ongoing investigation is still shrouded in mystery. A recorded warning, urging nearby people to evacuate the area, began playing from the RV roughly 15 minutes before it detonated. Authorities say more people could have been injured if they were not able to begin evacuations before the bomb went off. Officers had also moved their vehicles to outside the blast zone.
Officials said tissue, possibly human remains, was located at the scene of the incident, suggesting a suicide bombing had occurred. Two senior law enforcement sources told Newsweek on Saturday that federal investigators would swab Warner's mother to determine a match to the possible remains found at the scene.
If her DNA is determined to be linked to the remains found in the RV, one law enforcement official said, the blast is likely to have been a suicide bombing.
The DNA of the human remains matched with Warner's, according to WKRN.
The FBI declined Newsweek's request for further information on Sunday.
Update 6:46 p.m. ET: This story has been updated to include that authorities confirmed Warner was killed in the blast on Sunday.