Celebrities Reveal Why They're Leaving Twitter: 'Cesspool of Hate Speech'
A growing number of celebrities and influential figures from the world of social media are leaving Twitter, following Elon Musk's takeover of the popular micro-blogging platform.
Newsweek reached out to several of those who announced their intentions to depart, with many citing Musk's involvement as the main reason for their exit. They also shared concerns over a potential increase in hate speech on the platform.
The departures have coincided with a surge in the number of searches for Twitter alternatives. Data indicates that other users may also be contemplating a move.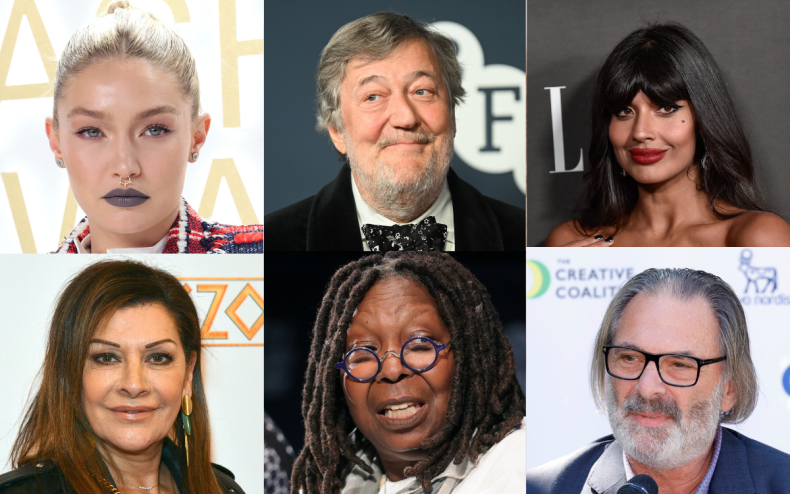 Stephen Fry became the latest big name to join the growing list of stars exiting Twitter with the comedian signing off with one final Tweet depicting an image of letters from the board game Scrabble spelling out the word "Goodbye."
A spokesperson for the British comedian told Newsweek: "Stephen Fry thought the time was right to move on." Fry is one of a handful of celebrities planning to migrate to the rival social media platform Mastodon.
'It's So Messy'
His exit follows Whoopi Goldberg's announcement during Monday's edition of The View that she would be leaving Twitter.
She said: "I'm getting off today because I just feel like it's so messy. And I'm tired of now having had certain kinds of attitudes blocked and now they're back on. I'm gonna get out, and if it settles down enough and I feel more comfortable, maybe I'll come back. But as of tonight, I'm done with Twitter."
Model Gigi Hadid also deactivated her Twitter account earlier this week after a decade on the platform. Explaining the decision in a post shared to Instagram, Hadid said: "For a long time, but especially with its new leadership, it's becoming more and more of a cesspool of hate and bigotry, and it's not a place I want to be a part of."
Hadid and Goldberg are not alone in looking to a future away from Twitter either. TV producer and writer Shonda Rhimes quit the platform along with Ellen Pompeo, the star of one of her most popular shows, Grey's Anatomy.
She-Hulk: Attorney at Law star and social media activist Jameela Jamil also exited Twitter having signaled her intentions back in April following news of Musk's takeover. Fellow actors Tea Leoni, David Dastmalchian, Laura Benanti, and Amber Heard have also quit.
Elsewhere, singer-songwriter Sara Bareilles bowed out following the change of ownership, along with filmmaker Rob Reiner and Brian Koppelman, showrunner on the hit series Billions.
Actor turned documentary filmmaker Alex Winter, meanwhile, has quit Twitter as has singer Toni Braxton and former WWE wrestler Mick Foley.
House of the Dragon star Emily Carey has announced her decision to leave while leading figures on the platform like Stephen King and Rex Chapman expressed dismay at the direction Twitter is heading.
BBC broadcaster and author John Simpson shared concerns over Twitter being "in the hands of someone I can't respect" and potentially "open to all sorts of hate speech."
'Twitter Alternative'
The exodus of several notable names to platforms like Mastodon has occurred at a time when Google Trends data shows a surge in the number of searches for terms like "quit Twitter" and "Twitter alternative."
The term "Twitter alternative" peaked around the period between October 28 to November 5. Whether this translates into a noticeable decline in user numbers for Twitter remains to be seen.
Newsweek reached out to many of the leading figures who announced their departure to ascertain why they are choosing to depart.
'Misinformation and Toxic Speech'
Actress Cassandra Peterson, best known for playing the horror hostess character Elvira, announced her exit with a tweet that read: "I'm leaving Twitter until they decide to reinstate their Human Rights and Ethics teams. You can't promote Hate speech and call it Free Speech. Until then...Unpleasant Dreemz..."
Peterson told Newsweek: "Twitter is allowing the spread of misinformation and toxic speech." She was also critical of Musk's plan to charge $8 a month for users to have a blue tick. "Sounds like 'free speech' will cost you $8 a month," she said.
Film producer and director Ken Olin signed off with a poem:
Olin told Newsweek he "won't be returning so long as Elon Musk retains ownership."
Noted comic book artist and writer Bill Morrison, meanwhile, told Newsweek he left Twitter "as soon as Elon Musk took over."
"I didn't feel good about continuing to post on the platform given his policies," he said. "I would consider returning if Musk was out of the picture."
'A Cesspool of Hate Speech'
The strongest response came from Star Trek: The Next Generation star Marina Sirtis who attributed her departure, in part, to Musk's reaction to the assault on Paul Pelosi.
Sirtis told Newsweek: "Having been very familiar with Mr. Musk's musings on Twitter, I felt I could not in all good conscience be a part of a platform that was owned by a man whose views I found intolerable.
"I know a lot of my friends have decided to stay and fight and I respect their decision with all my heart. However, Mr. Musk's tweet about the attack on Paul Pelosi (which of course he later deleted) and the avalanche of hate and threats that I received when I made public my decision to leave, only reinforced the fact that I was doing the right thing for me.
"I truly believe that with Mr. Musk at the head of this platform, it will become a cesspool of hate speech, misinformation, cyberbullying, and lies and I want nothing to do with it. I know a lot of my fans are very disappointed that they cannot contact me anymore so I am creating a platform on my website where they will be able to interact with me."
Playwright and filmmaker Heather Morrow was also among those who announced their decision to exit the platform.
Morrow told Newsweek: "I'm leaving because I don't want to support a company whose owner blocks people just to get back at them, and doesn't treat his many employees at his MANY companies very well."
Surge In Harmful Behavior
There may be some substance to the complaints over hate speech. On Wednesday, former Twitter employee Yoel Roth highlighted a "surge in harmful behavior" on the social media platform.
In a tweet, Roth, who was Head of Trust & Safety at Twitter at the time, said the company had mitigated this increase and "reduced impressions on this content in Search" by 95 percent. In the past week, he said Twitter removed over 1,500 accounts accused of hateful conduct on the site.
But while Roth insisted his department was working to "make Twitter safer every day," he appeared to have since departed the company after changing his bio to "former Head of Trust & Safety" in a move that has sparked more concern among certain corners of the user base.
Roth's departure follows that of Chief Information Security Officer Lea Kissner who tweeted she had left the company for unspecified reasons.
According to Reuters, Chief Privacy Officer Damien Kieran and Chief Compliance Officer Marianne Fogarty also resigned the same day Musk reportedly issued a company-wide email warning of bankruptcy unless steps are taken to boost subscription revenue.
With the Federal Trade Commission telling the news outlet it was monitoring the situation at Twitter with "deep concern" following the exits of several top privacy and compliance officers, it's proving to be a turbulent week for the social media firm.
Newsweek has contacted Twitter and representatives for all of the figures mentioned in this article for comment.
Have you left Twitter or are you about to? Email life@newsweek.com if you would like to explain the reasons why.
Update 11/14/22 7:17 a.m. ET: This article was updated with a new headline and comment from Morrison.