Elon Musk Buys Twitter: Update on the Celebrities Who Said They'd Boycott
Elon Musk has completed his Twitter takeover, despite a lengthy legal battle with the previous owners and threats from a number of celebrities to quit the social-media platform if he followed through.
Six months ago, when it was first announced that Musk had made a bid for the site, celebrities were among many people online who expressed anger and protested that the Tesla CEO and billionaire would control and run the platform.
On April 26, Newsweek highlighted a list of the celebrities who said they'd quit Twitter if Musk took over. Now the huge deal has been completed, where do those same famous people stand?
Mia Farrow
Back in April, actress Mia Farrow said she'd quit Twitter before quickly changing her mind and deleting the tweet. "Well if Twitter becomes even more toxic—with Trumpy-treasonous lies & all the hatred—it will be taken less seriously, and people like me will quit—for peace of mind," Farrow wrote at the time.
She quickly changed her tune on the subject with a more hopeful tweet asking Musk to "keep Twitter worthy of your previous achievements and of lawful people everywhere."
Farrow hasn't yet addressed Musk or his completion of the deal.
She last tweeted at around midday ET on Thursday, October 27, hours before Musk's takeover was completed.
Shaun King
Activist Shaun King seemingly deleted his Twitter account after the takeover was announced in April, saying the billionaire's purchase was "not about left vs right," it was "about white power."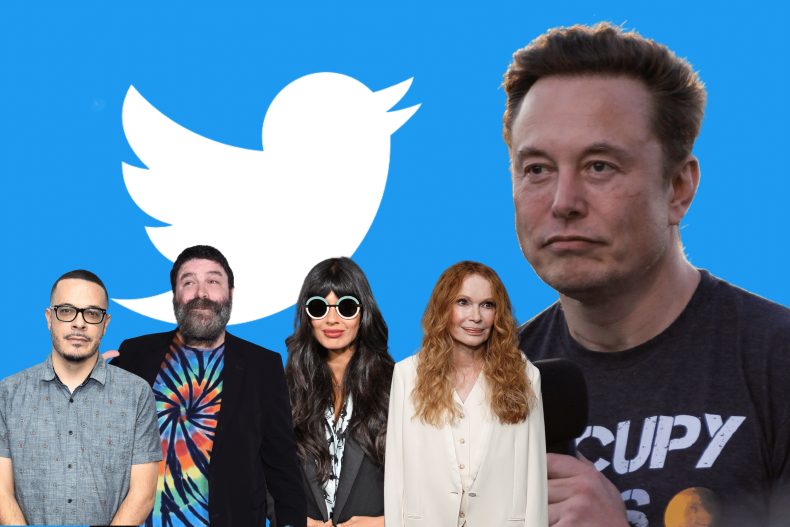 However, he later tweeted at Donald Trump Jr. who'd mocked him for deleting his account: "You wish. [...]. I didn't delete my account." He continued: "I was getting death threats and hack attempts from your buddies who stormed the Capitol and had to make it more secure."
Since Musk's return to Twitter was confirmed, King has been retweeting a number of articles which seem to critique Musk and his completed acquisition.
Jameela Jamil
The Good Place and She-Hulk actress Jameela Jamil did officially quit Twitter on April 25 with a final tweet before deactivating her account.
"I fear this free speech bid is going to help this hell platform reach its final form of totally lawless hate, bigotry, and misogyny. Best of luck," she wrote in a tweet that has since been deleted.
However, she returned to the platform on July 8 when Musk had pulled out from purchasing Twitter.
Jamil has yet to address Musk's takeover on Twitter, but she has been posting behind the scenes content from the She-Hulk shoot over the last 24 hours.
Mick Foley
On April 25, wrestling legend Mick Foley suggested he was weighing up whether or not to quit Twitter, but seemingly didn't follow through. "I'll be giving some serious thought to leaving [Twitter] for good in the near future." He added, "I do not have a good feeling about where this platform is heading."
Since then, Foley has remained on Twitter, promoting his podcast and sharing old wrestling clips. Late on Thursday night he encouraged his 2 million followers to vote in the upcoming midterms. "Our democracy has never been more fragile. Please help keep it alive," he wrote.
Amy Siskind
The activist and author has been a consistent vocal opponent of Musk and his Twitter takeover. At the time of the announcement in April, she openly pondered quitting the platform, telling her 550,000 followers that they could find her on Facebook if she did leave.
She appears to have stayed on Twitter, but has constantly mocked Musk for his business dealings when he seemingly tried to pull out of the deal. Now that it's confirmed, Siskind has been sharing her thoughts.
"Twitter under Elon Musk is the next Musk Social," she wrote in one tweet, comparing it to Trump's Truth Social.
Siskind insisted that Facebook, despite its misgivings, is now her preferred platform. "Now that Zuckerberg realizes his little Meta fantasy is just that, and that Musk Social is going to be a massive fail, maybe he'll actually clean up Facebook and make it better," she wrote on Wednesday evening.
Once Musk's deal was confirmed and he announced himself "Chief Twit," Siskind wrote: "You are now at whim of a narcissist man child, whose ego is being puffed up by dictators. What could go wrong."