Every Celebrity Who Says They're Staying on Twitter Amid Elon Musk Takeover
While many celebrities have vowed to quit Twitter after Elon Musk bought the company for $44 billion, a number have also announced their intention to stay on the platform.
Some have said they're staying to continue the fight for free speech, while others have seen it as an opportunity to get something they want from Musk. On Monday, the Twitter board voted unanimously to accept Musk's takeover bid, and he's expected to take over fully in six months' time.
Some celebrities have either already left or announced their intention to leave the platform, seemingly in protest of Musk's takeover. In early April, Musk had openly commented how the platform's biggest accounts and celebrities were leaving Twitter, with the likes of Justin Bieber only tweeting once in the last year.
Other notable people have taken the news in a different way, with the following notable people set to stay on Twitter for the foreseeable future.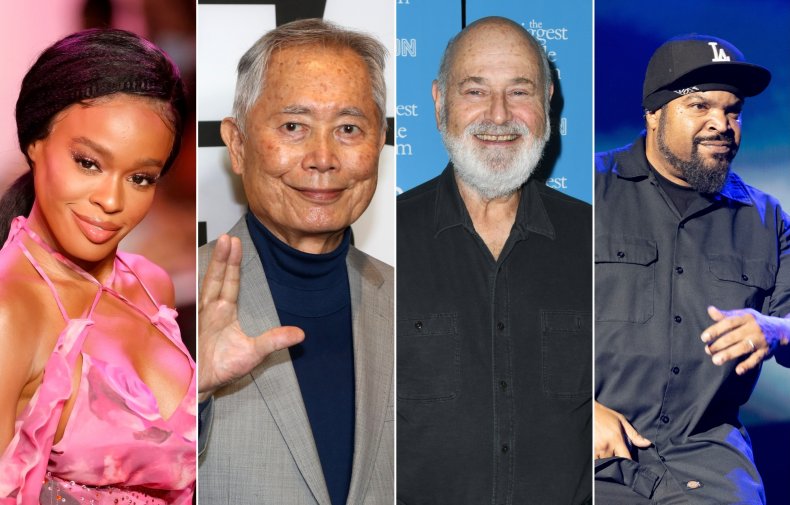 George Takei
Star Trek actor and LGBTQ+ activist George Takei made a bold statement to his 3.3 million followers hours after the news of Musk's takeover was announced. While the conversation about leaving Twitter was taking place, Takei tweeted that he wasn't "going anywhere."
"Should this place become more toxic, I pledge to strive even harder to lift up reason, science, compassion and the rule of law," Takei said. "The struggle against fascism, misinformation, and hate requires tough fighters. I hope you stay in the fight, right beside me."
Rob Reiner
Comedy legend Rob Reiner (This Is Spinal Tap) also shared his concern at the news of Musk's takeover, and shared an open question with his followers.
"Will he allow a Criminal who used this platform to lie and spread disinformation to try to overthrow the US Government to return and continue his Criminal activity? And if he does, how do we combat it?" Reiner asked.
Reiner seems to be alluding to Donald Trump's potential return to the platform, but by questioning how they'll combat it, that implies he looks set to stay.
Azealia Banks
Not officially back on Twitter yet, rapper Azealia Banks had her Twitter account suspended for reported racist and homophobic rants against Zayn Malik, and young actress Skai Jackson.
Taking to her Instagram stories early on Tuesday April 26, she wrote, "I actually *have* to thank Elon for buying Twitter, I actually got back on.....
"The amount of money I lost by being banned from twitter and not having access to the fan/consumer base I worked SO HARD TO BUILD." Banks continued, "I still think Jack Dorsey was racist AF for that." Banks went on to claim that Dorsey's beef with her was personal.
"There was zero reason for that white man to kick me off of twitter outside of the fact that we went on ONE lousy date," she wrote.
Ice Cube
Actor and rapper Ice Cube seemed excited that Twitter had a new owner as he may be able to have restrictions on his account removed.
Cube tweeted, "Free at last! [Elon Musk] take off my shadow ban homie..."
Ice T
At a moment when many were voicing their intention and turmoil in leaving Twitter, Ice T offered some perspective.
"If getting OFF Social Media would RUIN your life... You Truly need to recalibrate your Priorities.. Just sayin," he said.
Kevin Jonas
Another musician who appears to have no intention of leaving Twitter is one-third of the Jonas Brothers, Kevin Jonas.
Playing on Musk's previous announcement that he intends to add an edit button for previously sent tweets, Jonas asked, "Will we now get the edit tweet option?"
Jessica Kirson
Another blue-ticked account belonging to comedian Jessica Kirson played on the topic of leaving Twitter. While many people were discussing leaving or quitting Twitter, Kirson made her stance very clear, albeit in a jokey way.
"I'm staying on [Twitter] and antidepressants," she stated.
David Weissman
Not a celebrity in the entertainment sense, but a notable person all the same, U.S. Army veteran David Weissman shared his advice on how to combat Musk's "propaganda."
He said the best way to get back at Musk is to "stay on and [disprove] misinformation and call out the bullying, hatred, racism, and bigotry." He added, "We stay on and fight back."