LeBron, Dwyane Wade, CP3 (The Banana Boat Crew) Fell Just After Famous Photo Was Taken, Gabrielle Union Says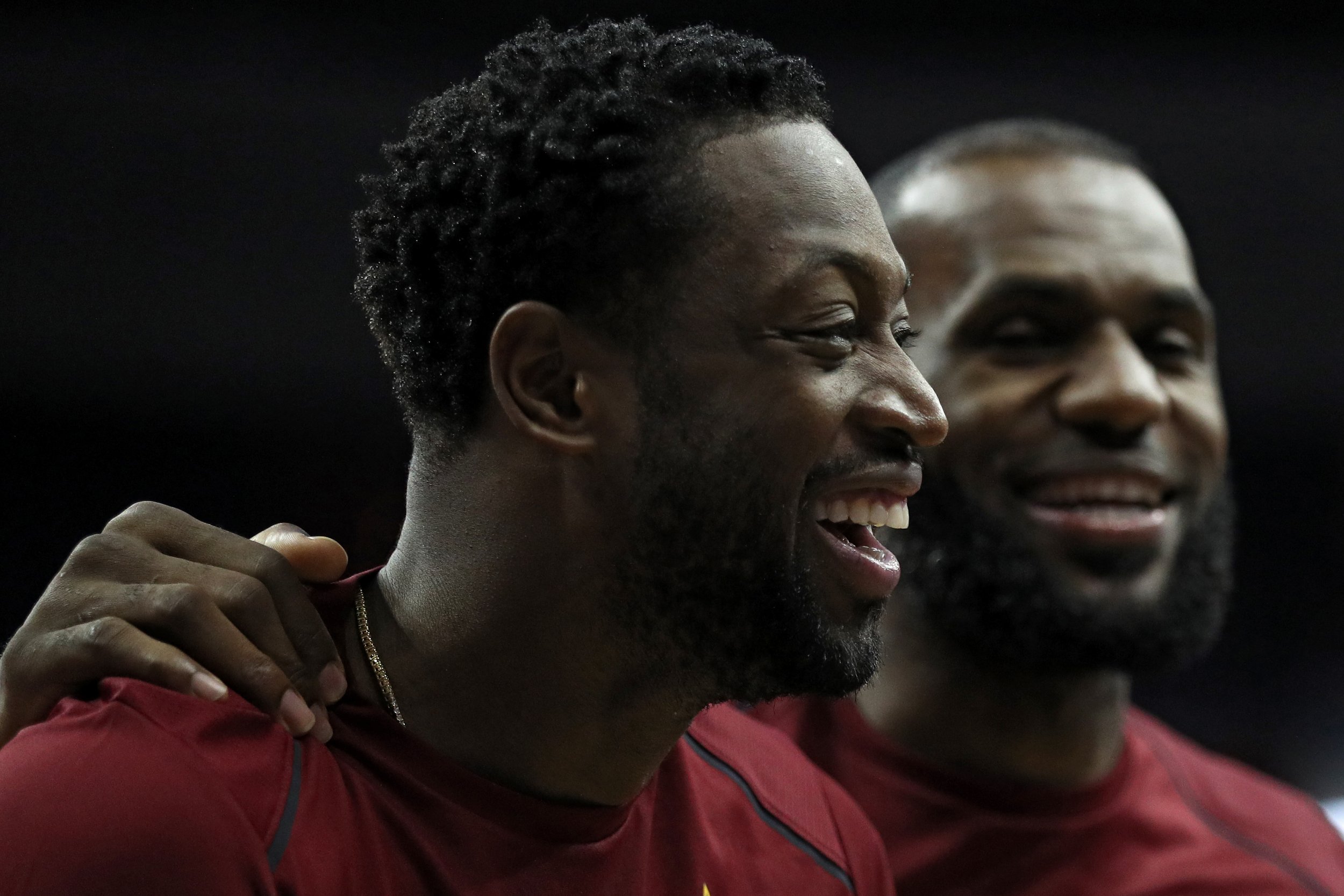 The Banana Boat Photo has become NBA canon, part of the lexicon of the league and something immediately recognizable to people who pay attention to (and crack jokes about) hoops.
For the remaining few who are uninitiated, the picture shows actress Gabrielle Union and NBA superstars Dwyane Wade (Union's husband), Chris Paul and LeBron James all sitting in an inflatable banana boat, ready to be tugged along the water. The group was on vacation together in the summer of 2015 and decided to take an excursion off their yacht. The photo became an instant internet sensation because it showed these untouchable stars—all of which are massively wealthy and talented as well as effortlessly cool—looking, well, kind of dorky.
The photo, which was snapped surreptitiously by a photographer, still comes up in interviews with those involved, including Union in the most recent episode of First We Feast's Hot Ones, which features stars being interviewed as they eat chicken wings laced with increasingly spicy sauces. (Newsweek recently published a story on Complex Networks, which owns First We Feast, that you can read here.)
"Whose idea was it? Who put the credit card down? Was it as much fun as it looked?" asked host Sean Evans.
Union can certainly spin a tale. Much of her answer dripping with sarcasm, she explained how she'd actually planned the activity and that the photographer missed the best part: the group of NBA superstars and the leading actress tumbling into the water. Here's what she told Evans:
"I will take credit for the banana boat fiasco or glory, depending on how you look at it. The first year that we started going on the couple trip, LeBron and Savannah [James], they chose the boat, they chose the location, and that boat had all kinds of bells and whistles. There was, like, a three-story slide into the ocean, they had jet skis and then they had other inflatable toys that could be pulled because this smaller boat called the tender. So I saw that banana boat and I wanted to ride it… I was like, 'Who's coming with me?' And none of the girls wanted to go. So I had to try to convince Bron and D and CP to get on the banana boat. It took some convincing. Though we had not been photographed, everyone was convinced we were being surveilled. And I was like, 'No, not everyone cares about us guys. No one is gonna see us. And if anyone is coming down the slide or dancing or whatever, we're safe. Get over yourselves.' So we mount the banana boat, I am in front, then my spouse, then I think it's CP [and LeBron]. Then what they did not capture was actually the best part. Once we had all mounted the banana, that boat took off and no one was really prepared. We were there for the initial jolt, and then [the driver] hung a hard left and we flew off and landed, side-face first, like [claps loudly]. All of us were like, 'Fuck, fuck, fuck,' like that's all you heard in the water. It hurt, it was painful, but magically, [photographers] only got us astride."
Of course, despite Union's assertions, the picture got out, and the NBA stars ribbed her about it. NBA fans made their jokes, and many still refer to that group of superstars as the "banana boat crew."
James and Wade, who were once teammates in Miami, joined forces again this season on the Cleveland Cavaliers. The full interview with Union goes into their friendship, Union's impressive career in Hollywood and her own high school career on the basketball court. You can watch it embedded below.