LeBron 'Ignores' Luke Walton's Play Calls as He Takes Control of Lakers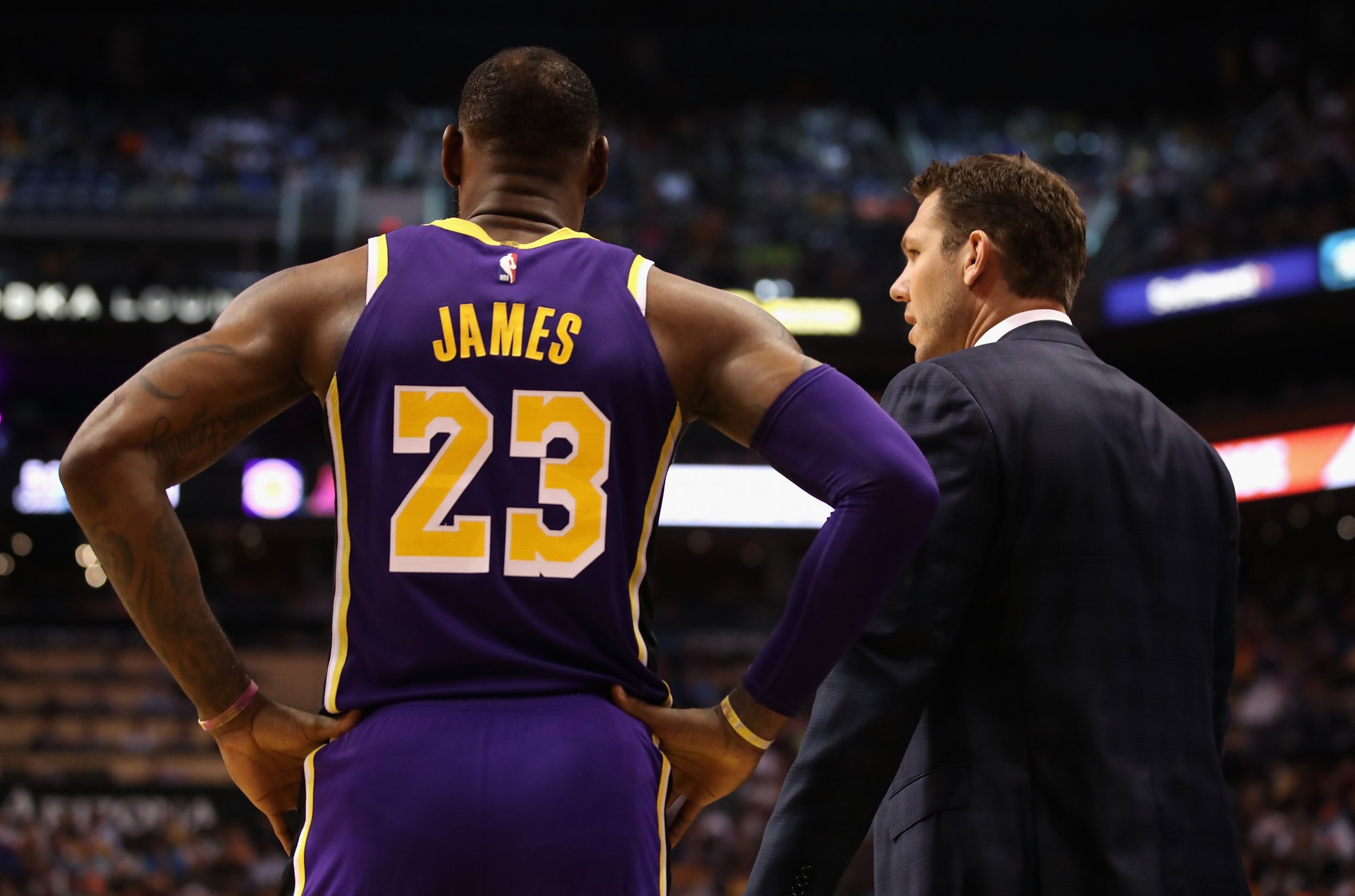 The Los Angeles Lakers have got off to their best start in seven seasons, largely thanks to LeBron James' ever-growing influence on the team.
The Lakers have lost their last two games but remain 11-9, their best start after 20 games since the 2011-12 season, and their superstar looks increasingly comfortable in his new surroundings.
And now LeBron is reportedly ignoring Luke Walton's offensive directions. When he moved to California in July, the three-time NBA champion praised Lonzo Ball and Rajon Rondo and insisted he was ready to relinquish some of his offensive duties, as part of the adjustment process to his new team.
However, throughout the first six weeks of the season LeBron has unsurprisingly been both the Lakers' main offensive output as well as their main creator. The 33-year-old averages 27.6 points and 6.7 assists per game.
He leads the team in usage rate, time of possession and time per touch with 30.4 percent, 5.6 minutes per game and 4.27 seconds respectively.
The figures back up the feeling James is running the Lakers' offense as he sees fit, something that ESPN reports scouts have picked up on.
"The scouts also have noticed that when James is running the point, he rarely looks toward the bench to receive play calls from coach Luke Walton," ESPN's Brian Windhorst wrote on Wednesday.
"Even when he has seen them, the scouts say, he ignores them and runs the play he prefers. Walton has adjusted, and now when James is running the show, Walton will typically just let him call the game. This probably shouldn't be considered a slight—it's just James being James."
Up until Rondo broke his hand on November 14, the Lakers ranked among the top 10 offenses in the league, but have since dropped to 26th in the following six games, over which they have gone 3-3.
While LeBron's growing influence is obviously a positive for the Lakers, it puts Walton in a difficult situation. Earlier this month, ESPN reported a number of Lakers' veterans were unhappy with Walton's inconsistent line-ups.
Shortly afterward, Magic Johnson, the Lakers' president of basketball operations, reportedly "admonished" the head coach after he had overseen a 3-5 start to the campaign.
It marked a significant change of approach from September, when Magic had insisted Walton would have nothing to "worry about if we get out to a bad start."
Walton, of course, isn't the first coach to be somewhat marginalized by LeBron. Earlier this month, Miami Heat head coach Erik Spoelstra told his colleague that the best way to work with the four-time MVP was to stay out of the way.
"I was just trying to not screw it up," Spoelstra said of the 2010-11 season, when LeBron joined Chris Bosh to team up with Dwayne Wade in South Beach. "And I was in survival mode. I didn't want to get in the way and I found a way to get in the way. And we lost [to the Dallas Mavericks, 4-2, in the NBA Finals] our first year."