LeBron James and Barack Obama will join forces in a last-minute plea to encourage Black Americans to vote in the presidential election on November 3, as polls suggest an increasing number of Black voters could back President Donald Trump.
James, who earlier this month won a fourth NBA title as the Los Angeles Lakers defeated the Miami Heat in six games in the NBA Finals, joined Obama for an interview that will be published this week as part of the More Than A Vote campaign, which James launched alongside former first lady Michelle Obama.
The initiative, which has been supported by several NBA players including Chris Paul, Draymond Green, Ben Simmons, Damian Lillard, C.J. McCollum and Kyle Lowry focuses on addressing misinformation targeted towards Black voters and aims to ensure Black Americans are registered to vote ahead of Election Day.
Over the last four years, James has been an outspoken critic of Trump but has recently suggested increasing the Black voter turnout was ultimately more important to him than ensuring Democratic presidential nominee Joe Biden won the election.
"I define success by our people going out and voting," James told The New York Times earlier this month.
"You know, there's so many stats out there, you can see it every time. Who didn't vote? What counties didn't vote? What communities didn't vote? And a lot of that has had to do with our Black people. So, hopefully, we can get them out and educated and let them understand how important this moment is."
Low turnout for presidential elections has long been an issue. According to the U.S. Elections Project, in 18 presidential elections since the end of World War II, voter turnout has exceeded 60 percent only on eight occasions, peaking at 63.8 percent in 1960.
With the exception of 2012, three of the most recent four presidential elections record a turnout above 60 percent, peaking at 61.6 percent in 2008. While the pattern of voters disenfranchisement can be traced to different demographics across the country, the issue is particularly acute among young Black Americans.
According to official data, just 47 percent of eligible Black voters under the age of 30 turned out to vote four years ago, while the voter turnout among those aged 65 or older exceeded 70 percent.
Speaking to The New York Times, James suggested the feeling of disenchantment among the Black community stemmed from years of misinformation.
"We believe that Black people, our community, we've been pushed away from our civic duty," the four-time NBA Finals MVP explained. "We've been fed misinformation for many years.
"And I'm in a position where I can educate people and, through More Than a Vote, educate people on how important this movement is, and how important their civic duty is. Not only to empower themselves, but to give back to their community as well.
"It's something that we're very passionate about—that I'm very passionate about. I'm happy and honored that I can have these athletes and these influencers and the people that want to be engaged with me as well."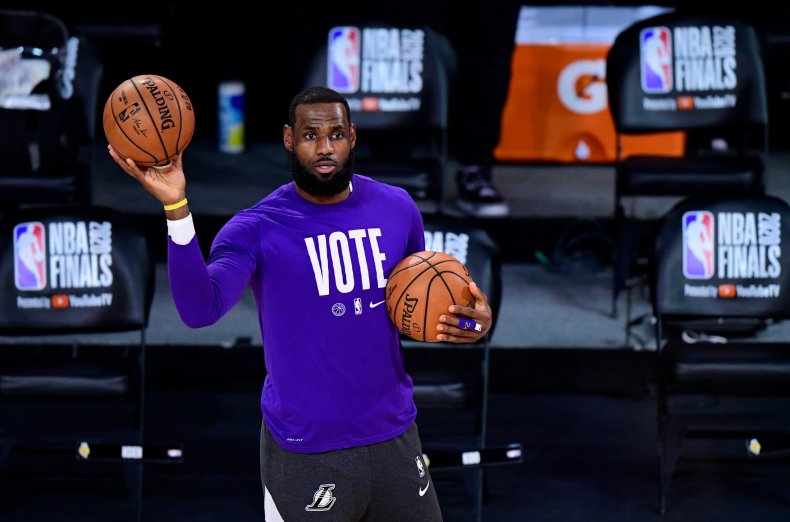 Throughout his first term, Trump's adversaries have repeatedly criticized his stance on racial issues. The president has been an outspoken critic of NFL, NBA and MLB players kneeling during the national anthem to protest police brutality and racism, suggesting they were all disrespecting the flag.
Trump has gone as far as suggesting NFL owners should fire players who take the knee during the anthem. He has also criticized Black Lives Matter for its involvement in the protests against racial and social justice that have swept across the U.S. since May.
Conversely, the president has declined to condemn far-right groups such as the Proud Boys or self-proclaimed vigilantes, such as Kyle Rittenhouse, the teenager who fatally shot two people as he opened fire on protesters who were demanding justice following the shooting of Jacob Blake in Kenosha, Wisconsin.
Despite his comments and the fact Black Americans have traditionally been seen as more inclined to vote for the Democratic Party, Trump has made inroads with sections of the Black electorate.
In July, an African American Research Collaborative Poll found 35 percent of Black Americans aged between 18 and 29 appreciated Trump's strong personality, while not always agreeing with the president's policies.
The percentage fell to 10 percent among Black voters aged 60 or over.
Similarly, a UCLA Nationscape poll conducted last month suggested 21 percent of Black Americans between the age of 18 to 44 supported Trump, compared to 10 percent four years ago.
Nationwide, the president trails Biden by 39 points among non-white voters, a significant margin but far smaller of the 53-point deficit he faced with the same groups ahead of the 2016 elections.
Significantly, the UCLA Nationscape suggested Biden's stance among Black voters did not change after he selected Senator Kamala Harris as the first-ever Black woman on a major-party presidential ticket.
The Democratic nominee in May was accused of taking African American voters for granted after claiming that "If you have a problem figuring out whether you're for me or Trump, then you ain't black."
While the Black vote may not be as set in stone as Biden hoped, the Democratic nominee retains a healthy lead in the polls with FiveThirtyEight's average of the presidential election national polls giving him almost a 10-point lead over Trump.
About the writer
Dan Cancian is currently a reporter for Newsweek based in London, England. Prior to joining Newsweek in January 2018, he was a news and business reporter at International Business Times UK. Dan has also written for The Guardian and The Observer.