LeBron James Apologizes For 'Jewish Money' Post, Says He Thought Lyrics Were 'Compliment'
NBA superstar LeBron James apologized Sunday over a weekend Instagram post featuring rap lyrics about "getting that Jewish money."
James, 33, addressed criticism he'd received for posting the 21 Savage lyrics from the song "asmr," which some said touted a historical anti-Semitic trope about all Jews having too much money and power. James gave ESPN the apology Sunday after the Lakers lost 107-99 to the Memphis Grizzlies. He said the intent of his selfie caption was not to offend, but instead said he believed the lyrics to be a "compliment" to those in the Jewish faith.
"Apologies, for sure, if I offended anyone," James told ESPN Sunday evening. "That's not why I chose to share that lyric. I always [post lyrics]. That's what I do. I ride in my car, I listen to great music, and that was the byproduct of it. So I actually thought it was a compliment, and obviously it wasn't through the lens of a lot of people. My apologies. It definitely was not the intent, obviously, to hurt anybody."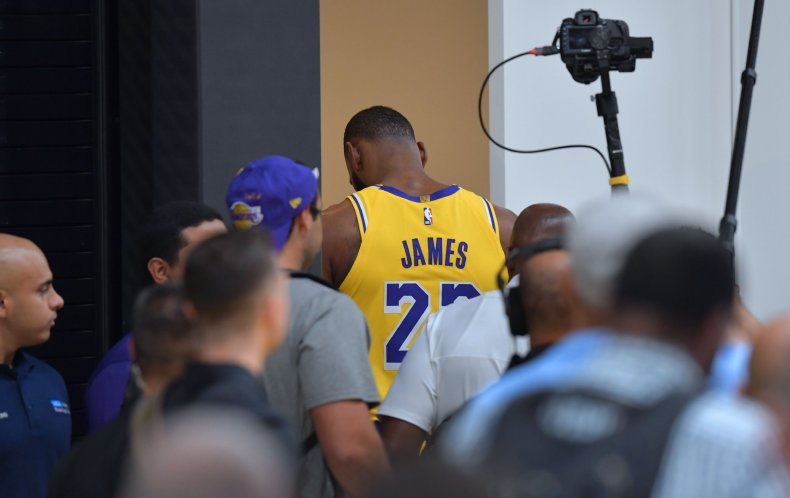 The Atlanta-based rapper 21 Savage's song lyrics which were posted by LeBron can be seen here in context: "We been gettin' that Jewish money, everything is Kosher (On God) Bought myself a 'Ventador and bought my bitch a Roadster (Straight up) Drive my Lambo to the store, I'ma wave with my doors."
Several sports reporters and conservative critics condemned James' comments immediately online, prompting a Twitter debate over whether someone has committed a foul by simply re-posting song lyrics online. "Surprised LeBron, who makes very few mistakes, put this out. Does quoting lyrics from a song absolve the person quoting from the responsibility behind the words? I'd argue no, especially with a following of 45 million," wrote Darren Rovell, in a tweet that sparked much of the angry backlash against James.
Many pointed out the prevalence of Jewish owners in both the NBA and NFL and were weary of James' comments tying slavery to NFL owners.
Last week, James stirred up a separate racially-charged controversy after he said NFL team owners have a "slave mentality" to keep control of their black players. "In the NFL they got a bunch of old white men owning teams and they got that slave mentality. And it's like, 'This is my team. You do what the f**k I tell y'all to do. Or we get rid of y'all,'" James said on the HBO show.