Los Angeles Lakers superstar LeBron James landed himself in a second racially-charged controversy this weekend after posting rap lyrics about "Jewish money."
James posted a selfie on what appears to be either Snapchat or Instagram on Saturday featuring lyrics from rapper 21 Savage's "asmr" which references keeping "kosher" and "getting that Jewish money." Sports reporters and conservative critics pounced on the social media post just days after the NBA superstar stirred controversy by saying the "old white men" NFL team owners embrace a "slave mentality" to keep control of their players.
Update: James apologized for posting the song lyrics Sunday evening.
James featured a portion of Atlanta-based rapper 21 Savage's lyrics seen in context here: "We been gettin' that Jewish money, everything is Kosher (On God) Bought myself a 'Ventador and bought my bitch a Roadster (Straight up) Drive my Lambo to the store, I'ma wave with my doors."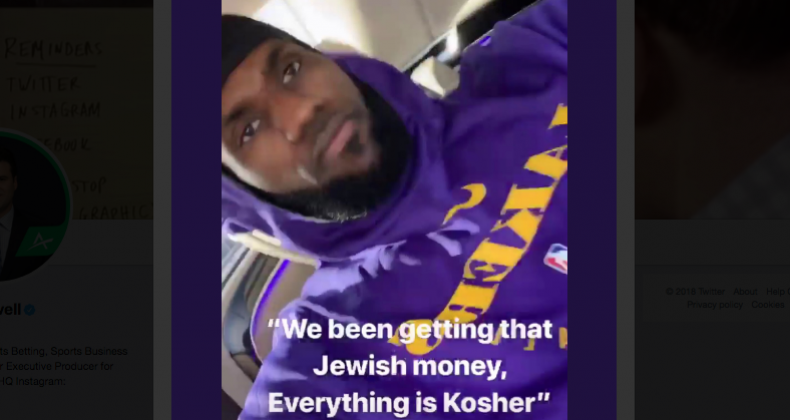 Sports Business reporter Darren Rovell posted a screenshot of James' social media picture and caption and challenged his followers to "go find a Jew and read this to them. Any one -- Adam Silver, Dan Gilbert, David Stern -- then tell me how they reacted and come back to me," he tweeted Sunday morning.
James' millions of supporters ridiculed the anti-Semitic insinuation from his critics and a social media debate ensued over whether someone posting song lyrics can be held accountable for simply sharing the words. James' critics noted the prevalence of Jewish owners in the NBA and NFL. In 2014, James weighed in on racist audio that surfaced from former Los Angeles Clippers owner Donald Sterling, who is Jewish, in which Sterling railed against black players. "There's no room for Donald Sterling in the NBA -- there is no room for him," the then-Miami Heat player said.
James stirred controversy earlier this week after he criticized NFL team owners on the HBO discussion show, "The Shop." James said black NFL players are frequently subject to treatment he equated to slavery.
"In the NFL they got a bunch of old white men owning teams and they got that slave mentality. And it's like, 'This is my team. You do what the f**k I tell y'all to do. Or we get rid of y'all,'" James said on the HBO show.
Uncommon Knowledge
Newsweek is committed to challenging conventional wisdom and finding connections in the search for common ground.
Newsweek is committed to challenging conventional wisdom and finding connections in the search for common ground.
About the writer
Benjamin Fearnow is a reporter based out of Newsweek's New York City offices. He was previously at CBS and Mediaite after working as a news curator at Facebook. Fearnow has pieces published in The Atlantic as well as stories published about him in Wired and The New York Times. He attended the Columbia University School of Journalism after graduating from Indiana University-Bloomington. Email: b.fearnow @ newsweek [dot] com.